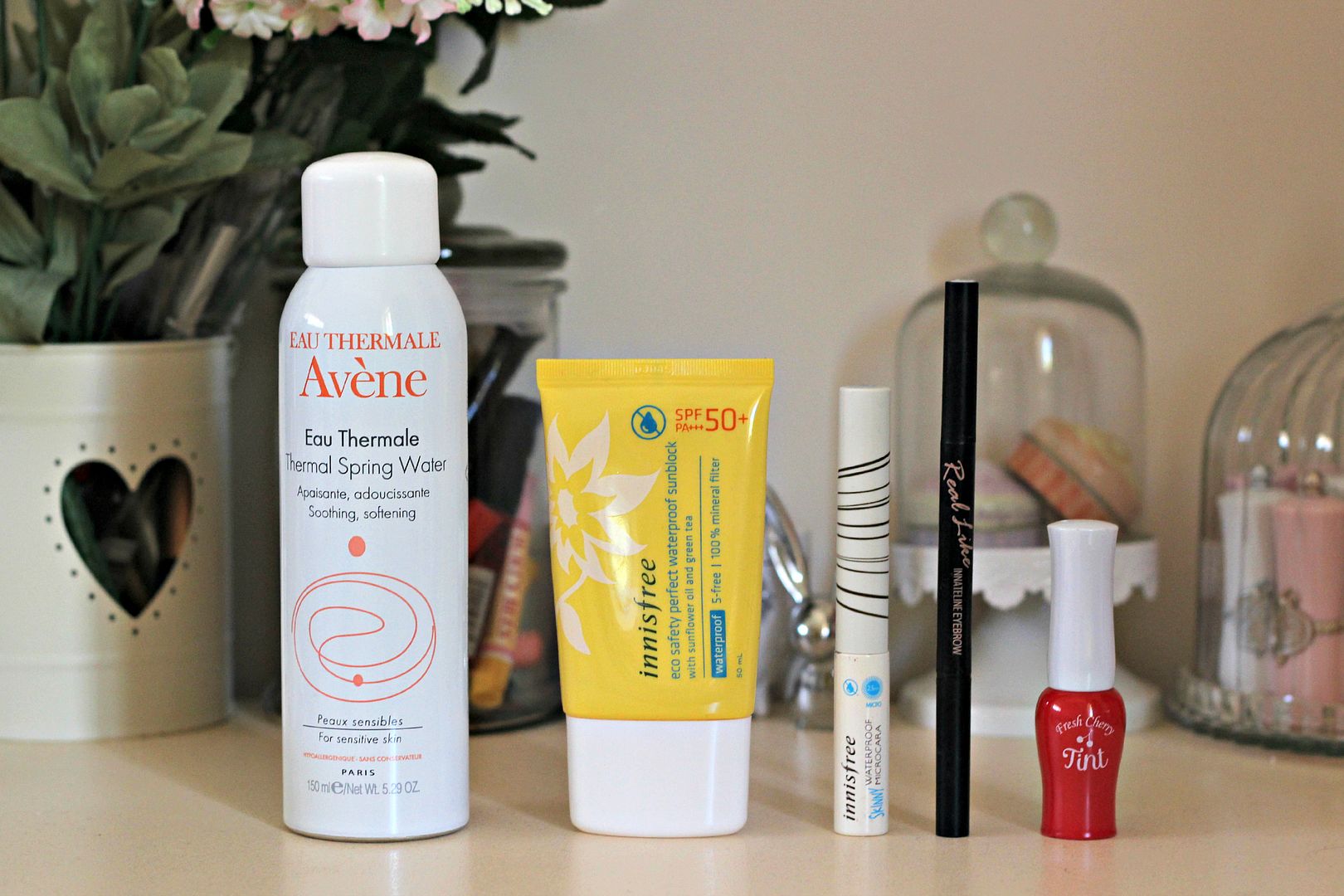 Avéne Thermal Spring Water Mist
I'm really obsessed with this Avéne mist at the moment! I bought a few while in Kuala Lumpur as it was more affordable than prices here in Aus (I wish I'd bought more!). It has a super fine mist that feels really cooling on the skin, which was great for battling the heat and humidity in Malaysia.
Back home I've been using this in place of toner before I go to bed, using it to hydrate my skin before applying moisturiser, and my skin has been so soft and smooth recently.
Definitely recommend this!
Innisfree Waterproof Sunblock
I bought this to take with me to KL, and was super impressed with it when I started using it. I usually hate the greasy feel of sunblock, but this one didn't feel bad on the skin at all!
It's creamy and moisturising for a sunblock, and it doesn't have any heaviness to it - it almost feels just like putting on lotion.
It also doesn't ball up under makeup, and it doesn't leave a white cast on the skin either (as long as you don't apply too much at once).
While it does have that trademark Innisfree herbal type scent, I personally don't mind it, but those who prefer unscented products might not like it.
Innisfree Skinny Waterproof Mascara
Another Innisfree favourite! This mascara has a super skinny comb applicator, which is great for coating each lash - a lot of mascaras tend to clump my lashes together, but this one is able to separate and coat my lashes from root to tip.
It's also super waterproof and smudge proof - I tested this while in Malaysia and it never smudged in the heat and humidity! It removes easily with waterproof eye makeup remover too.
It's more of a natural daily mascara as it doesn't lengthen or volumise, but nevertheless I loved the smudgeproof formula!
Yesstyle Brow Pencil
This is just a random no name brand (I think) brow pencil I bought off Yesstyle because it was pretty cheap, but I ended up liking it better than my normal Etude House pencil.
Sadly it's not as long wearing as the Etude House pencil, but I like the shade better as it suits my hair colour better.
Etude House Fresh Cherry Tint
The EH Cherry Tints are my go to every day lip tints - I already have and love the two pink shades, and I decided to get the red too.
The red shade is buildable, but already fairly pigmented at first application. It's not quite a true red - it has some pinky tone to it, but it's still a pretty colour. I have all three cherry tints on rotation in my handbag <3
What are your Februaury favourites, lovelies?
Thanks for reading!
xoxo Tulip