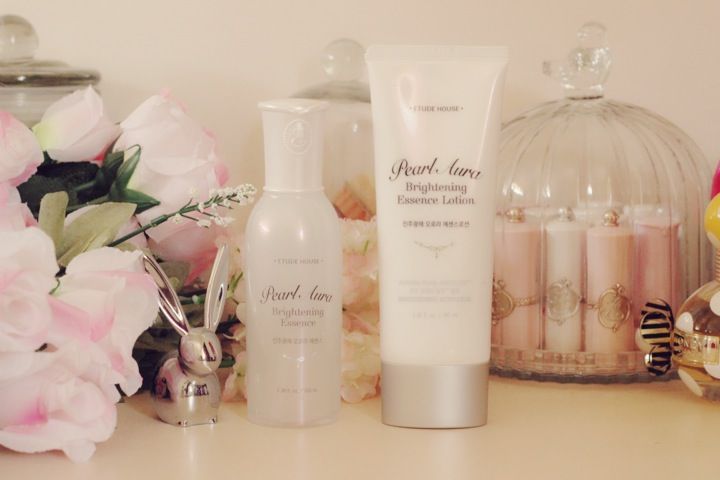 Heya cuties, I'm back with some new Etude House skincare reviews!
A few months back I blogged about Etude's new Pearl Aura skin brightening products (a brightening essence and a brightening lotion), and Beautynetkorea were kind enough to send me the products to trial!
I have a bit of an obsession with brightening skincare, as I love the look of healthy glowing skin (as do many of you), and that coupled with Etude's irresistably girlish and pretty packaging made me lem after the range quite hard *_*
The Pearl Aura range consists of two skin brightening products, notably consisting of Tahiti Black Pearl to hydrate and brighten skin tone, as well as mineral particles to make the skin silky smooth.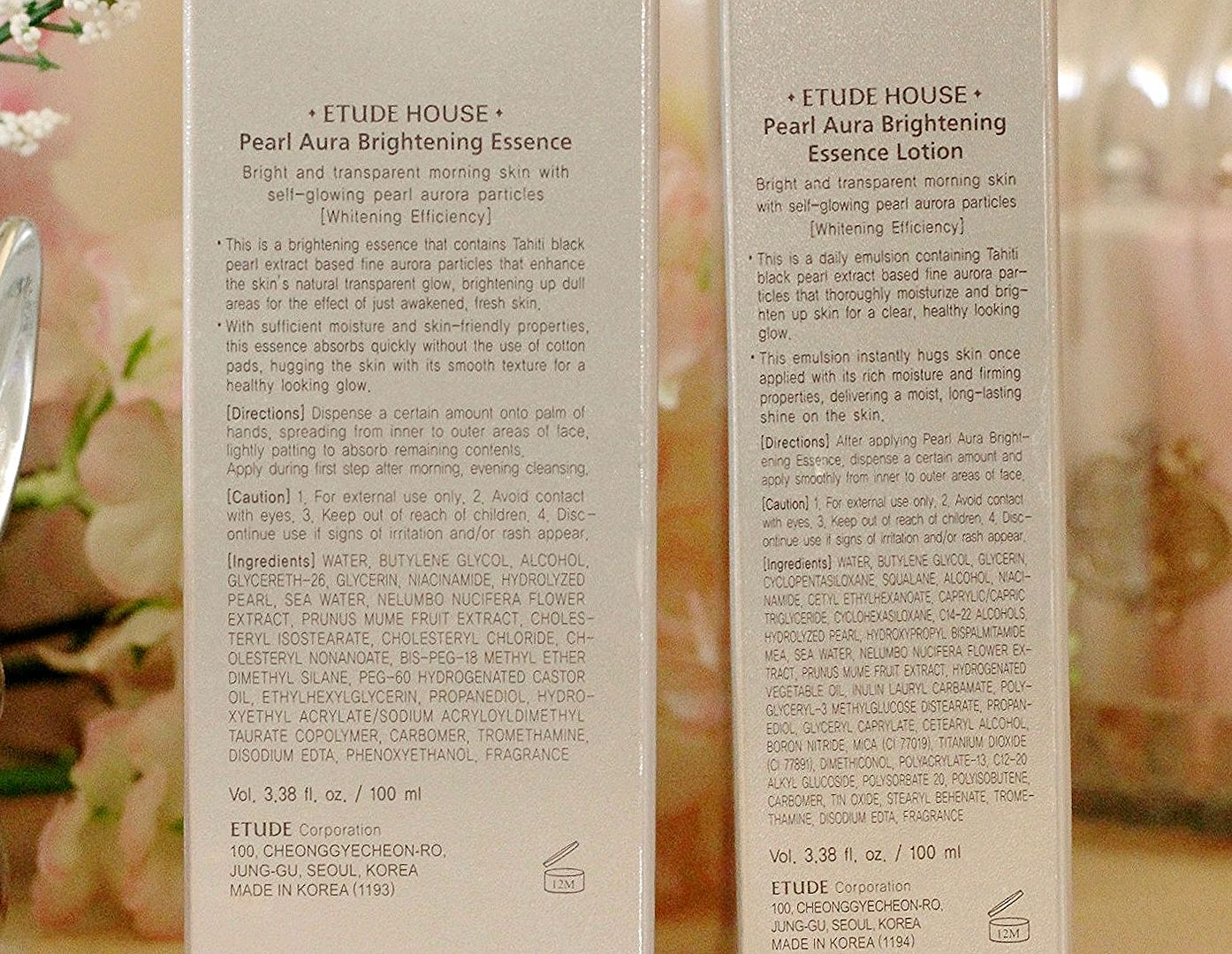 PEARL AURA BRIGHTENING ESSENCE
The Brightening Essence, described as a brightening and revitalising product, uses Tahiti Black Pearl extract to enhance skin's natural glow, while brightening dull areas of the skin. It supplies moisture to the skin with skin friendly properties, while absorbing quickly.
Packaging wise, I think the essence is very pretty. Packaged in a slim plastic bottle, it appears white in most of my photos (which I needed to edit quite heavily), but is actually transparent with a pale, shimmery purple tinge. Hopefully this picture below gives you a better idea of the colour.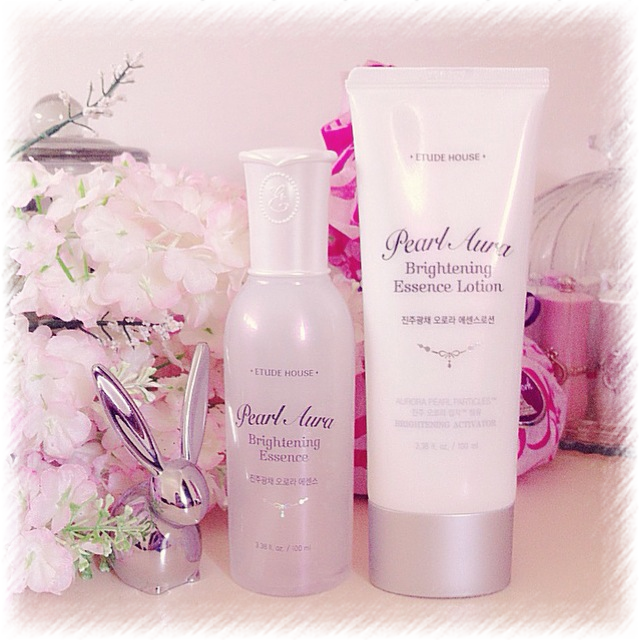 The lid on top looks elegant with its curves and little ridged details, giving it a somewhat princess-y look.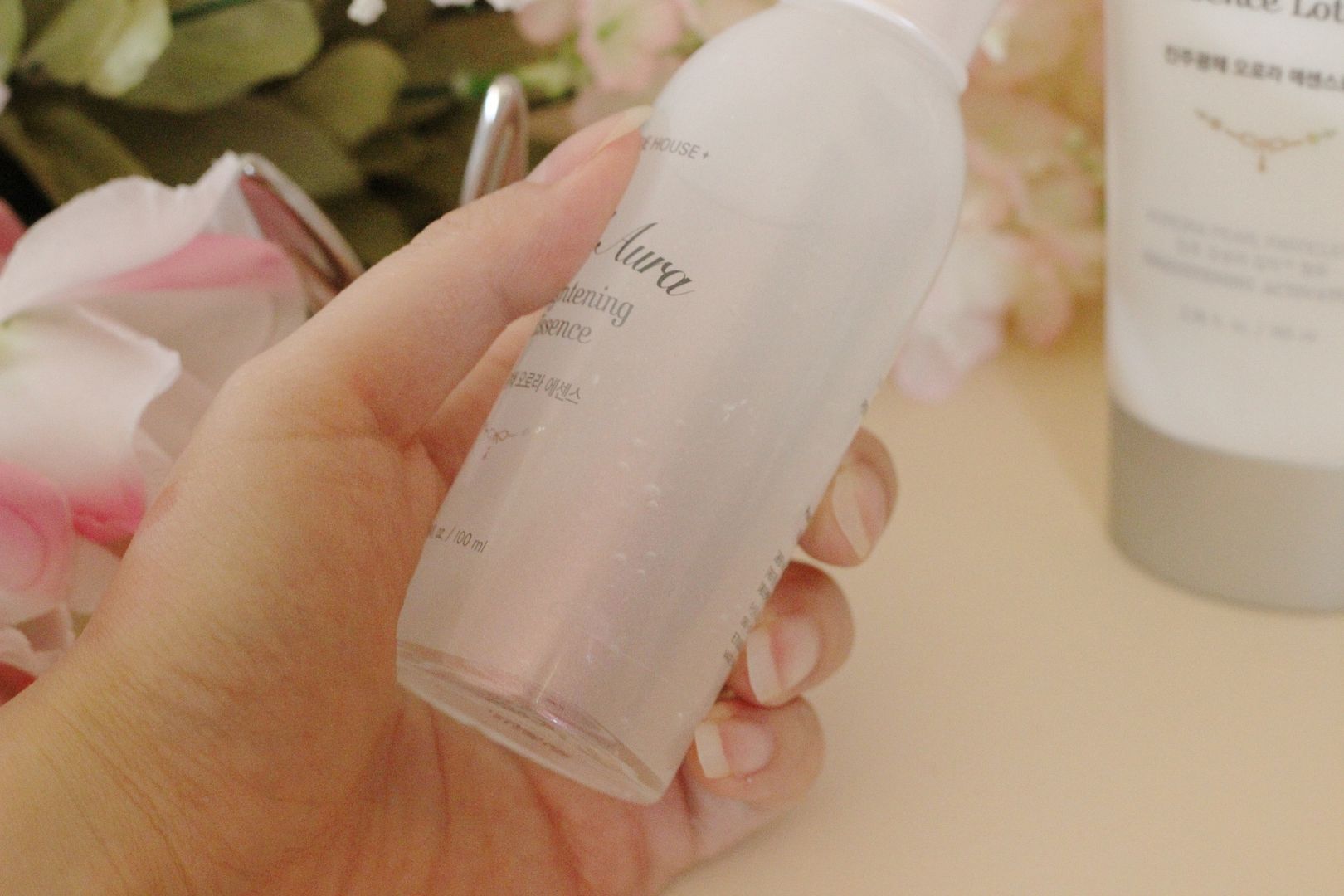 The essence comes in a 100ml bottle
The essence has bubble like particles inside, which gives the packaging some depth and interest too.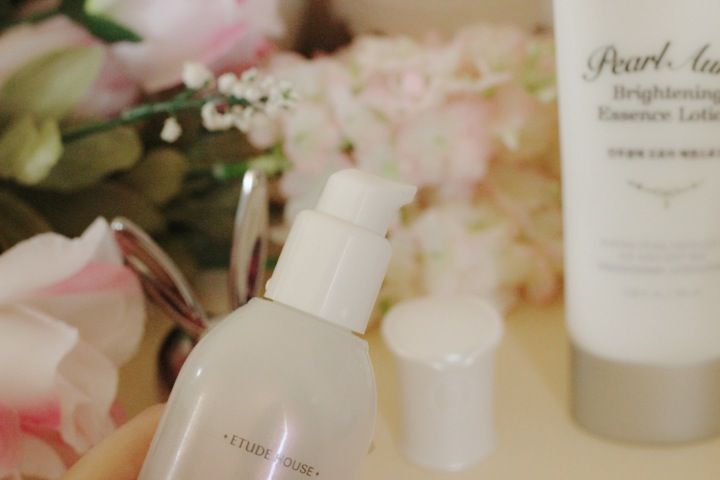 The essence is easily dispensed via a pump
The essence looks a bit gel like in texture within the bottle, but once pumped out the texture is quite watery, though still gel like in feel. It can be applied without a cotton pad - I just dot the essence on my face and then smooth and pat it into the skin as it spreads easily due to the runny texture. It only takes a moment to absorb into the skin and feels light on the face. Scent-wise, it's not heavily fragranced, though it does have a floral-like scent.
It leaves my skin looking fresher and somewhat more lively, but don't expect a huge difference in brightening or radiance of the skin! The essence is more of a natural brightener, rather than those products that have whitening or shimmer particles in it to give the face more of an obvious radiance.
I would recommend a moisturiser to follow afterwards - the essence is a little hydrating, but absorbs quickly and wouldn't be
sufficiently hydrating enough for dryer skin.
Just a tip, I find the essence applies better on slightly damp skin rather than dry skin (I have dry-normal skin), as I find damp skin gives the essence more slip during application.
Unfortunately I suspect that this essence was the cause of a few breakouts! I've been using this essence on and off, but every time I've used this I've broken out a bit the next day *_*
Asides from the breakouts, I found the essence nice for what it is - however I'm used to using essences that have more potent or multifunctional formulas (such as brightening, hydrating, anti-ageing, etc), whereas this essence merely comes off as a somewhat sufficiently hydrating brightener that doesn't do anything else. So all in all, a nice and natural brightener, but there's nothing much else special about it.
PEARL AURA BRIGHTENING ESSENCE LOTION
The lotion is somewhat thick in texture, but is light once applied to the skin. It does feel hydrating, but if you have quite dry skin I don't think it'd be hydrating enough. On my dry normal skin the lotion felt just hydrating enough, yet I wouldn't use it everyday as my main lotion, as I prefer a more hydrating finish.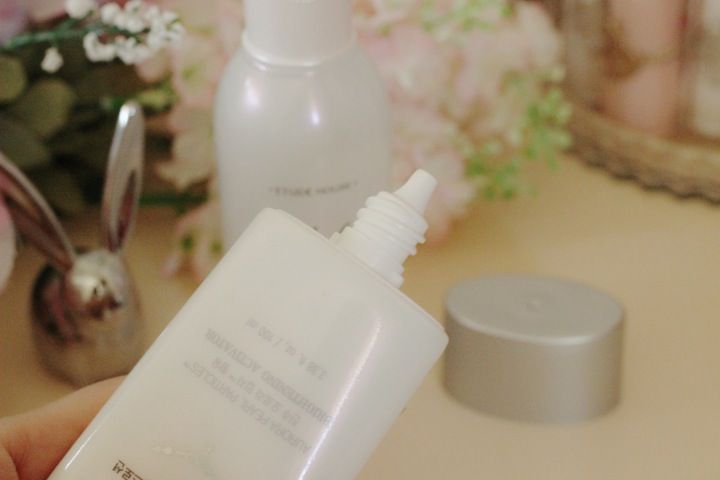 The formula spreads easily and leaves the skin with a glowy sheen - if you apply too much, or don't massage the lotion into the skin, it will leave a slightly sticky finish, which is a bit of a disappointment. However I find once I put my bb cream on the stickiness disappears, and it gives my normally dewy finish bb cream (Etude's Precious Minerals BB Cream) a more velvety finish, which is preferable in this warm weather.
The result of the lotion was more natural looking than I expected - I'm used to brightening bases having shimmers in them to imitate a glowy look. There are no visible shimmers in the lotion that I could see! It brightens the skin, and gives it a sort of watery sheen - the sheen is more noticeable on the high points of the face which get hit by lighting.
Under bright sunlight the all over glow could look a tad shiny (refer to my swatches below), since the whole face is reflected, rather than just the high points of the face. But if you have a bb cream or foundation base over the lotion, the shine is toned down a lot more.
I generally prefer the lotion under bb cream rather than on its own, as it's less sticky and also looks more natural.
The essence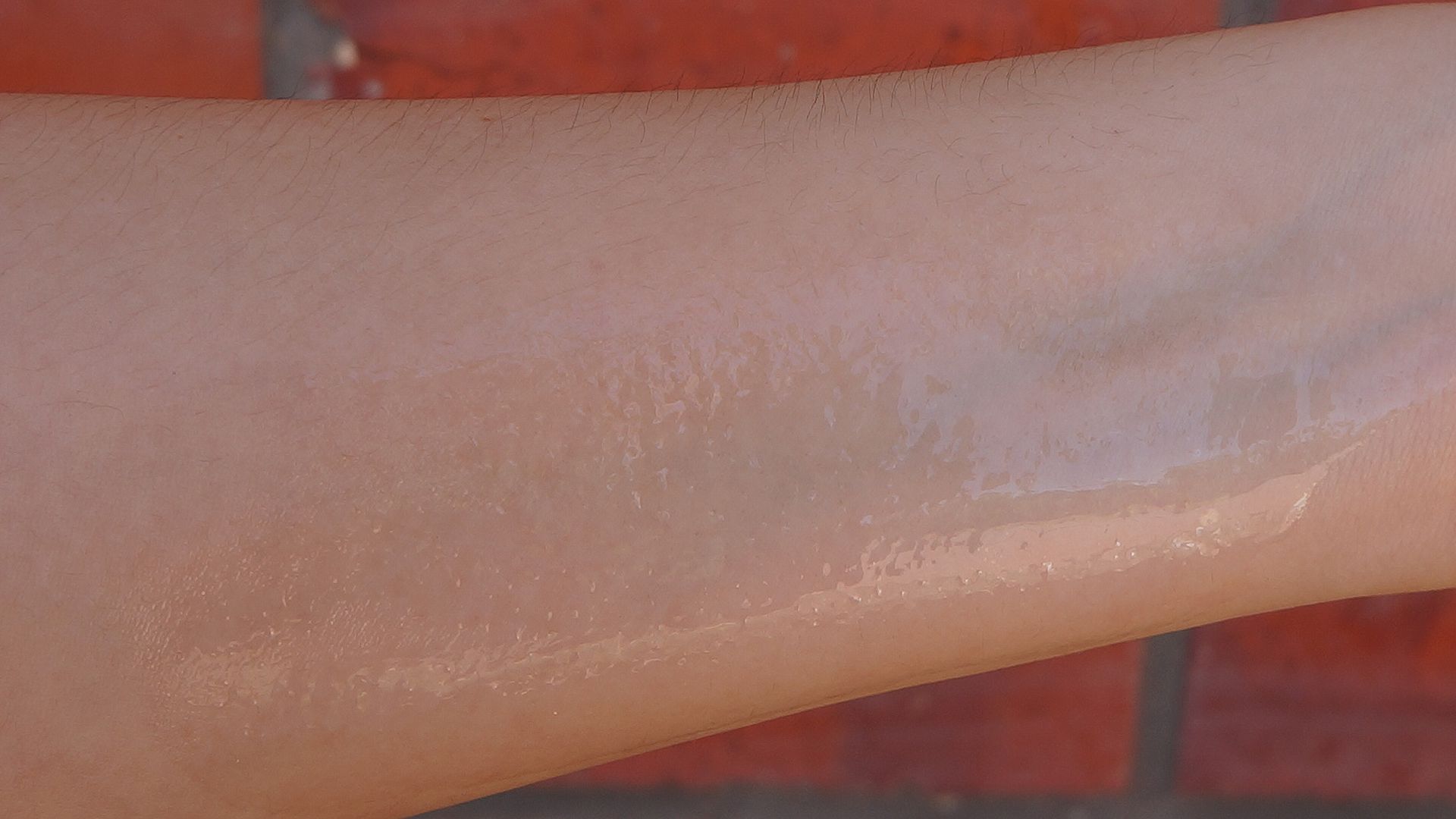 Spread out - it's quite watery as you can see!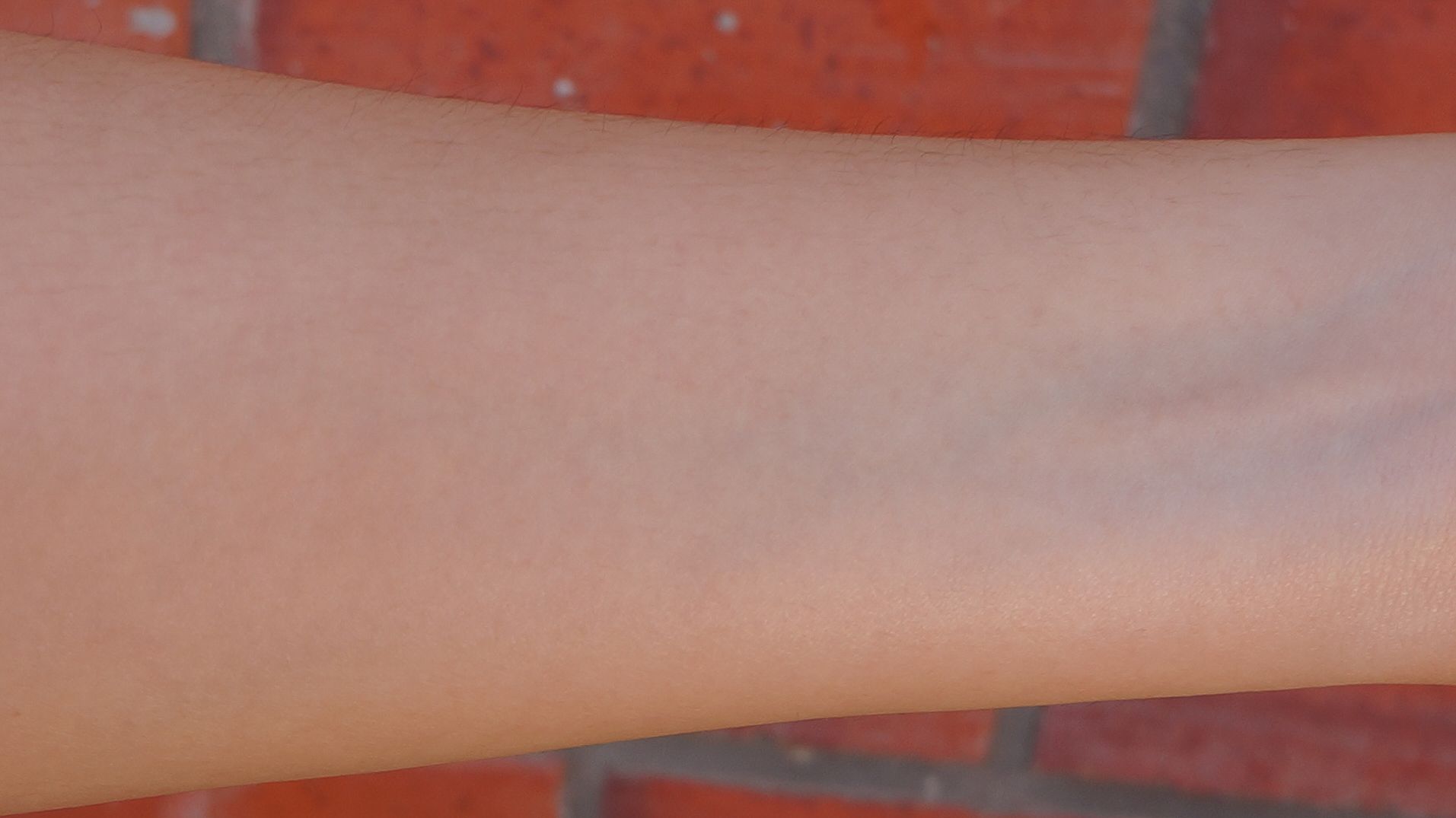 Essence Absorbed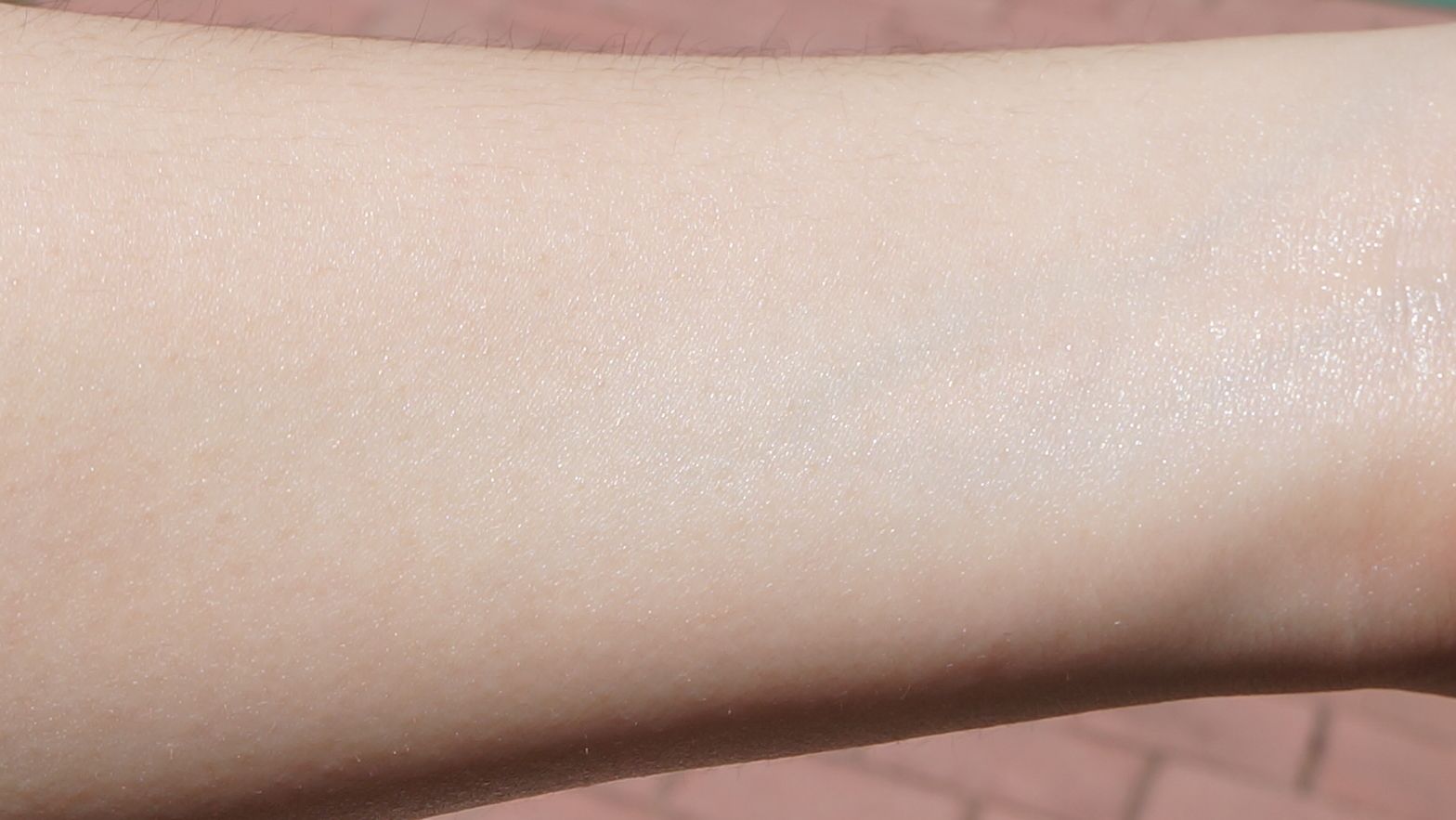 Essence under bright sunlight
Brightening Lotion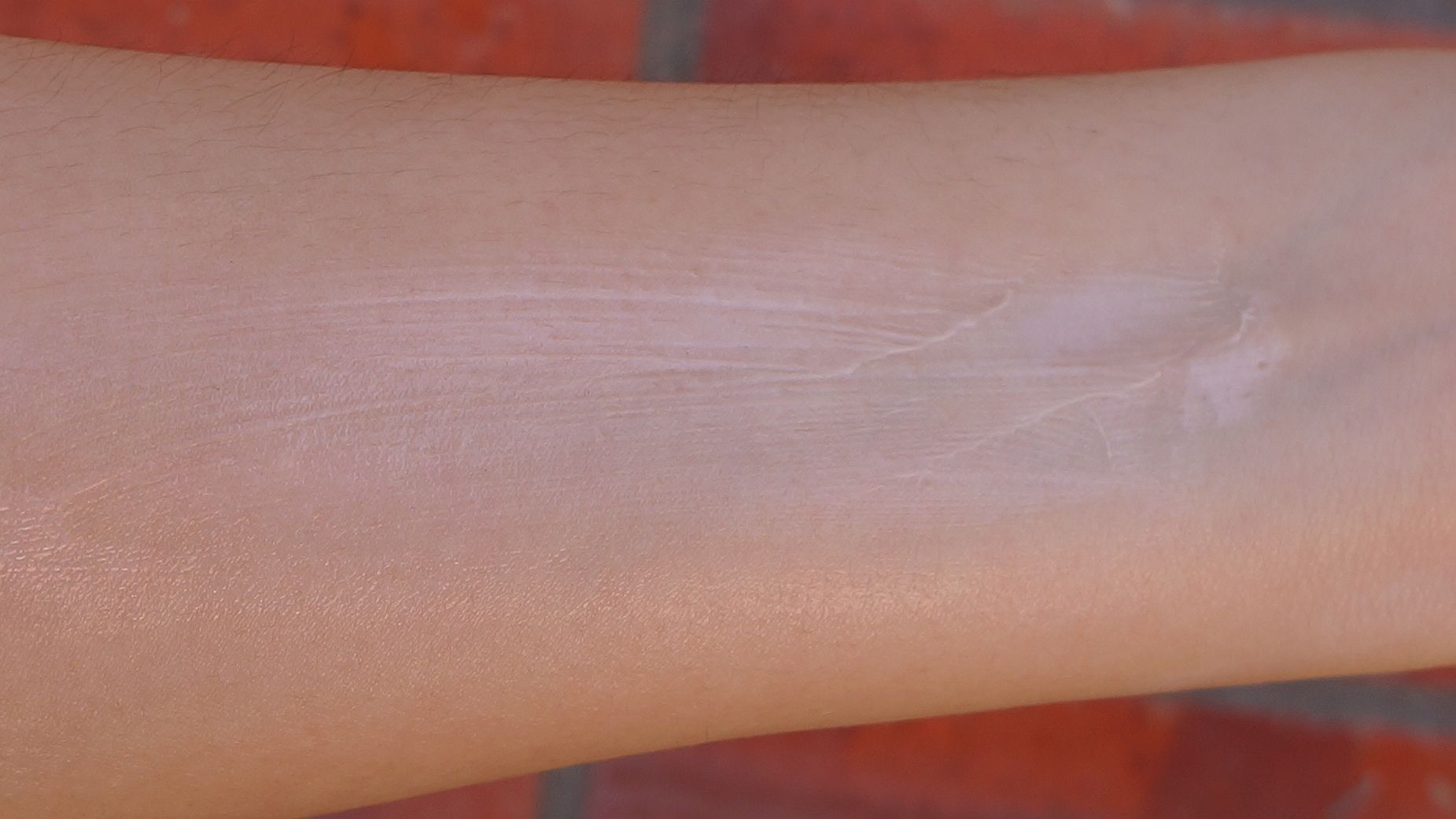 Spread out
Absorbed
Essence and Lotion absorbed and under bright sunlight
OVERALL THOUGHTS
If you like a naturally brightened and glowy look, this may suit your fancy! But only if you don't mind using skincare without many skin treating benefits, as these two products only hydrate and brighten through it's pearl extract.
The brightening effect of these two products are subtle and natural, especially compared to illuminators or brightening bases, which tend to either look glittery or oily. The advantage of using these two products is you can incorporate skincare and brightening base into one step rather than adding highlighter or illuminator after skincare.
I quite liked the natural finish of these two products but was disappointed that my skin disagreed with something in the essence, and I didn't particularly love the feel of the lotion on my skin, though I did like how glowy it made my face. I would've preferred a more hydrating cream rather than a lotion, but that's my own personal preference.
You could use each product separately, but I feel like they work best together as the essence has less of a visible effect compared to the lotion.
If you're interested, you can buy the essence here and the lotion here on Beautynetkorea (10% off for members, and 5% credit back!).
Do you like a glowy look lovelies?
*the product/s featured in this review was provided for review purposes - but opinions expressed are honest, and still 100% my own. For further information, please see my
disclaimer & disclosure policy
*