Lovelies, it's time for another Beauty Faves post!
Here's what I've been enjoying this last month~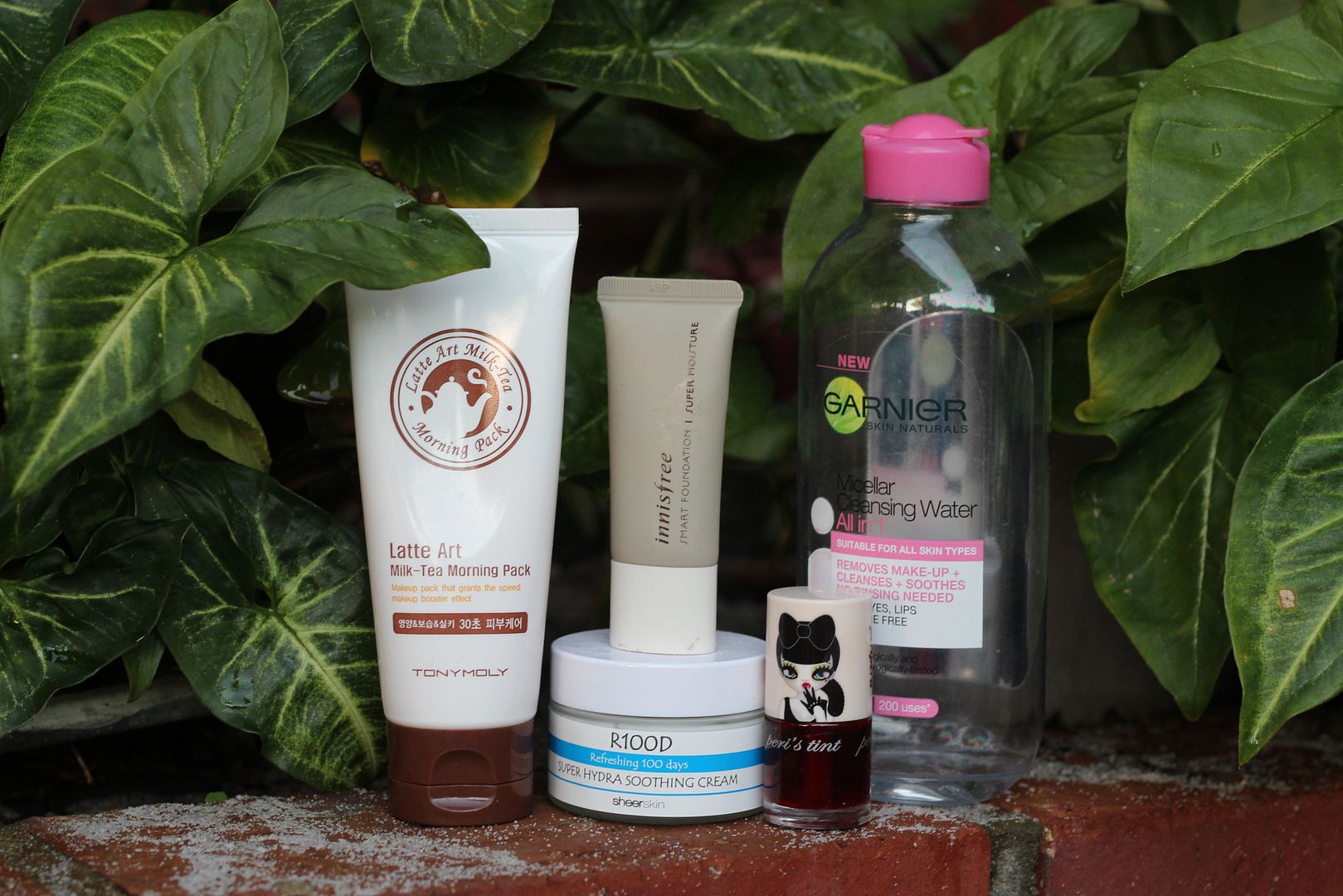 I'm working full time now so it's pretty dark when I get home nowadays - but I managed to come home a little earlier and snap this pic outdoors (as my room was too dark). Kinda like how it turned out, though I still prefer my cute dressing table more >.<
Tony Moly Latte Art Milk Tea Morning Pack (RRP from $11)
Long name, but it's just basically a makeup primer. I bought this ages and ages ago - used it once and didn't think it did anything so I put it away. Recently I decided to try it again as I can't bear to let it go to waste, and ended up loving it!
It's perfect for dryer skin types as it's nice and hydrating, and it makes my bb cream glide on nicely. It also makes my bb cream last longer too.
It's really good for rushed mornings too, if I'm running late I'll just apply this rather than moisturiser, as it's hydrating enough to act as both moisturiser and primer.
Innisfree Smart Foundation Perfect Cover (RRP from $8)
Ahhhh, just realised I photographed the wrong tube >.< Hehe, I bought both the Super Moisture and Perfect Cover. But anyways, the packaging's the same!
I've only used the Perfect Cover foundie twice so far, but I'm really impressed. The coverage is soooo good!
The reviews I've read on these were pretty negative, but I personally really like this (so far). It's thick like bb cream, rather than liquid-y like Western foundations, and has really good coverage for slight redness and faded acne scars.
SheerSkin Supa Hydra Soothing Cream (reviewed here)
I've been loving it a lot this month because it's so hydrating. It just sinks into my skin, and makes my bb cream glide on like melted butter, if that makes sense 0.o
I wanted to repurchase it but Cosmetic Love no longer stocks the brand T.T
Peripera Cherry Lip Tint in Cherry Juice (RRP from $12)
I've been using a lot more lip tints than lipsticks the last few months, and this Peri Pera one has become a fave recently. It looks similar to Benetint, but is quite a bit more pigmented.
I really like it, and plus the packaging is too cute!
Garnier Micellar Cleansing Water (RRP $11.99)
The much cheaper dupe of Bioderma's cleansing water, you can see there's only a splash or two left in the bottle, lol.
When I got my eyelash extenstions I had to switch from my oil cleanser to one that was oil free, so I got this, and have been loving it ever since.
It cleanses really well, despite looking just like water, and it's gentle and non-drying too.
I did repurchase this as it works well, the bottle lasts ages, and it's affordable.
Let's end it here - thank you for reading lovelies, and what have you been loving this July?