Today I'm going to be talking about one of the lip tints from Etude House's recent Fall collection, And Rose. It was a very romantic and more grown up collection from Etude, and part of the collection featured some gorgeous looking matte lip tints.
Beautynetkorea has kindly provided me one of these Rosy Tint Lips to review, in shade #4 Sweet Poison. I just love that name! It's not very 'Etude House', being a little more vampy and mysterious, but I like that.
Now, although these are marketed as lip tints, I'd say they're more creamier and more pigmented than tints - more like matte finish lip lacquers in my opinion.
I don't know about the rest of the shades, but Sweet Poison is incredibly pigmented and vibrant on the lips. The colour is seriously stunning! It's a vibrant pink with a bit of a purplish undertone.
It's definitely a 'look at me' shade.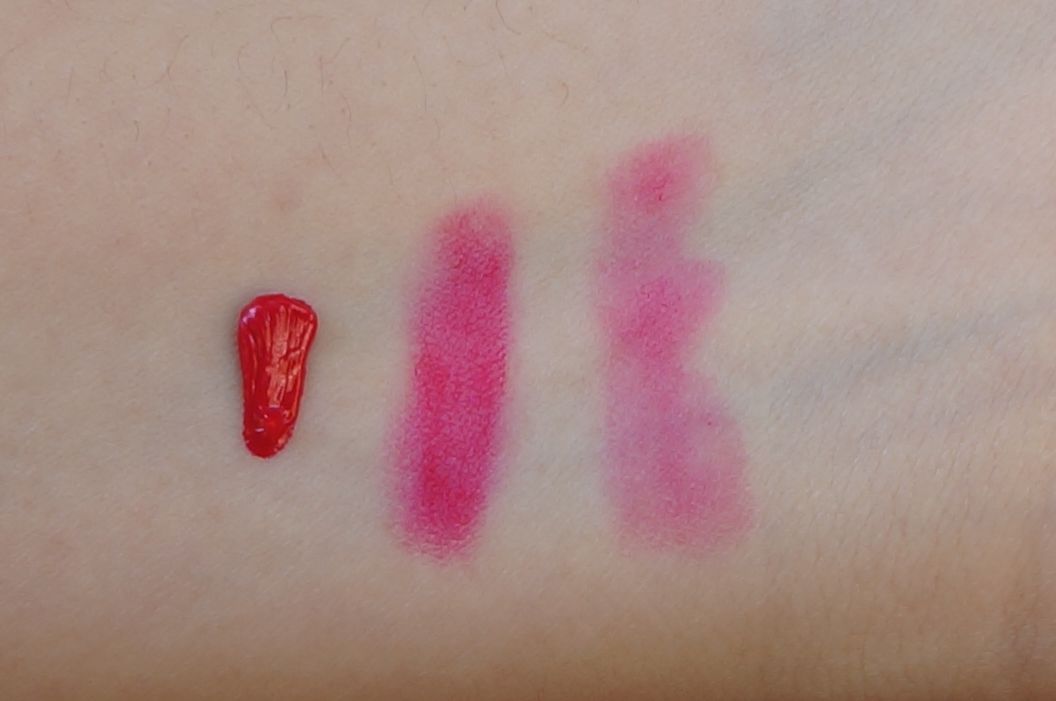 Squeezed out, gently swiped, gently patted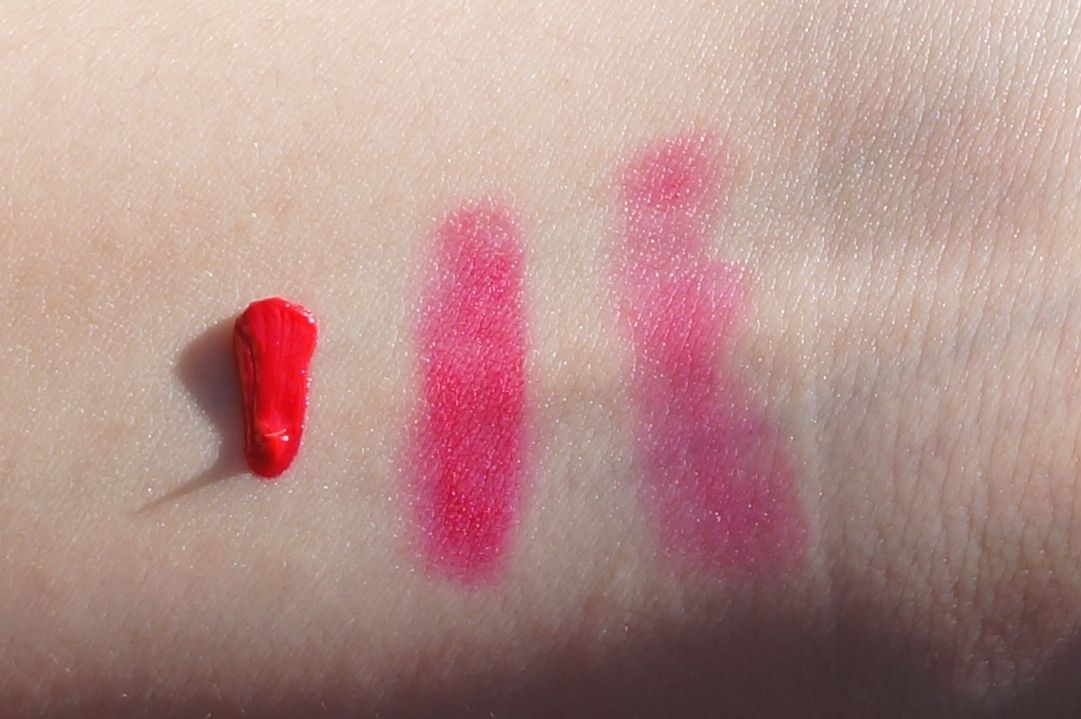 Under direct sunlight
Formula wise I was soo impressed - the tint is creamy but in liquid-like form - sort of like acrylic paint (the best description I could come up with, aren't I good with words? lol). The pigmentation is fantastic from the first swipe, and I do two applications for a full opaque lip.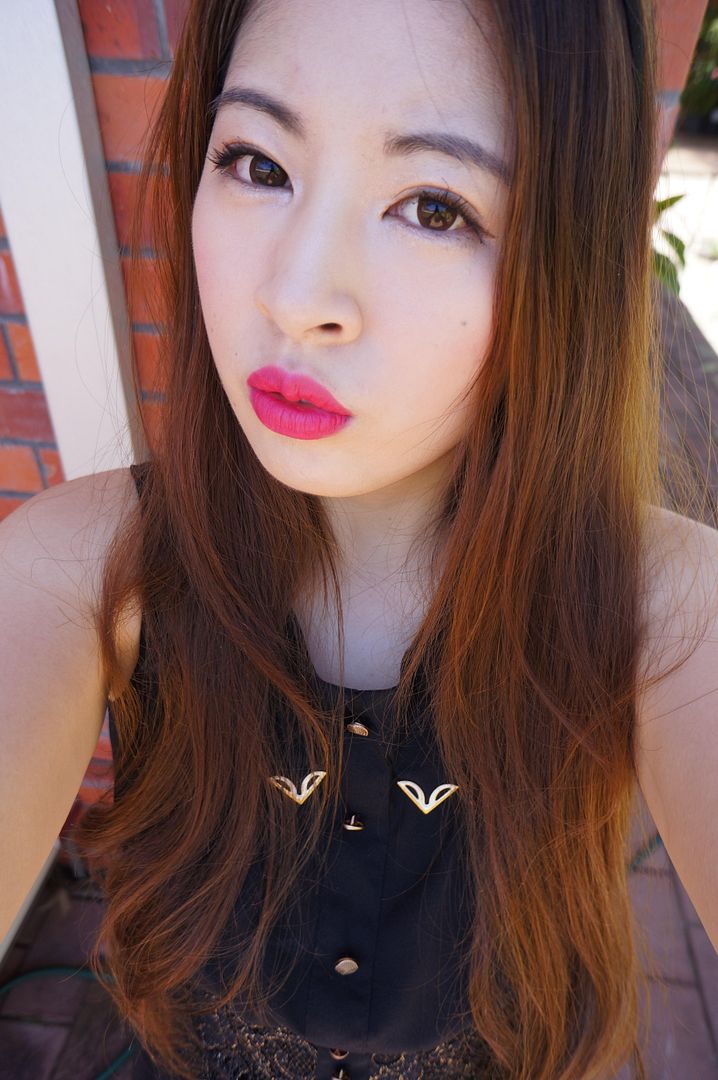 The formula is really smooth, and i
t's not drying on the lips either - yes, my lips do begin to feel a bit 'thirsty' after about 3 hours, but it doesn't make my lips prune up, or make them flake.
Lasting power is decent - the colour still going strong after 5 hours, though there's fading on the inner areas of the lips (as I usually sip on water through that time). So a mini touch up would be required after eating or drinking.
On the so-so side, I did find that due to the creamy formula, it does rub off a bit easier - especially on cup rims and straws. So blotting would be recommended if you don't want the tint to come off whenever you want to smooch someone, or when eating or drinking.
Gradient lips created with softly tapping the tint onto foundation covered lips
Concentrate the colour on the inner part of the lips, and only gently tap the tint on the outer edge~
Top off with clear gloss if you like!
If you use the sponge-head to softly 'tap' the colour onto the lips, rather than slide, then you can get a much softer colour. This is a great technique for creating cute and sweet gradient lips, rather than a bold pop of colour.
Net weight - 7 grams
The only really negative thing I can think of is the packaging - aside from being quite plain, the plastic tubes are quite difficult to squeeze. Its been mentioned in every review I've come across, but yes it's true that it's quite inconvenient and difficult to squeeze out the tint! It's the one let down in what is otherwise a fab product.
Would highly recommend this if you're after a matte lip look, but without the tight, dry feeling that matte lippies are known to give.
These Rosy Tint Lips are available on Beautynetkorea here, and currently retail just a little under $10 USD, and it's free shipping too!
*the product/s featured in this review was provided for review purposes - but opinions expressed are honest, and still 100% my own. For further information, please see my
disclaimer & disclosure policy
*