Hi gorgeous gals! I've got a rather
long and pic-heavy
post for you today.
I recently splurged and treated myself to one of Benefit's Holiday Sets, as I had a gift voucher I wanted to use, and because I've wanted to try the highly raved about Benefit cosmetics for ages now.
Even with a gift voucher it wasn't easy to hand over my cash, as Benefit is not exactly cheap (especially given the price hike here in Australia). I went for the set which I thought had the most amount of products I would be happy to use. The Groovy kind-a love set seemed to be the most worthwhile 'investment' to me, though Little Love Potions came a close second.
Here's what the set looks like - not exactly the sort of packaging I like, but it's pretty retro and playful.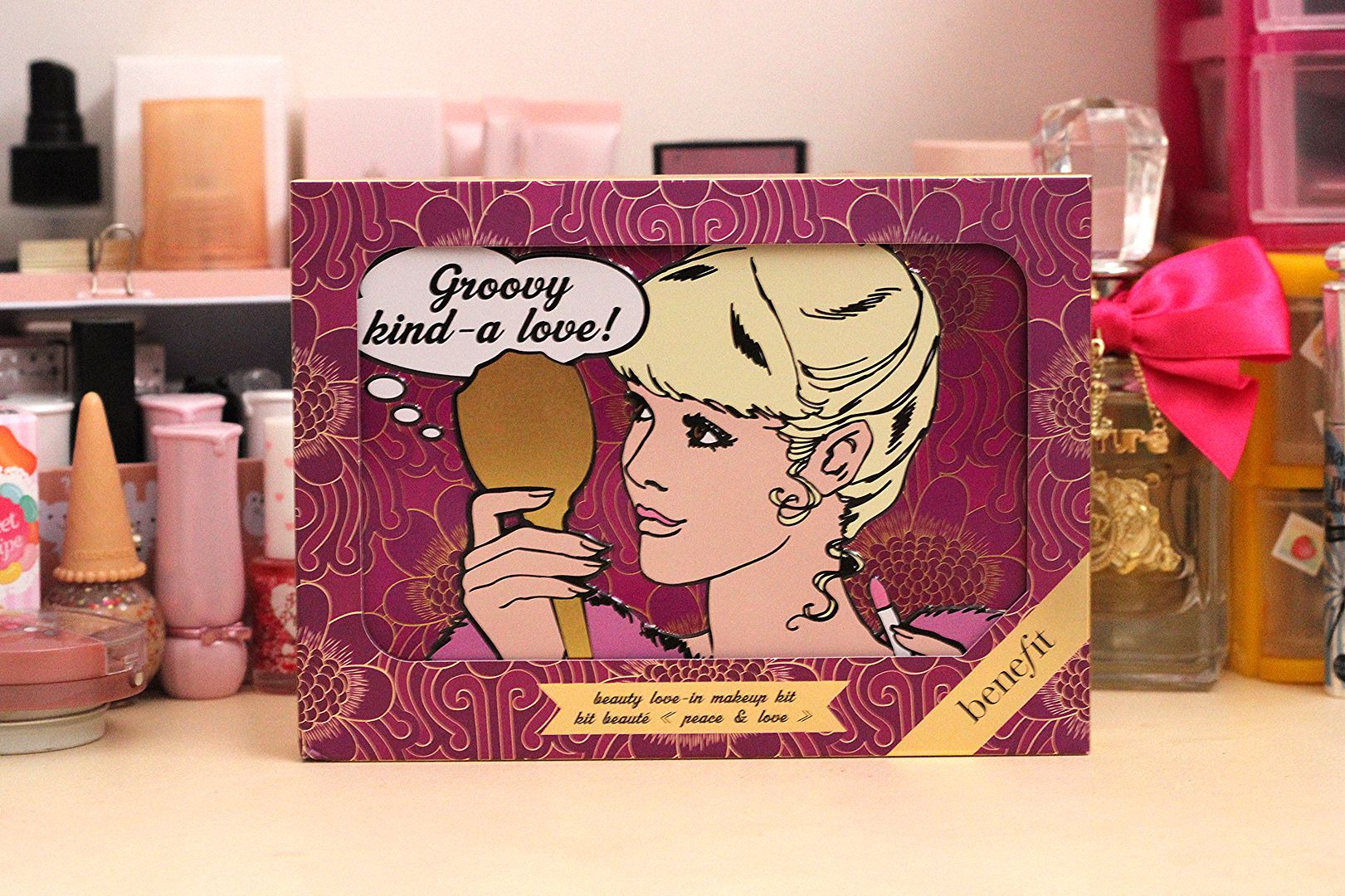 It retails at Myers at $69, nearly double the American price T_T
However, it's a great opportunity to try a decent range of products, without paying the full price. I mean, the full size Benetint costs $55 on it's own! I'd rather pay for sample sizes and be able to try more products, rather than buy one full size product at a time~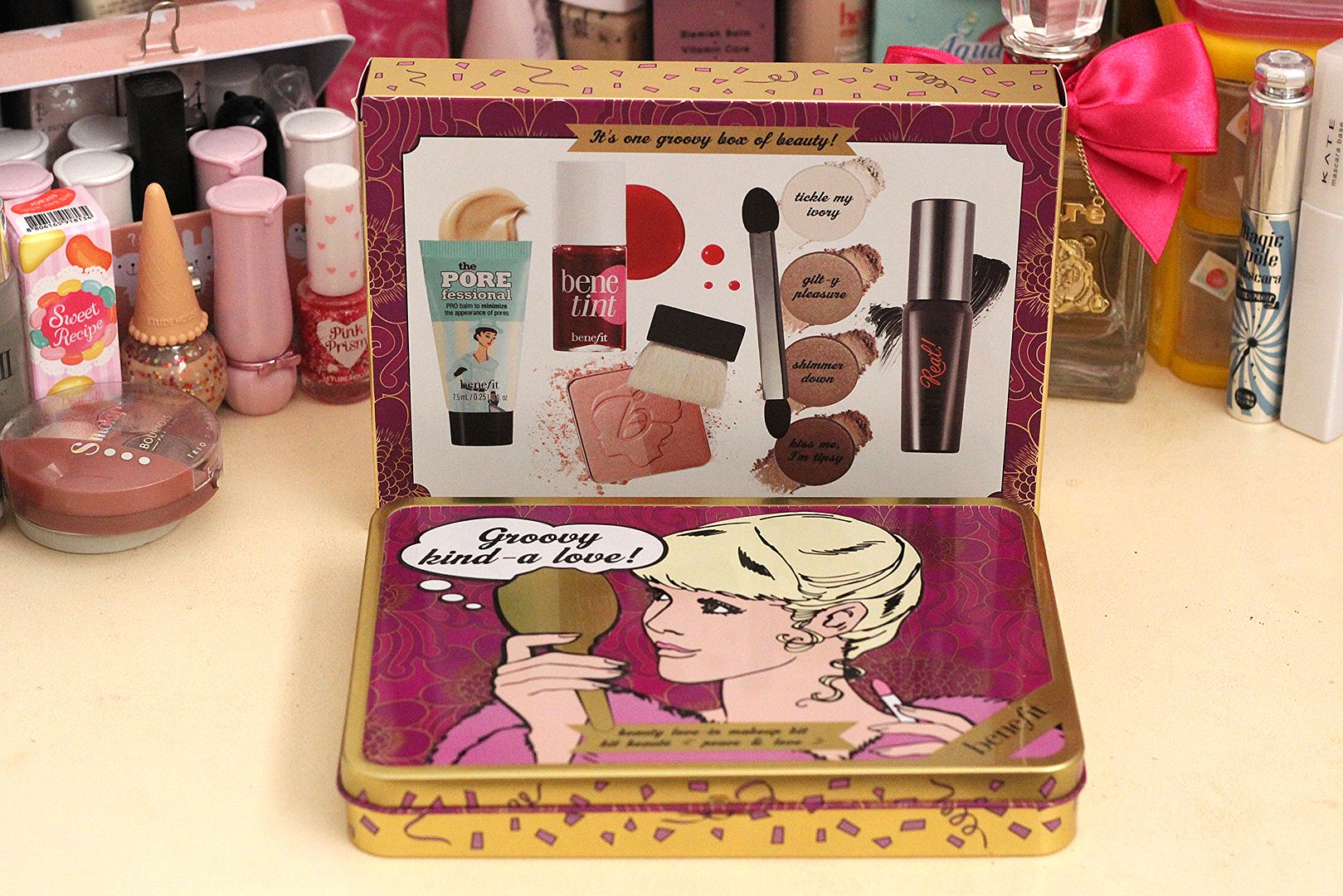 The holiday set comes packaged in a lightweight rectangular tin, and the contents inside are 'deluxe' sized samples
1x 7.5 ml the porefessional

1x 4.0 ml benetint

1x 1.5g dandelion and 1.5 g gimme fever cheek powder duo, with brush

4 shade 1.2g eyeshadow palette, with sponge applicator

1x 4g they're real mascara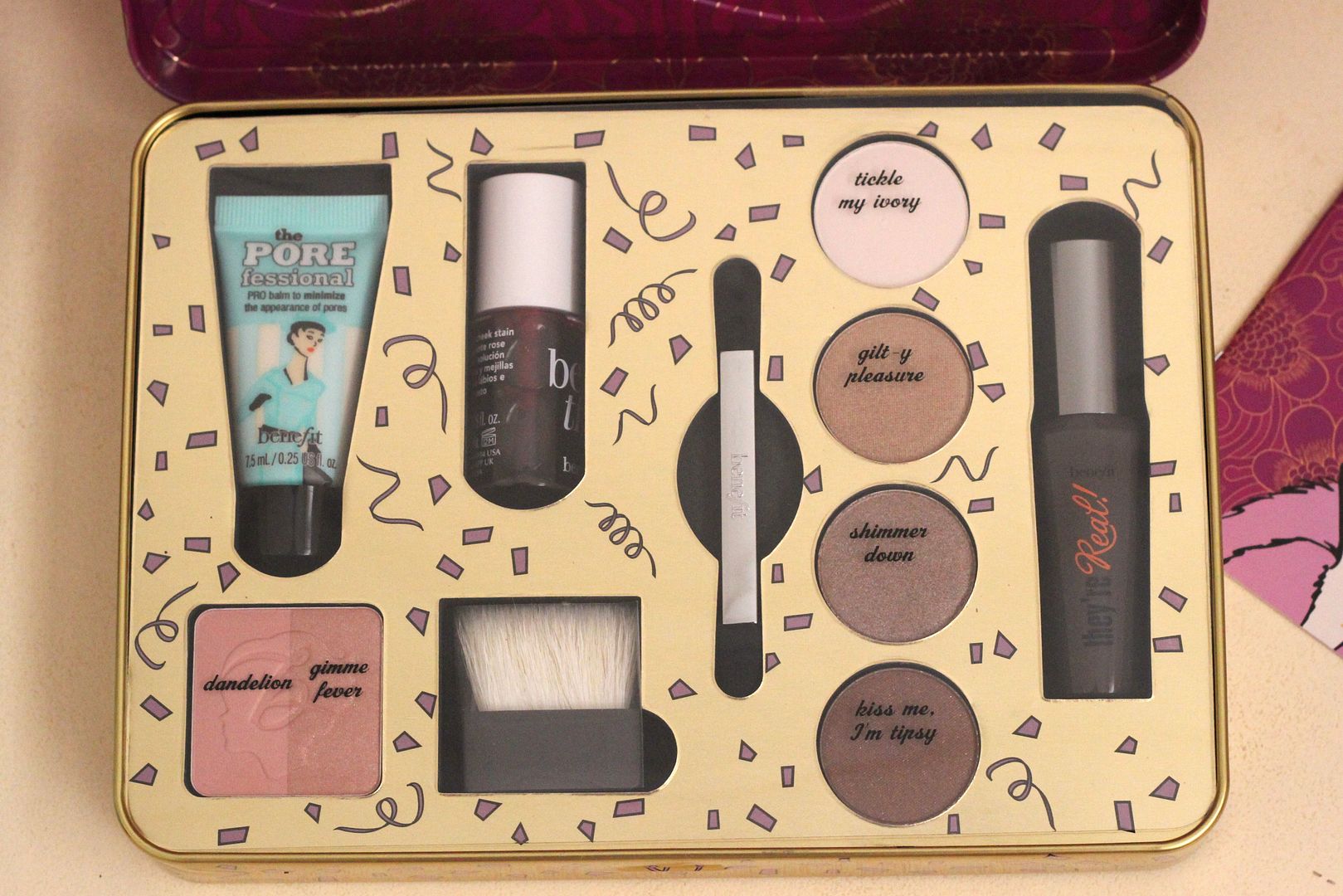 Inside the tin - there's a clear sheet covering the top, with the names of the blushers and eyeshadows embossed
Without the plastic sheet. It's rather nicely arranged and presented

.
I have the full sized They're Real standing next to the deluxe sized sample for size reference.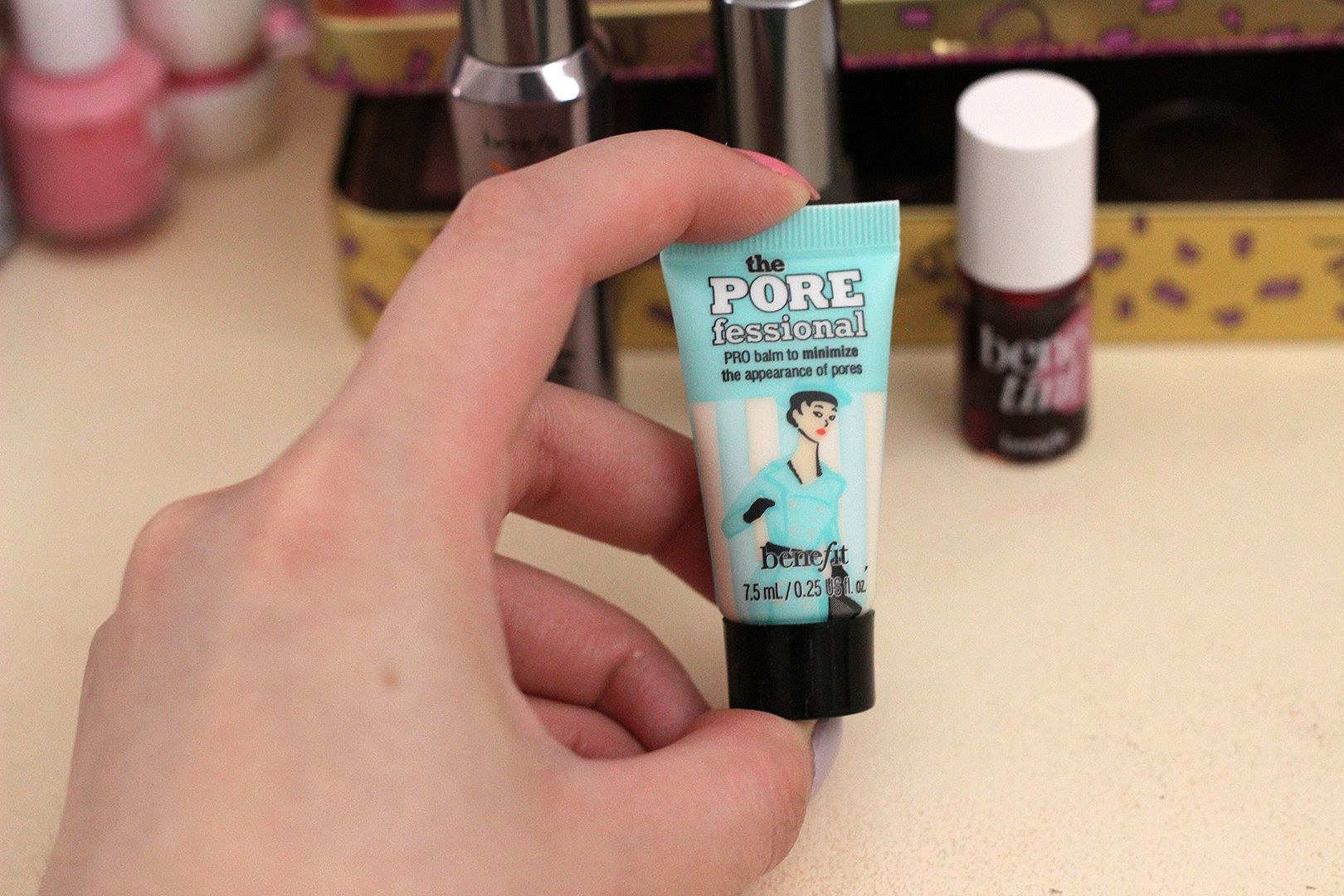 It's so tiny and cute - good for travel or handbag
The samples definitely look small, but after trying each sample, I'd say the mascara and tint should last a decent amount of time, as will the eyeshadows. However I think the primer will most likely be the one to run out the quickest, as it's an all over face product.
*Benetint*
Smells amazing! It has a gorgeous rose scent - usually I find rose a little old fashioned, but this smells lovely. The sample size looks tiny, but there's actually a really decent amount, as only a few dots is needed per cheek, or on the lips.
It gives a fresh rose colour to the cheeks - I was really surprised at how natural it looks! It looks like a real, rosy flush, not a manufactured blush at all. 3 dots on the apple of my cheeks is all that's needed for a soft flush, but I need to repeat the process another time for a slightly more obvious flush. Those who want a more vivid pop of colour would have to apply 3 or more times.
It dries quickly, so fast fingers is needed for application - I found the Benetint easy to apply, even though I haven't used tints on the cheeks before. It blends easily, and doesn't disrupt my bb cream like I feared it would.
As a lip tint, I really liked the colour on my lips, however after about 3-4 hours, my lips were beginning to look a bit 'wrinkly' as they were feeling dry. I just pop a clear gloss over the top, to prevent this.
I can definitely see why so many people rave about this.
*The POREfessional*
Admittedly, my pores are not my major skin concern, however I really like what this face primer/balm does for me. Beige in colour, the primer smooths my skin nicely, seemingly filling in much of the pores on my cheeks. It spreads easily - a little goes a long way, and it leaves my skin feeling silky. My bb cream goes over it so smoothly, and the end result looks really nice. It'd be great for special occasions, when a flawless base is needed.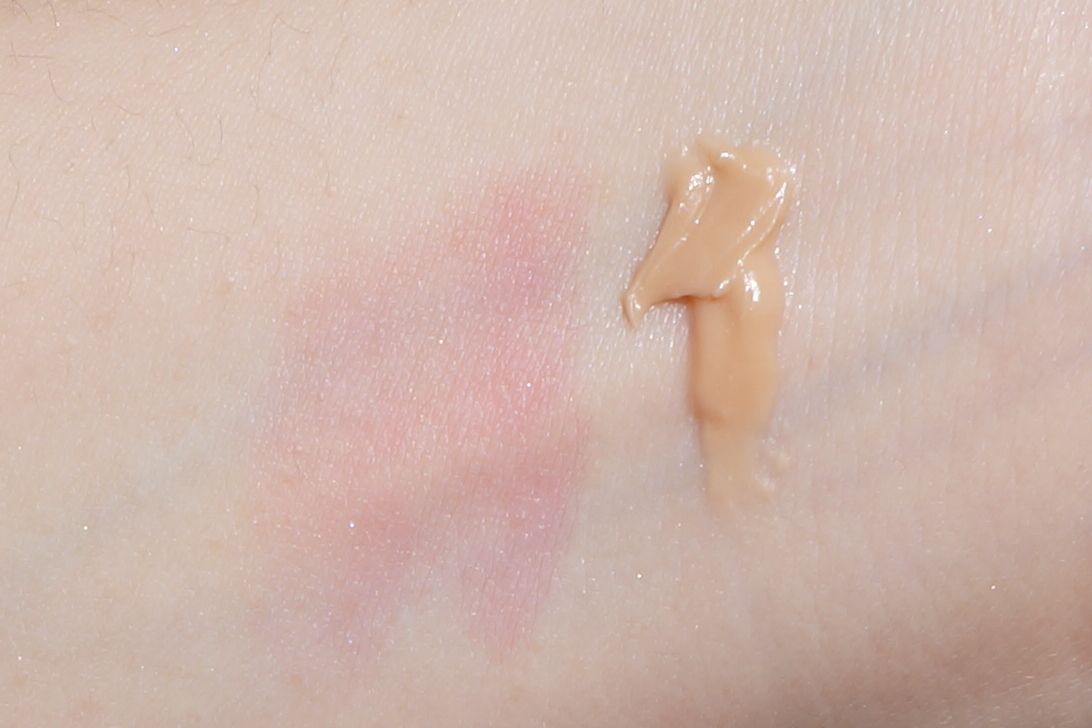 Benetint blended out, and the POREfessional
*Dandelion*
I'm in love! Described as a 'pink perk me up face powder' it can be used all over the face as a radiant powder, or concentrated on the apples of the cheeks like a blush.
I love using this as a barely there blush - under certain lightings the soft pink with teeny golden shimmer looks so pretty and glowy. I'm a sucker for a glowy look, so this powder really thrills me.
It does need to be applied fairly heavily to obviously show up, so medium to tanned skin tones may find it difficult to use as a blush.
I personally am seriously considering dropping $51 on the full sized product 0_o
*Gimme Fever*
Definitely more pigmented than Dandelion, this blush is a brown - peachy shade that is on the shimmery side. The brush picks up quite a good amount of colour on the first stroke, and it doesn't take much effort to get some colour on the cheeks.
I'm not too crazy about the shade since it's almost like a shimmery bronzer, and I'm not a fan of brownish shades in general, but I do use it swirled together with Dandelion on occasion.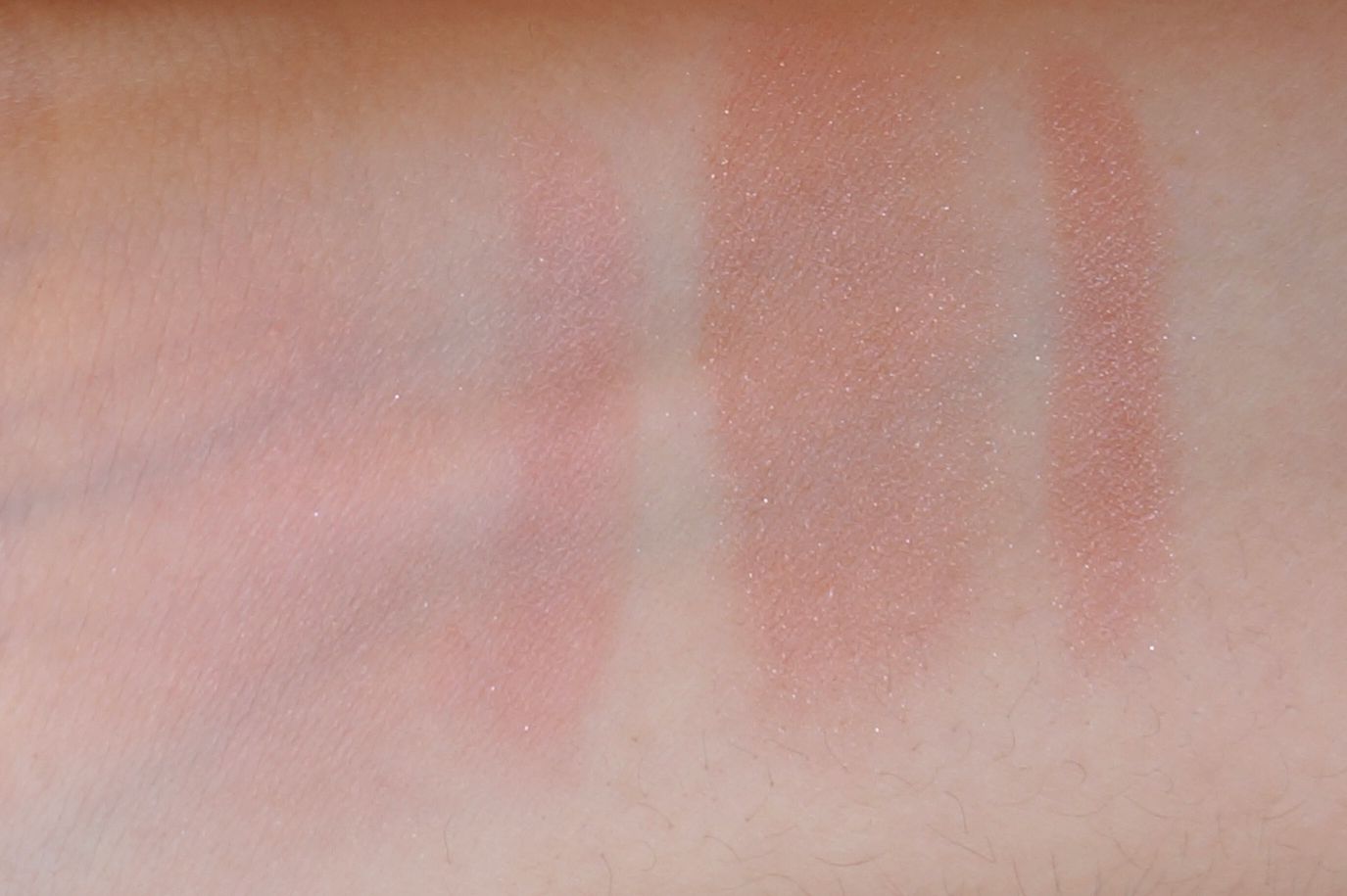 Outdoors natural lighting
L-R Dandelion blended, and swiped, & Gimme Fever blended and swiped (using the brush from the kit)
*Eyeshadows in tickle my ivory, gilt-y pleasure, shimmer down, and kiss me, I'm tipsy*
What cute names! I'm a neutrals eyeshadow girl at heart, so I definitely looked forward to checking out these shades. I was blown away by the quality - the shades are all so pretty, very smooth, and decently pigmented. Lasting power was decent, doesn't crease on the lids (even without primer), very minimal fallout during application.
Gilty-pleasure is now my top favourite eyeshadow ever - if I could only use one eyeshadow the rest of my life, this would be it. Although, I hope that type scenario never happens, lol.
I can think of no cons regarding these shades - really pleased with them overall.
Natural outdoors lighting
L-R tickle my ivory, gilt-y pleasure, shimmer down, & kiss me, I'm tipsy
Applied with one swipe from a sponge applicator - no primer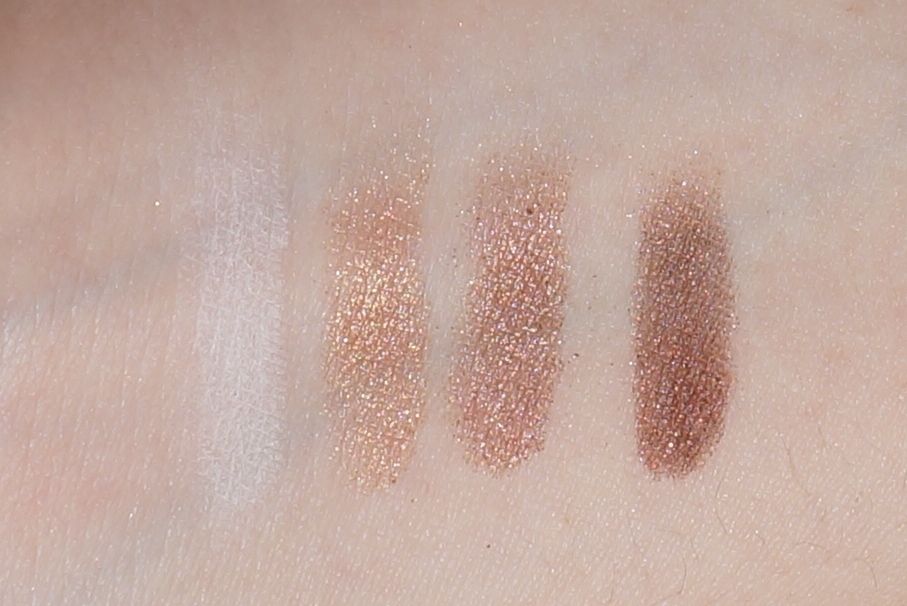 Under direct bright sunlight
L-R tickle my ivory, gilt-y pleasure, shimmer down, & kiss me, I'm tipsy
*They're Real mascara*
The only Benefit product I've tried, prior to buying this set. It's a good mascara, but I prefer a more dramatic and 'lashy' look (a syndrome from having super straight lashes all my life), so while the They're Real is fantastic for lengthening lashes, and doing it naturally, it's not a mascara I'd repurchase (unless I get tired of the lashy look).
Also, it's not waterproof, so I can't wear this without a waterproof mascara base underneath, as my stubborn lashes will just droop without a waxier/dryer formula.
And now for some fotd's using these Benefit goodies.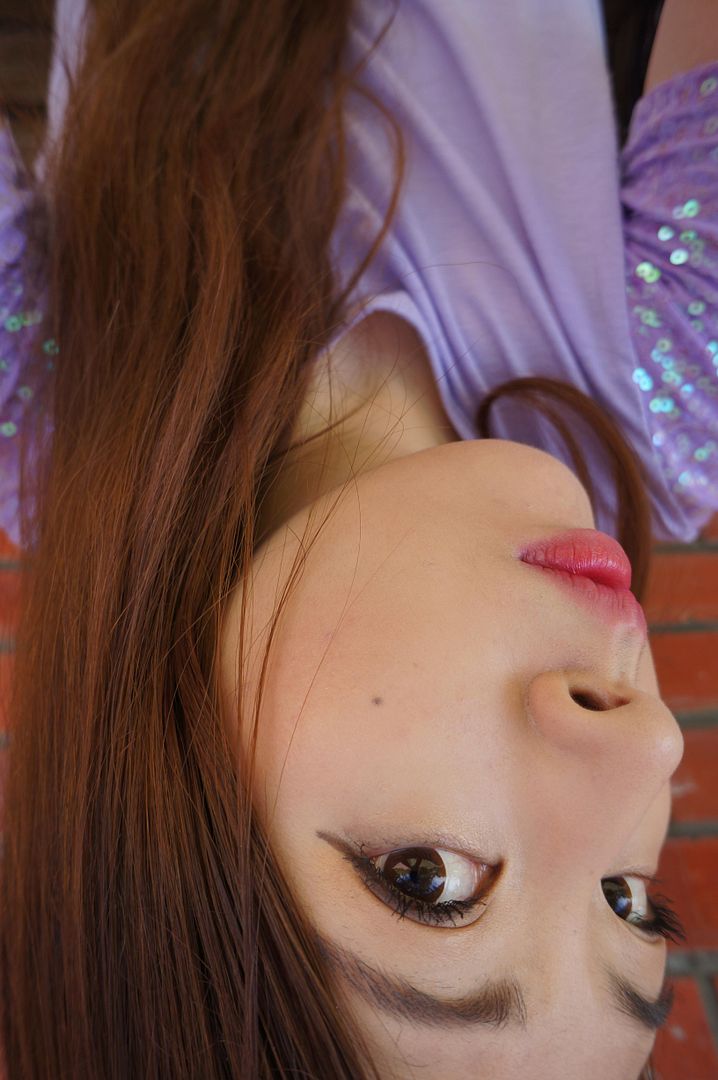 Wearing the POREfessional under my bb cream, tickle my ivory as inner eye highlight, and gilt-y pleasure all over the eyelid (applied with finger), and lower lashline.
Also a light dusting of Dandelion over the apples of my cheeks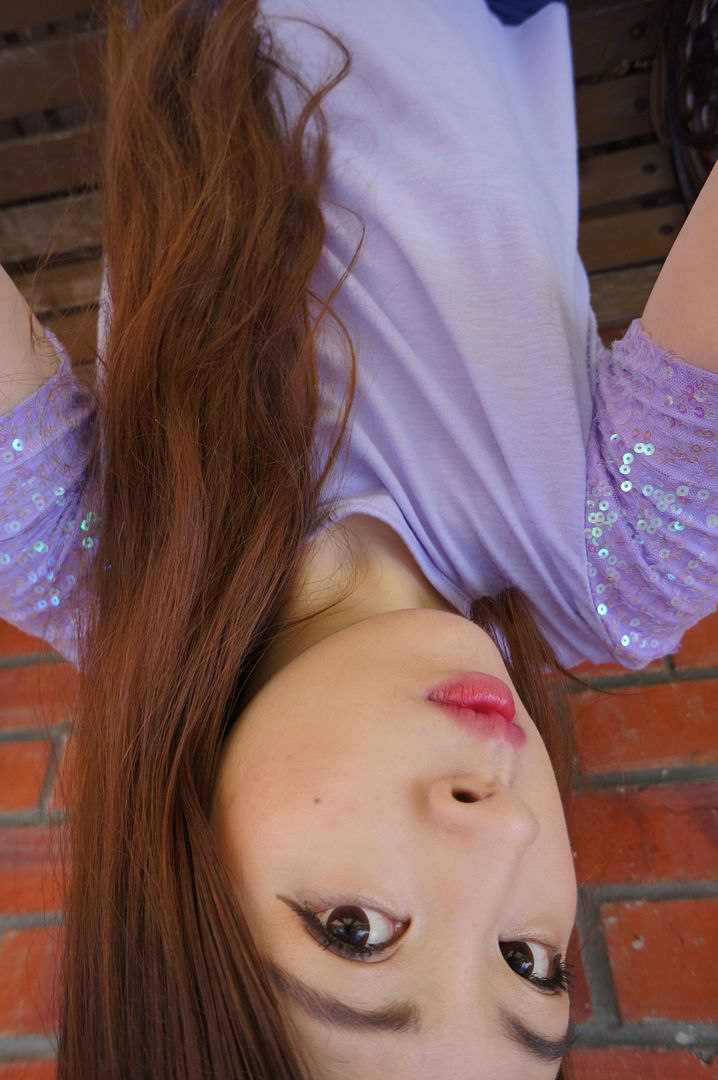 Blotted Max Factor's pen stick in Passionate Red on my lips - am obsessed with it!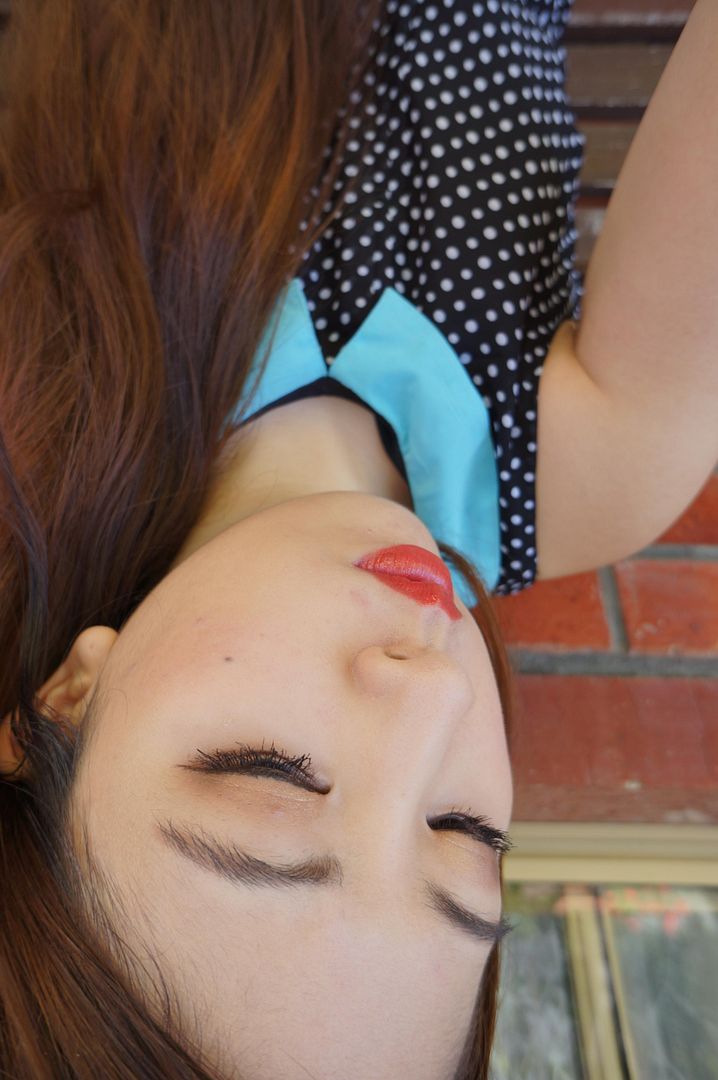 Wearing They're Real mascara, all the 4 eyeshadows, and a hint of Benetint on the apples of my cheeks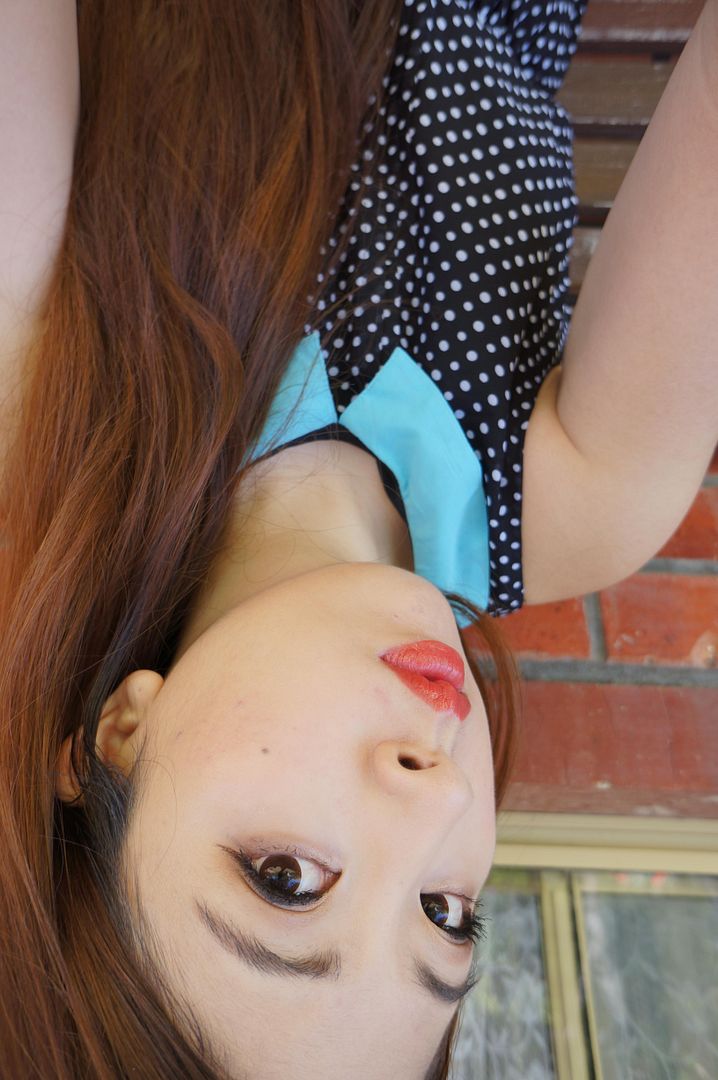 Wearing Burt's Bees Cherry Cerise Lip Shimmer on my lips - review here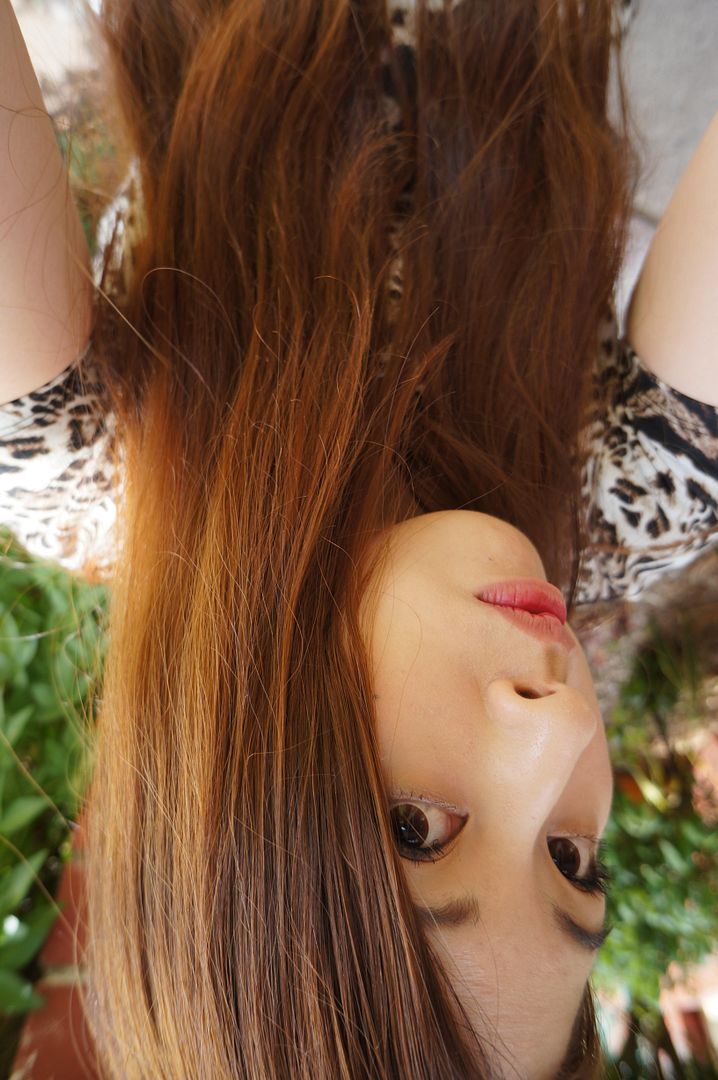 Wearing They're Real, the eyeshadows, and the Benetint in a gradient lip effect
Wearing shimmer me down all over the eyelid, tickle my ivory as brow highlight, A mix of Dandelion and Gimmer Fever on the cheeks, and a smidge of Benetint all over my lips
Topped off my lips with a clear lipgloss, to prevent my lips from pruning up after a few hours
Wah, that was a really long post - if you're still reading, thank you!
Overall, I was really impressed by all the Benefit products, and it's definitely a brand I would love to try more of (High Beam, Cha Cha tint, and Posietint are all on my wishlist!). I think the holiday sets are actually really good value, even though you're essentially paying for sample sized products. But at least you can try a few different items, at the price of one or two full sized items.
At the moment I'm seriously lusting over the Benefit Countdown to Love Advent Calendar - its got 21 samples of their bestsellers, plus 3 trinkets. Haha, but can I justify dropping $99 on it? Still mulling it over...
Have you tried any Benefit before? Anyone else have Benefit goodies on their Christmas Wishlist?