Hi gorgeous girls! Today's review is an interesting one, because it's on one of the two snail secretion (read snail slime) moisturisers I'm currently using~
Snail secretion in skincare was quite the rage in Korea a year or two ago, so I am a bit late to the bandwagon, but after reading a whole heap of rave reviews I decided I just had to try this - even though the thought of it made me a bit squeamish! It's because the snail secretion supposedly has a whole heap of recovery/regeneration powers, that I decided I was willing to slather such stuff all over my face. A lot of reviews also claimed it was excellent for acne too, so that was another reason I wanted to try this.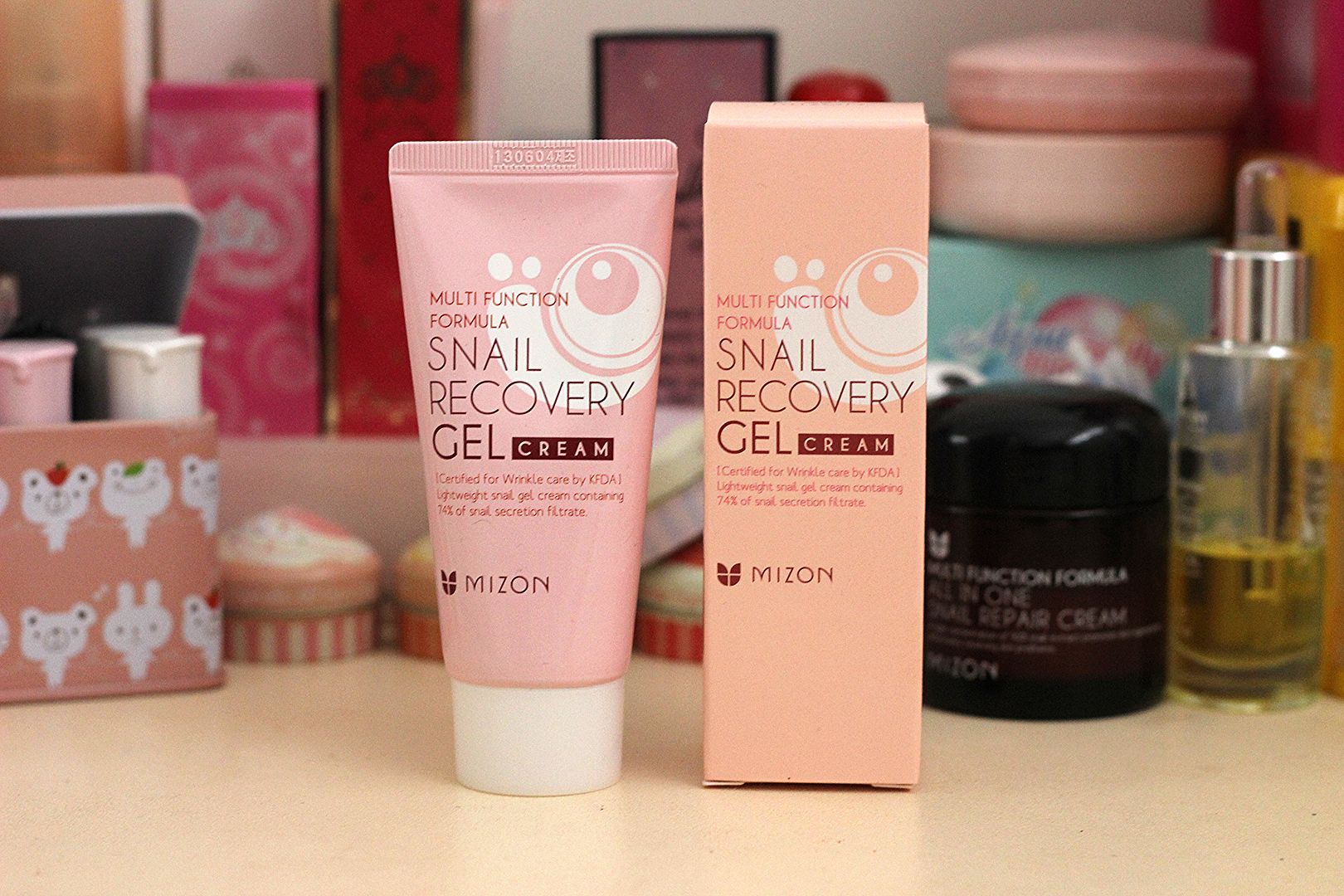 Note that snails are not killed or harmed in order to harvest their slimy secretion!
I'll start off with reviewing the Snail Recovery Gel Cream, which I used for about 2-3 weeks on its own, before adding the Repair Cream to my routine.
Marketed as a multi-purpose cream, this contains 74% snail mucus, which isn't too bad, but apparently the higher the percentage, the more effective it is. While providing moisture, it also cares for troubled and stimulated skin, such as redness and blemishes.
The packaging is quite cute - the gel is housed in a pink squeeze tube, which doesn't intimidate anyone by screaming "chock-full of snail slime for your face!"
It's actually quite small in size - only 45ml, but the upside is that it's super cheap, generally retailing less than $10 online. I got through one tube in a little under two months.
Top: Mizon Recovery Gel Cream
Bottom: Mizon All in One Repair Cream
The cream is
gel-like in texture, and really cooling when applied to the skin. Clear in colour, it smooths onto the skin easily, and absorbs quickly when patted. There's nothing about it that looks or feel yucky, as you might think something with snail slime would be, which was a relief!
The various purposes this has, other than a lightweight moisturiser, is as a cooling cream for sunburn or reddish skin by leaving it in the fridge, or as a moisturising sleeping pack (a night time face mask that you don't wash off until the next morning).
It's also thankfully free from parabens, artificial scent, and artificial dyes.
On its own, I didn't think this was hydrating enough on my dry skin, so I do use another moisturiser beforehand. I didn't see any visible results on my skin immediately, though I did feel like it was gradually helping prevent small blemishes from fully coming to head, or lingering around. I would dab a little extra onto blemishes I could feel forming under my skin before I went to bed, and more than 50% of the time I found the blemishes reduced in size (or even mostly gone) the next day! Of course, it wasn't effective on the occasional angry big zits I got every now and then.
Overall, the Gel Cream doesn't necessarily live up to all the online hype for me - but I do believe I saw better results when I paired it with its companion, the All in One Repair Cream. After 3 months of usage I do feel
like there's been a change for the better in my skin and complexion.
I use the Mizon Recovery Gel alongside the All in One Repair Cream for better results~
I'm going to end the review here, but I will have the All in One Repair Cream review for you tomorrow night, as I really feel like the two products should go together, however I didn't want a super long review, so I've split it into two.
Have you tried skincare with snail secretion, or if you haven't, would you?
OMG, by the way, I recently read that the new trend in Japan is snail 'facials', where you have living snails crawl all over your face! *shudders*
I think I'll stick to my creams, thanks!
Thanks for reading lovelies - see you soon~