La Roche-Posay has been a brand that's intrigued me, but which failed to make it's way into the clutch of my skincare-loving-hands, due to it's rather hefty price tag. They're a French brand, who specialises in skincare for sensitive skin, and they're quite well recommended by dermatologists. So when
Priceline had a massive 40% off skincare sale a while back, the Sensi White Foaming Cream was tossed into my shopping basket without any hesitation (along with a crap-load of other stuff, as seen
here
).
I know that it's the La Roche-Posay Effaclar Duo that seems to be the star item of the brand, but as I don't have oily and problematic skin (I have dry-normal, and occasionally problematic skin), I decided to try something else. And the something else that caught my attention was the Foaming Cream.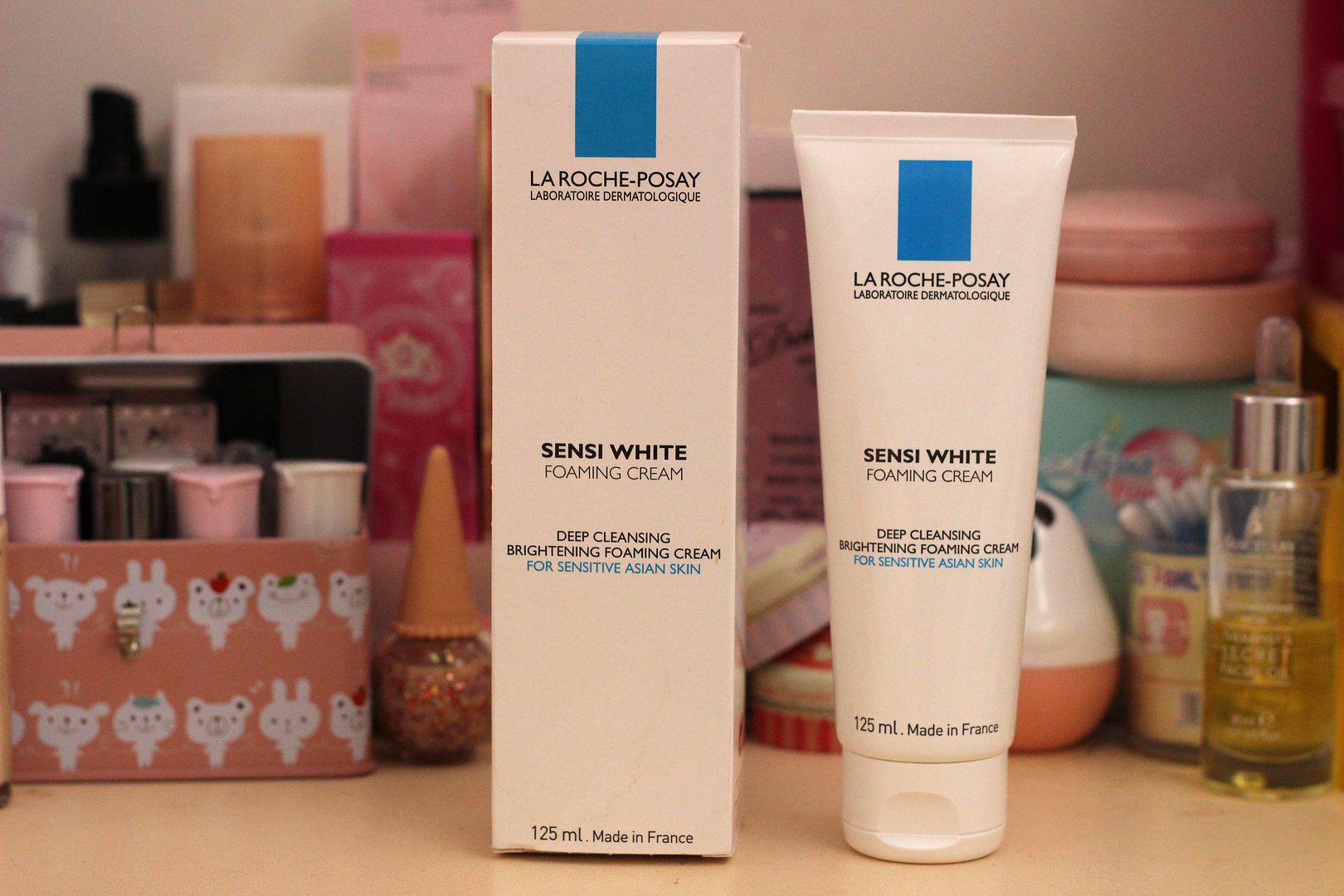 The fact that it's particularly made for 'sensitive Asian skin' really intrigued me, as I've never seen a cleanser specifically stating for Asian skin before. I'm really curious as to whether this works for non-Asian skin too?
In any case, this cleanser specifically targets uneven or 'darkened or yellowish' complexion.
The Sensi White range is a whitening range, and it's enriched with LHA to 'slough off over-pigmented dead cells' and 'smooth the skin's surface.' LHA is supposedly similar to
salicyclic acid, which I know to be effective in diminishing acne.
I actually find products with
salicyclic acid a bit (or a lot) drying on me, so I wish I had done a bit more research rather than just tossing this into my shopping basket!
The cleanser comes out a thick pearly cream, that lathers up and becomes foamy upon mixing with water. Scent-wise, it's very lightly fragranced, and smells a little soap-like.
It does feel as it cleanses deeply, mostly due to the fact that my skin feels squeaky clean after patting my face dry. Unfortunately I'm not a fan of the squeaky clean feeling, since it makes my dry skin feel a little stripped of hydration.
On the upside, I definitely noticed a visible brightening effect, which was great, so I suppose the claim about sloughing off dead skin cells is not a lie. My skin looked visibly brighter, clearer, and generally pretty good after cleansing, though it did feel a little dry.
I wouldn't recommend this cleanser if you have dryer skin like me, but I bet those with oilier or normal-oily cleansers would enjoy using this cleansing foam. It's a good cleanser if you can afford it, and like a deep clean and a brightening effect.
I purchased this from Priceline, and it normally retails around $20.
Are any of you using anything from La Roche-Posay? This foaming cream wasn't for me, but I'm still interested in trying other products from the range~
Thanks for reading!
Today's FOTD~