Hi loves! I'm happy the weekend is here now :)
Today's post I'm going to do the 'what's in my handbag' tag - I've wanted to do one for a while, but truthfully the stuff I carry around is very ordinary and not very interesting at all!
The above pic is the handbag I've been lugging around for the past week or two - it's a cream shoulder bag from one of my fave stores Forever New - I think half my handbag collection is from there, since they have such pretty handbags!
I'm kind of a sucker for tassels on handbags, so I like this one a lot~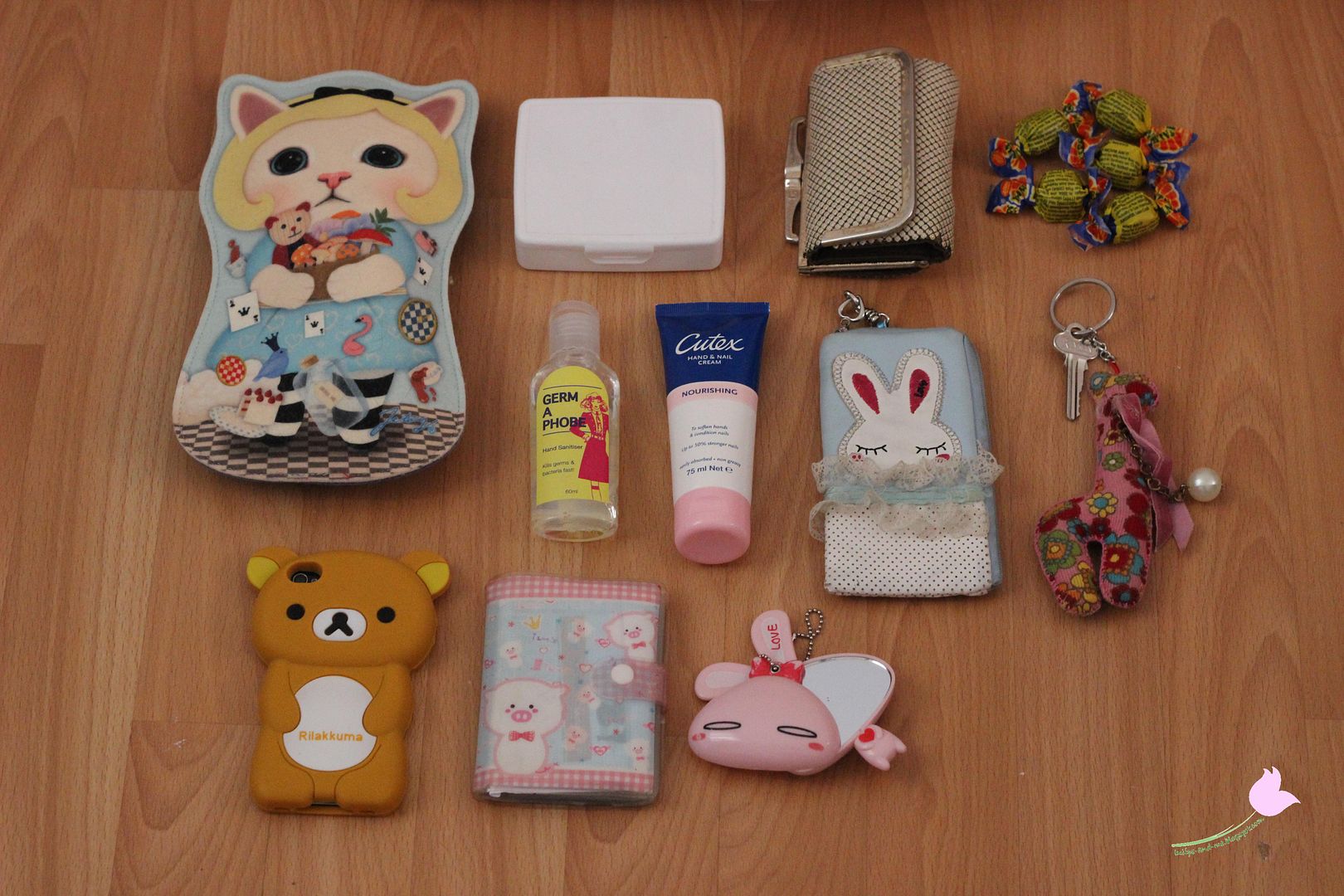 Ta-dah! And this is all the stuff sitting in my bag at the moment.
Jetoy 'Alice' felt make-up pouch (from this ebay seller, for those interested)

Mini first aid kit

Wallet (used to belong to my mum)

Candy (Fantails)

Cheap hand sanitizer

Cutex hand cream

Tissue holder (actually a mobile phone case?)

Spare house key

Mobile phone

Card holder

Bunny compact mirror
Gotta admit, I do have a bit of a weakness for cute and kawaii stuff! I just noticed there's lots of 'animal' themed items here...
I just *adore* this Jetoy felt pouch - I discovered this Korean stationery brand while browsing ebay and just had to have it! I particularly like things related to Alice in Wonderland too, so I bought this without much of a second thought. There are other designs too, including a Red Riding Hood cat that is just as adorable~
It looks like quite a thin size, but amazingly it can hold quite a lot! As evidenced here, I'm currently hoarding
Face of Australia brown liquid eyeliner

3x Etude House Dear My Jelly Lips (my everyday lippies!)

Rimmel Apocalips in Stella

Model's Prefer Moisture Lust lippie (shade & finish similar to the red Etude jelly lips lippie!)

Maybelline Baby Lips lip balm

Nivea Lip Butter (smells yummy)

Essence brown pencil eyeline

Cotton buds for emergency eye make-up clean ups, lol
Seriously, I just keep adding lippies since I try to wear a few different ones each week, but the Etude lippies are pretty much a permanent fixture, as well as the lip balms.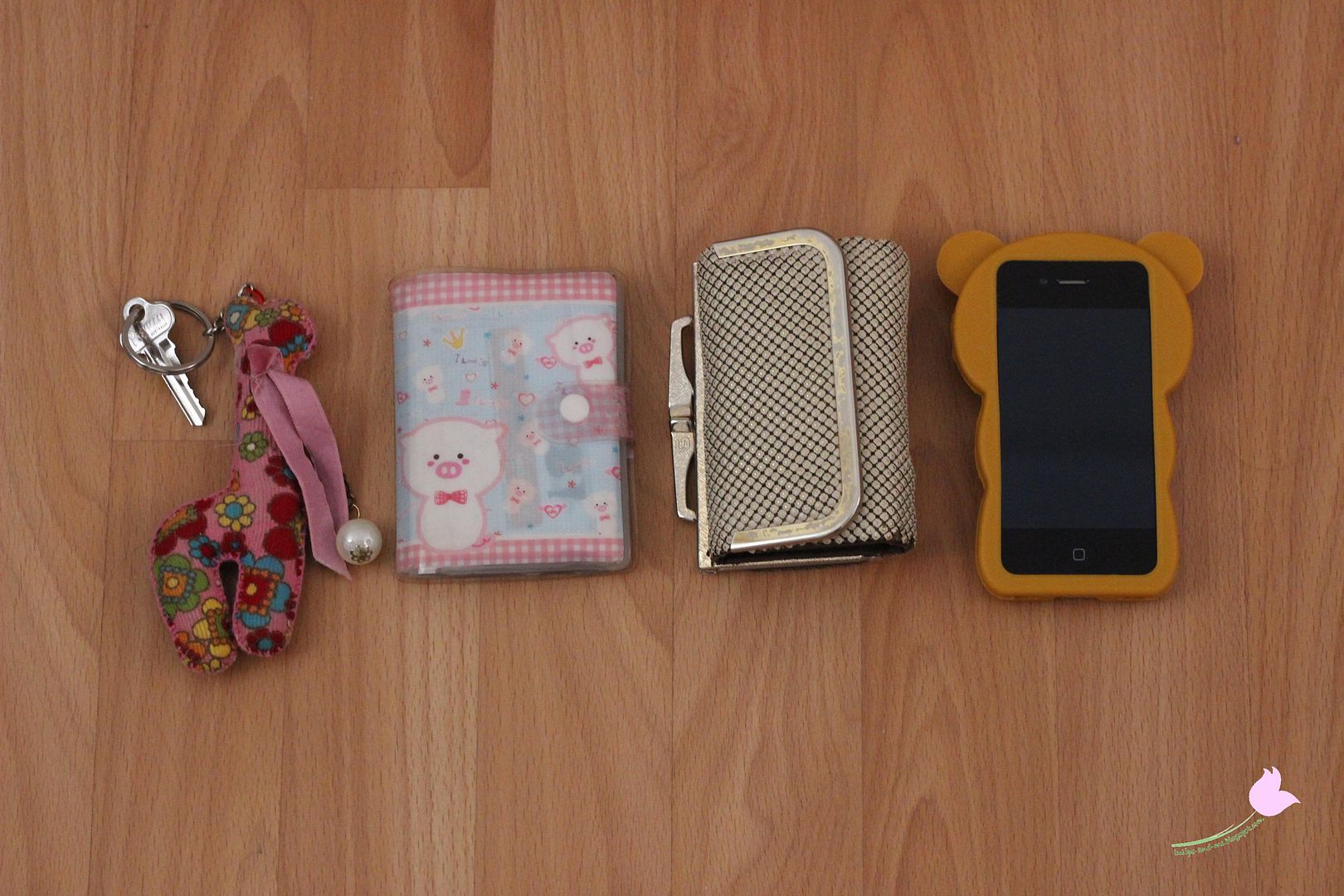 Spare house key ring - a printed giraffe that an old friend gifted to me, a cutesy card holder I got from the flea markets, a wallet I 'borrowed' from my mum (I think it's as old, if not older than I am!), and my phone.
I'm in desperate need of a new wallet, but every one I've seen at the shops I've disliked. I can't find any I like at all T_T
And the last lot of things I'm lugging around. The mini first aid kit is actually mostly filled with bandaids and bandages of all sizes (useful for any painful blisters due to breaking in new shoes!). I found this at the $2 shop, so what a steal! And I also put some Panamax in there too, just in case.
Hand sanitizer and hand cream, a bunny-shaped compact mirror, and a zip up case perfect for holding tissues make up the final items of my handbag contents. All boring, but essential stuff I suppose!
And now you've seen what's in my handbag :)
Are you girls carrying less or more than I am in your bags?
Thanks for reading gorgeous gals! Hope you have a fab weekend!