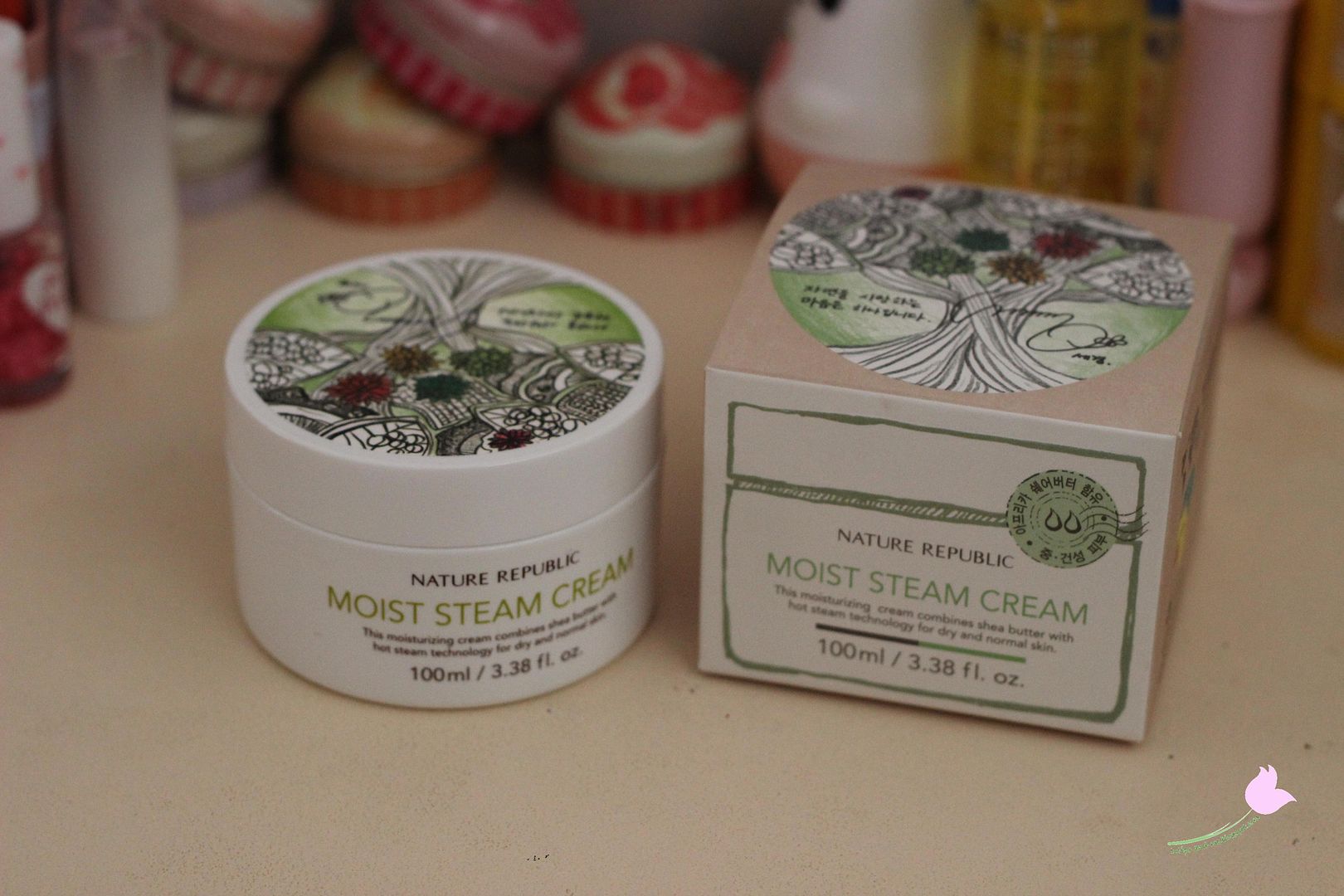 Hi lovelies! Today I want to talk a little about the Moist Stream Cream by Nature Republic. I picked this up during a 20% off sale from Cosmetic Love a while back - I'm always on the lookout for something to hydrate my dry and sometimes dehydrated skin.
Anyway Steam Cream is a bit of a hit in the UK, so when I saw this slightly more affordable version by Nature Republic I just had to try it! There are 3 varieties, but the one I picked is the Moist Steam Cream, which is for normal to dry skin types.
First things first, it's called steam cream, due to the technique of using hot steam in the production process. The Nature Republic Moist Steam Cream uses the steam technique with African shea butter, to provide additional moisture to normal and dry skin types. It also contains Vitamins A and E, which are supposedly good for moisture and smooth texture.
It claims to have a 6 free formula- free from parabens, talc, sulfate based ingredients, mineral oil, benzyl alchohol, and artificial colours.
Ingredients List - Click to enlarge
It's actually not meant to be used alone, but as an additional product to layer over your normal skincare (i.e, after your regular moisturiser). I think Nature Republic refers to it as creating a 'moisture veil' on the skin.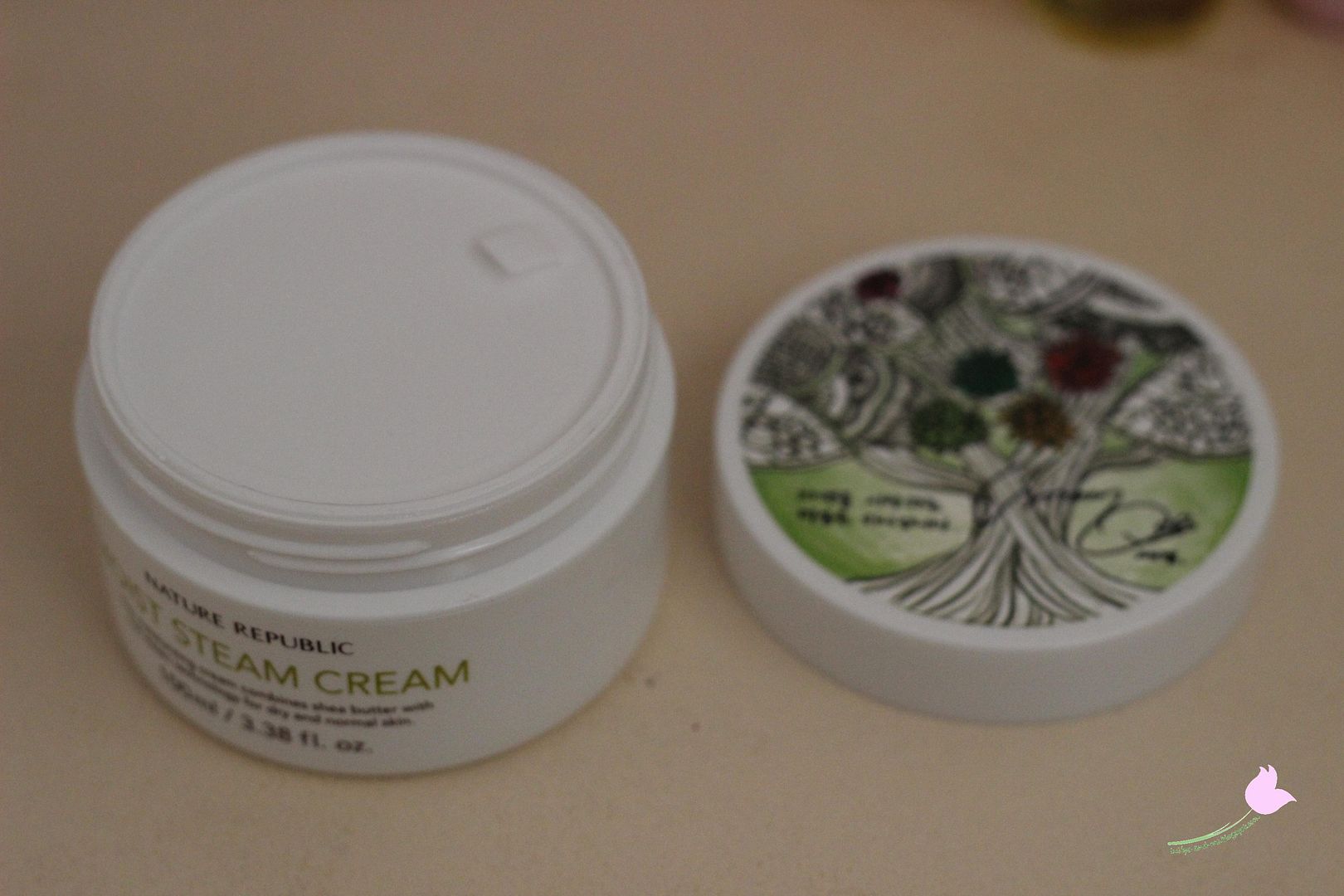 Comes with a protective cover
Packaging-wise, the steam cream has very simple and clean packaging. It comes in a white tub, with a cool illustrated design on the lid.
It also has a lovely fresh and floral scent - it's not very strong, so I don't think it'd be a problem for most people, except maybe for those who prefer unscented products.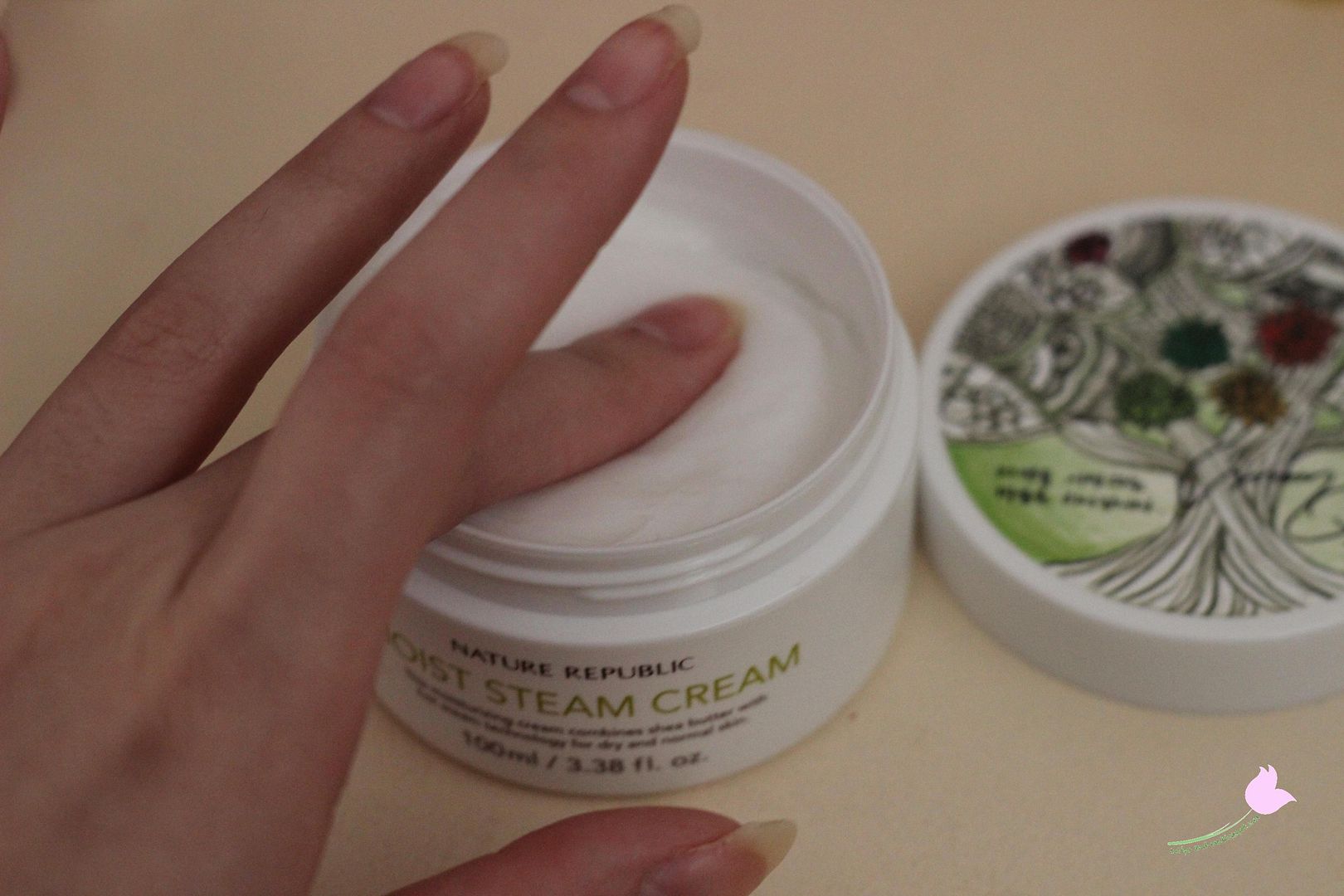 As you can see, the steam cream is quite firm - almost cushion-like with it's soft yet firm texture. There is no spatula (boo), so the best method is to either buy one or use a plastic spoon - you can use fingers too, but then you'd have to 'dig' into it a bit, and you'll probably get some cream underneath your nails.
Though the cream is firm in the tub, once you dab it onto your skin it melts and smooths beautifully. Note that the directions say to pat into the skin, and I think that's for better absorption as the shea butter tends to linger on the skin if massaged instead.
I only use this at night, and my skin always feel hydrated and soft the next morning, which is really lovely.
But I think the main con of this steam cream is that it does tend to feel a bit heavy sometimes, so it can't be used in the day time, or during the warmer seasons. I noticed my skin tends to look oily and shiny if I use this underneath my bb cream during the day time, so that's why I had to only use it at nights. It also made me feel a bit oily too, but I think that was because I loaded my face with too much cream - it's just so tempting to apply a little more, since the cream is so hydrating! On the plus side, it didn't break me out!
Overall it's a nice cream, however I wouldn't repurchase for the fact that it's a cream that's meant to be used on top of a regular moisturiser rather than by itself. I also found it too heavy as an all over cream to be used during the day time (but sometimes I do use it on my very driest areas on the face if I want to wear foundation), as I ended up looking like an oil slick after a few hours.
I tend to look at this as more of an 'emergency hydration hit' type of product, which I'd only use if my skin was feeling particularly drier than normal.
Thanks for reading lovelies! Sorry I haven't been updating as much lately, I just picked up a second part time job so things are a bit busy atm. Once I get into a better routine, I'll be back to updating more, and replying faster to comments and visiting your blogs - promise!
Have you tried any steam creams before?
If you haven't already, don't forget to check out my Etude House Giveaway, sponsored by Cosmetic Love. There's only 1.5 weeks left till it ends~!