Happy weekend beauties! Since my Makeup Collection post was quite a success, I've decided to do a mini series of further posts exploring more in depth into my collection. Today I'm going to start with my eye makeup!
Let's start with the little pots and mini palettes in my collection.
These are all drugstore brands, except for bellapierre. Bellapierre is a mineral makeup company...but sooo overpriced! The Bourjois mini palette helped me realise that I should wear more colours other then browns on my eyelids :)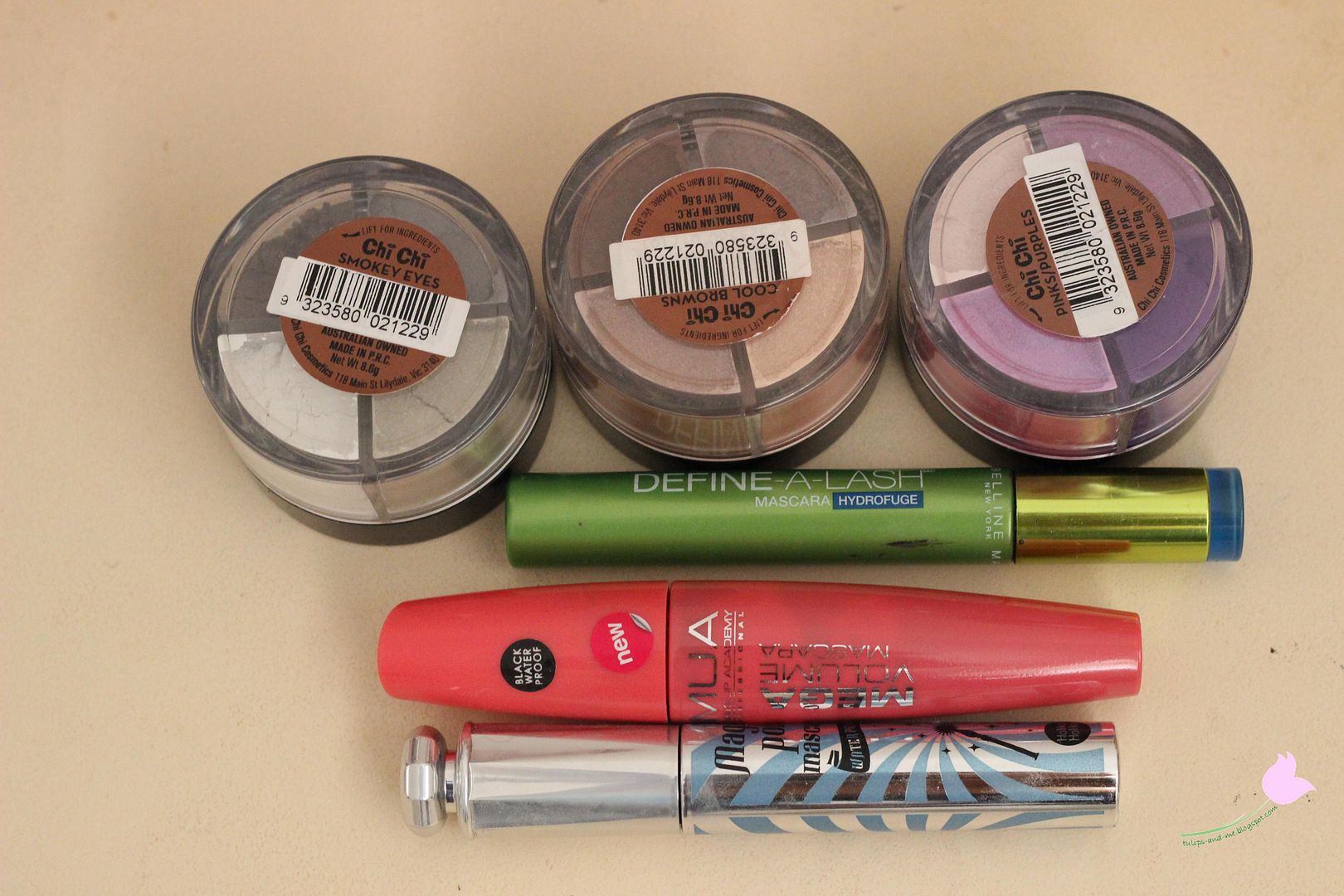 Some more loose eyeshadows - Chi Chi's mineral shadow quads, which I think are discontinued now? Anyway, I think they're quite lovely, especially when applied wet~
And these are the mascaras I currently own. I only use waterproof mascaras as the formula tends to work better to hold up my super straight Asian lashes. Still yet to find the perfect mascara for me yet *sigh*
The Holika Holika mascara is my current everyday mascara as it's easier to remove, but the Maybelline mascara holds my curl better. The MUA mascara is kind of meh too. Why is finding a decent mascara so hard?!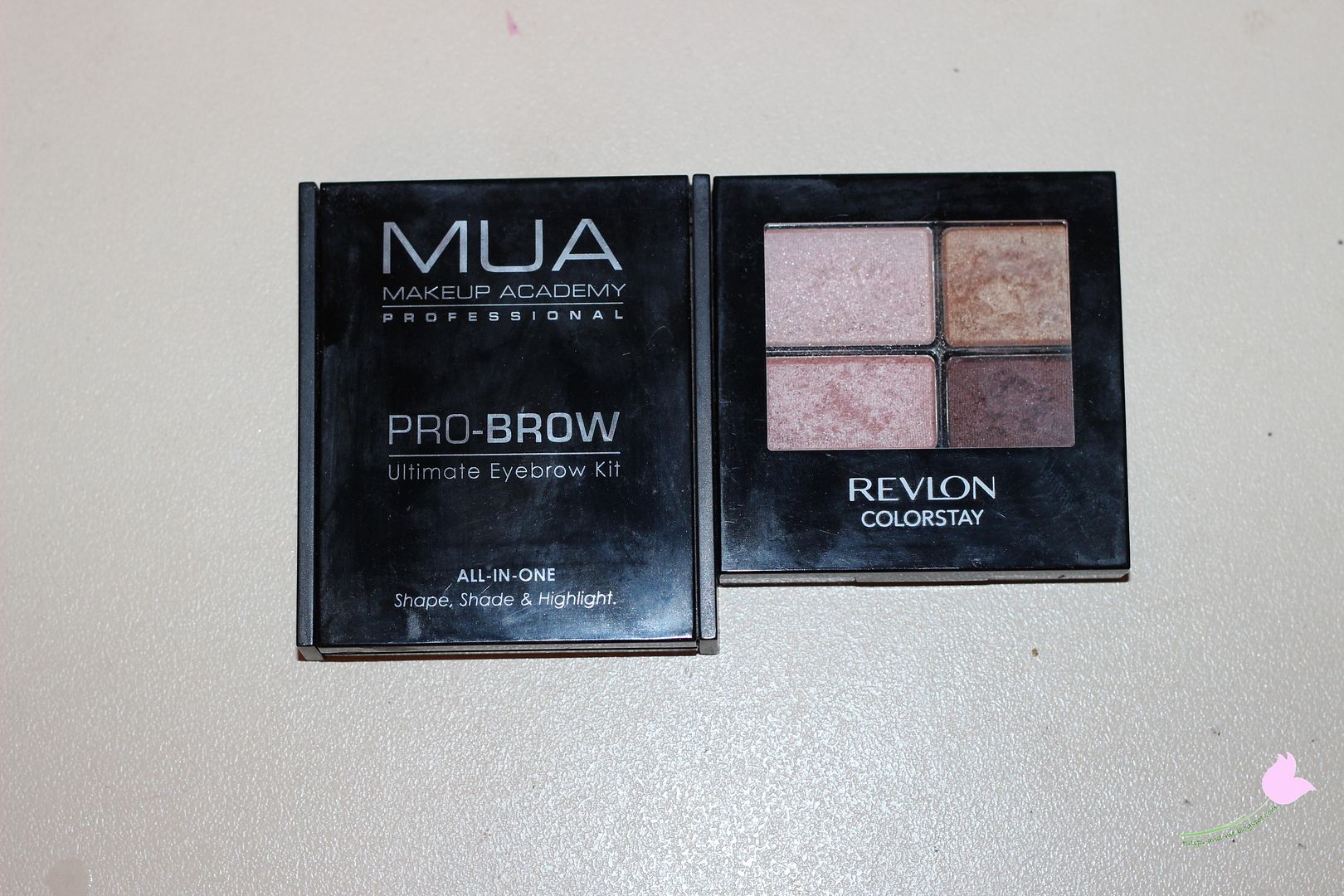 Apologies for this unattractive picture, as I forgot to photograph these two palettes - these are my most used palettes! I've hit pan on the MUA brow kit (I use them on brows, and to do a slightly smoky brown eye look sometimes), and the Revlon quad in Decadent is the most used palette I've ever owned. It's my everyday palette~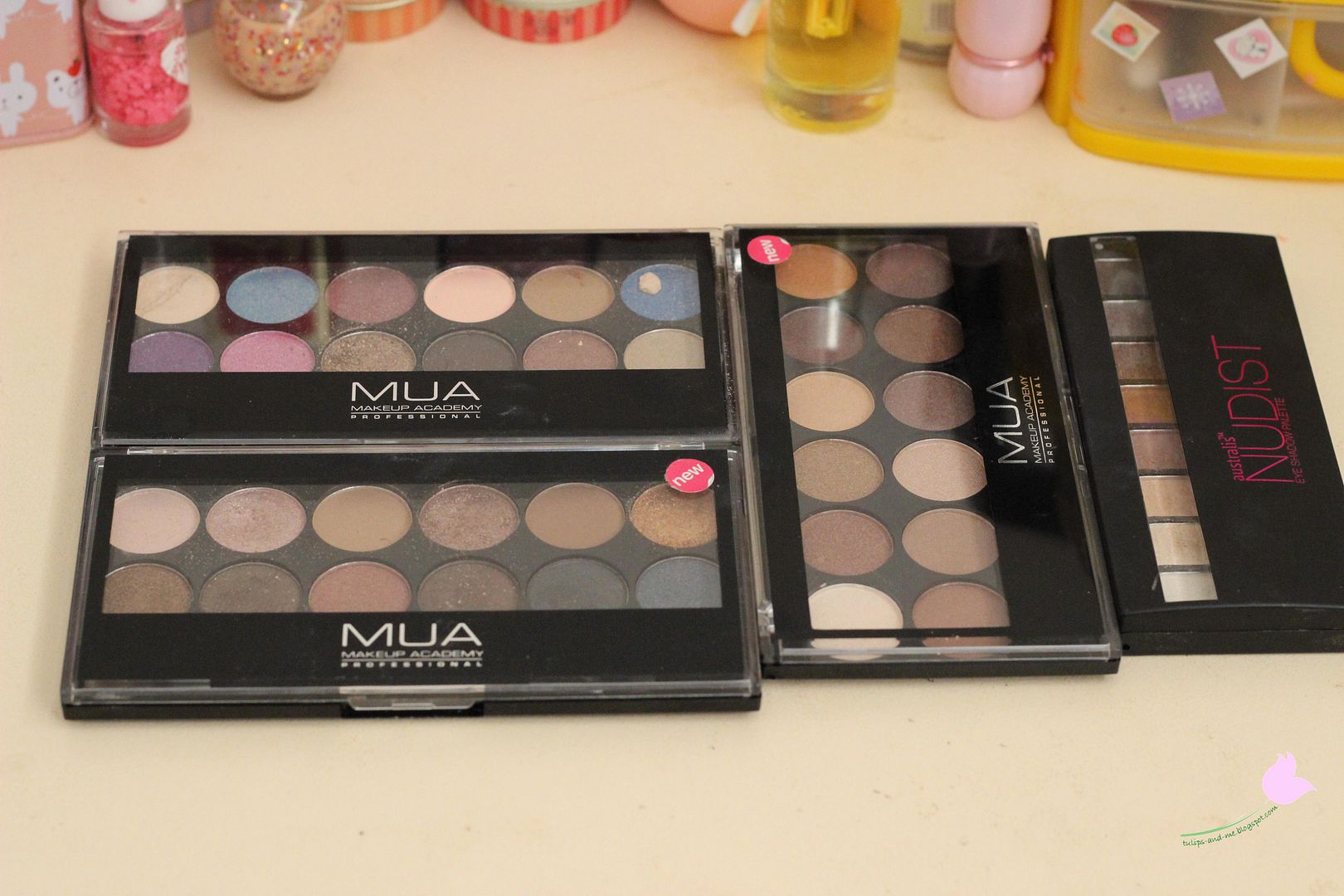 Umm, yes I do own three palettes all with the same/similar colour scheme - brown! It's like I have some fear of running out of brown eyeshadows, lol.
The MUA palettes I picked up during the 35% and 50% off sales from a while back, and the Australis palette is a limited edition palette that I scored for $5.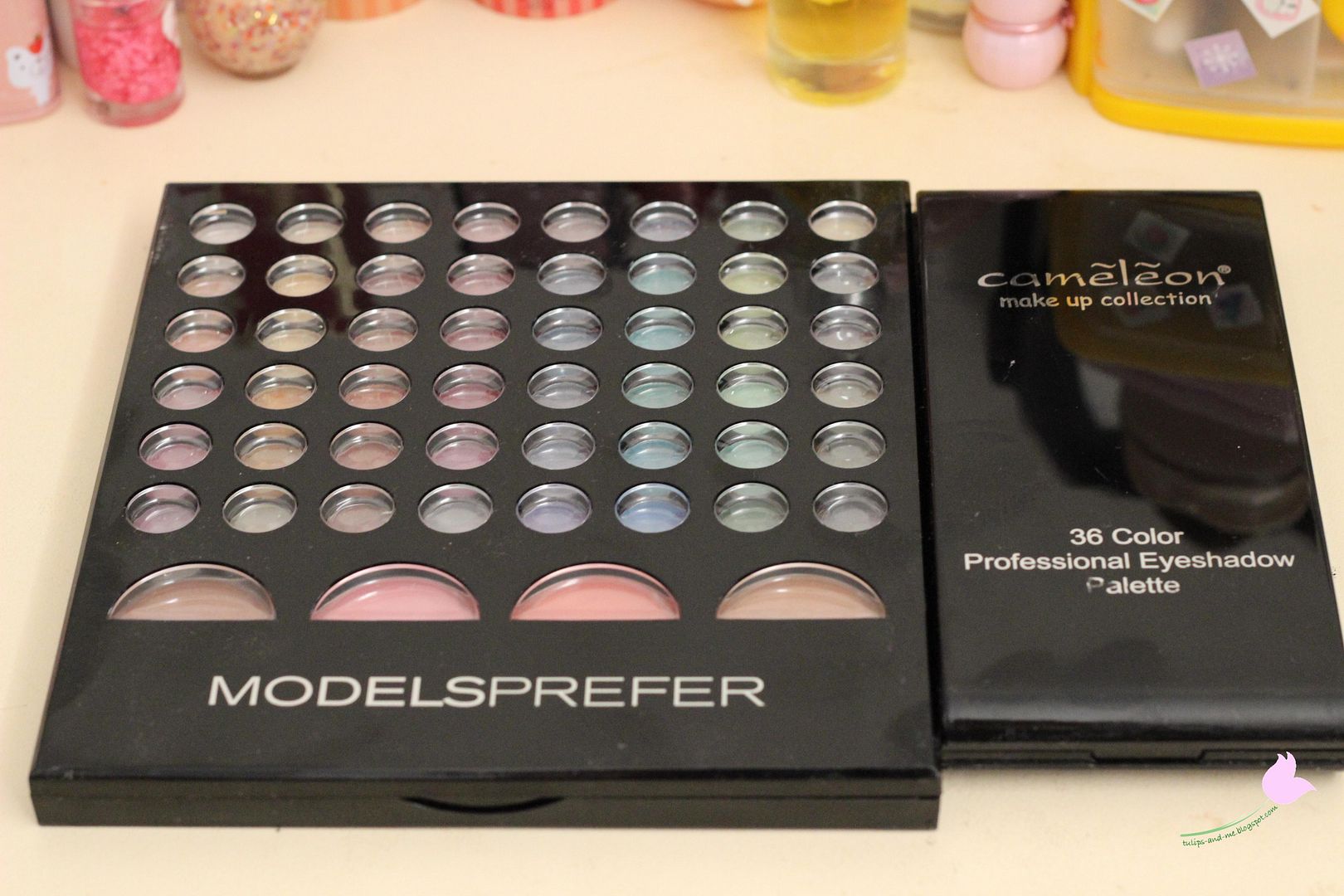 Although I prefer to wear neautral colours I really admire more colourful eye makeup on others, and feeling like I may one day be more inspired to try a more colourful look, I have two colourful palettes ready at hand.
These were both inexpensive, as I'm not sure I will get much use out of them, since I'm pretty stuck with my simple neutral eye makeup. But they'll be here if I feel like experimenting :)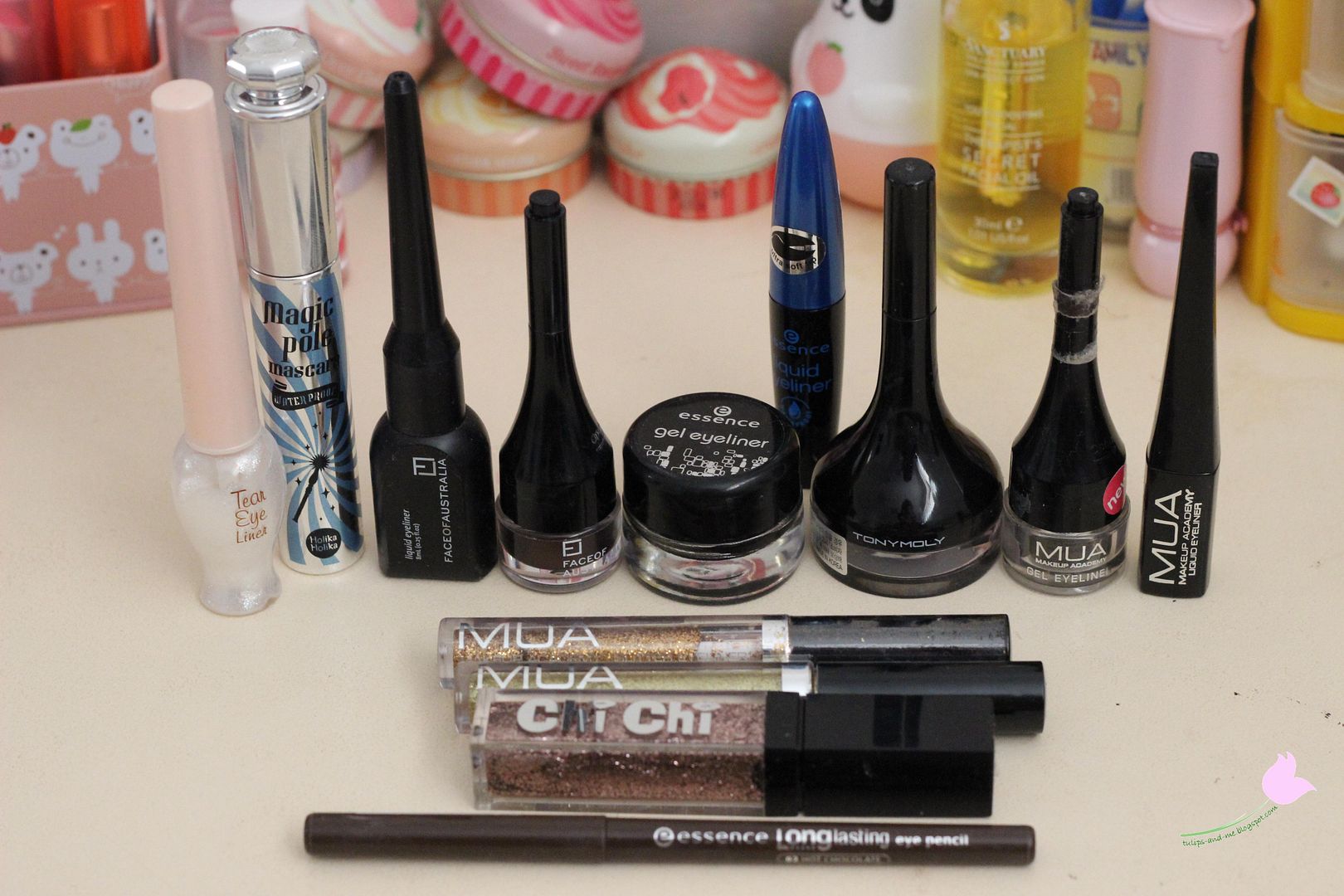 And here is the last lot of my eye makeup collection. I actually have a few more pencil eyeliners and miscellaneous other products, but I decided not to feature them since I hardly use them.
Eyeliner must be an essential item for me! I find it works so well to help enlarge my eyes~
I have liquid, pencil, and gel liners and I like all of them for varying reasons. For convenience, I tend to stick with pencil eyeliners for daily use.
Gel eyeliner and liquid eyeliner is for a more defined and fancy look, but it's more time consuming due to my differently shaped eyes
and
mismatching eyelids. With pencil I can just draw it thicker and smudge a bit to match up my eyes, lol.
Ooh, and also, I've been wearing only brown eyeliners recently since it's more flattering on me than stark black.
And that concludes my eye makeup collection! You can see that
I tend to buy more inexpensive eye products, and that's so that I can prioritise more on skincare, bb creams, etc, which I consider more important.
Are you a neutrals eye makeup girl like me, or are you the type to experiment with bold looks and bright colours?