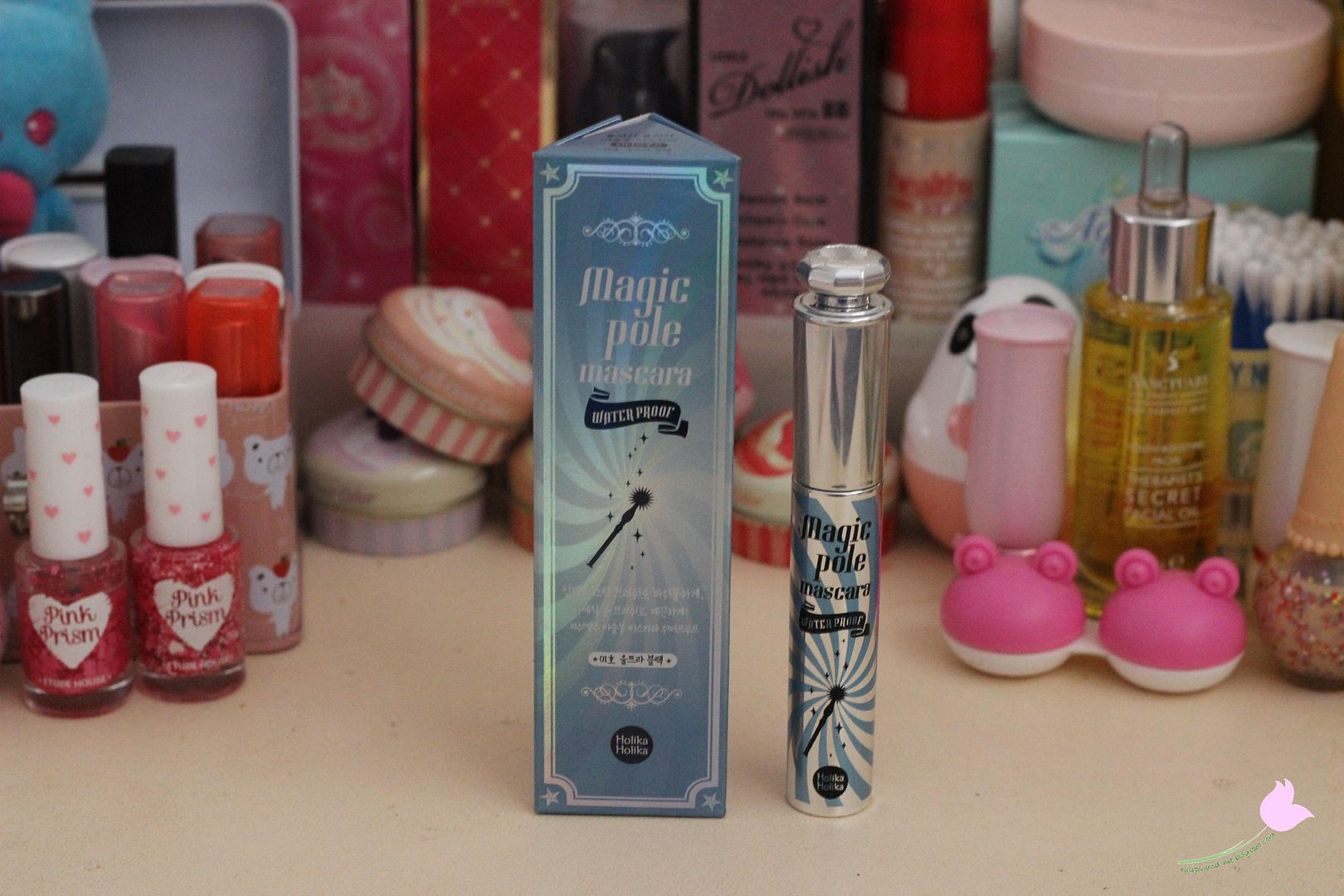 Hi! Hope you had a fab weekend! Today's review is on the Holika Holika Magic Pole Mascara - weird name, huh?
Holika Holika claims that this "magical mascara vows to look beautiful and glamorous for a long time without a smudge or smear."
Firstly I lurve the packaging! The mascara came packaged in a 'magic' themed triangular box, and the tube itself is shiny and silver. And the cap has this very cute and fancy finishing detail that I really like.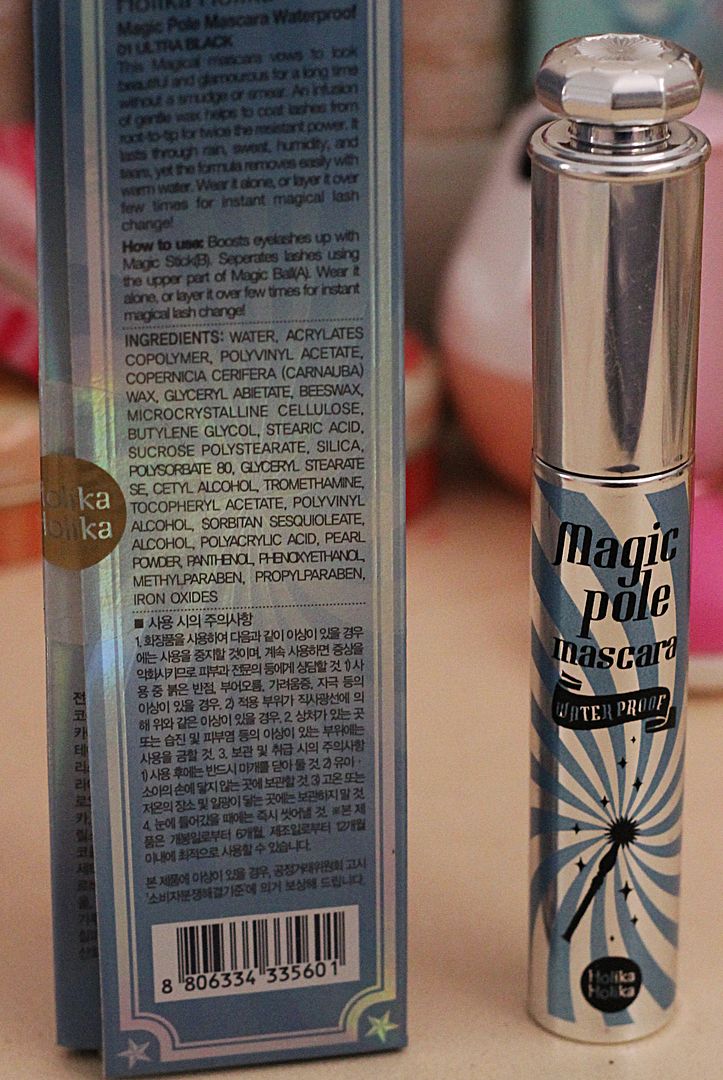 Ingredients~
This mascara is advertised as waterproof, sweat/humidity resistant, ultra black, and has 'magic curling' powers (which I think refers to lash curling abilities). It's also meant to easily wash off with warm water. More on all this later.
Back to the packaging, and you can see that the mascara comb is quite distinctive. It has a spiky ball tip, that is supposed to be useful for coating those teeny lashes in the corners, or for lower lashes.
I was super excited to try this, because my lower lashes are pathetic, and it's hard to evenly coat (or even grab) my lower lashes with regular mascara brushes.
So I tried this, and I can honestly say it's only marginally better and faster than regular mascaras, but it's nothing mind blowing!
Here are the before and after pics.

Bare lashes, uncurled

After 2-3 coats - you can see the right eye has clumped up a bit -
The mascara is not too runny, nor too thick, and the brush never comes out gluggy, which I like. I found that the formula gave some length and volume, but I did find my lashes started to clump if I tried to load up my lashes - the comb isn't very dense, so it tends to help the lashes clump, rather then separate.
I would like this mascara a lot more if not for one thing - it kills my lash curl! Having super straight and stubborn lashes, the curl is the most important to me, so having my lashes droop after application is disappointing. Waterproof mascaras are usually good for holding the curl, but for some reason this one doesn't hold it very well.
What I super love about this Holika mascara is that it really doesn't smudge! A lot of mascaras do smudge around my lower lash line, but this one has never smudged or flaked on me. Now that's magic right there. (OMG, that was lame, lol)
Removal is really good too, if a little messy, it comes off quite easily with warm water, which amazes me as I thought Asian mascaras are notorious for being very difficult to remove.
Overall, an okay mascara, but ultimately it didn't meet my needs of being able to hold a curl, so I won't repurchase this. My search for a good mascara continues!
I purchased mine off ebay, for about AUD$12.
What do you personally like in a mascara? Curl, volume, or length?
EDIT!
Okay, I've changed my mind about this mascara - I would happily repurchase! Ultimately I didn't like this mascara as it couldn't hold my curl, but since then I've found my solution. A waterproofing mascara base/primer works wonders. Check out how the Holika Magic Pole Mascara works over the Kate Mascara Base~
Omo, I have lashes! And they curl upright too - it's almost a miracle, lol. It's not just the mascara base that lengthens too - I've tried the base with the highly raved Benefit They're Real mascara, and I still prefer the Holika Holika mascara over that. Hope this helps for those who want to try the mascara but are afraid it won't hold a curl~