Ever since I saw Janet's review on the Innisfree Mineral Melting Foundation, I've been lemming it so bad! And then I saw that Innisfree had released an updated 'Glow' version of the foundation, and being the illuminator junkie that I am, I just had to get it!
The Mineral Melting Foundation Glow claims itself as a solid foundation that gives 'moist and and shiny skin'. It promises to add dewiness and sleekness to the skin, and also promises to provide effective coverage, high moisture, and long lasting wear. Sounds good, right?
- PACKAGING-
The compact is pale pink, and made of plastic. It's quite bulky, but lightweight so it won't be heavy to carry around.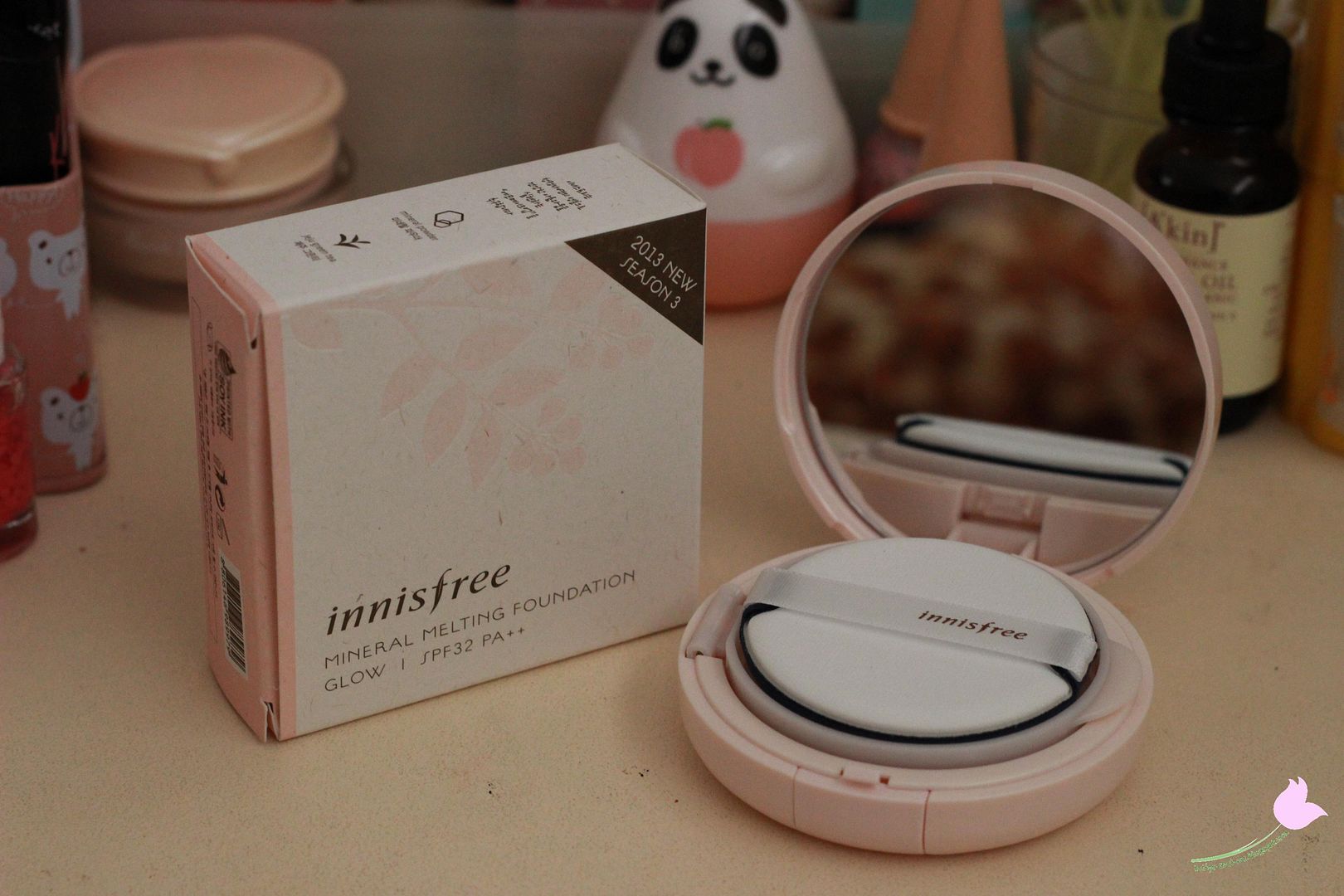 Inside the compact is a decent sized mirror, a flip out compartment to hold the sponge pad in place, and then another compartment below for the foundation.
13 grams of product!


The two star ingredients are mineral powder, and Jeju green tea (an island province of South Korea)


I like that there's a separator for the sponge and foundation, as it's neater and cleaner overall.

The cons of this packaging is probably that once you start using it, the foundation doesn't look so pretty and smooth any more, from all the pressing and dabbing. Also, it's prone to gathering fluff from the sponge.
-TEXTURE & APPLICATION-


Although called a 'solid' foundation, and it appears solid in it's compact, upon touch the foundation literally melts like slightly warm butter.
Heavy and light swatch of the highlighter, and the foundation separately
This soft texture makes for a near seamless application to the face - once in contact with warm skin, it adheres nicely. I love that it doesn't make my face look mask-like as the foundation just seems to smooth into the skin instead of sitting on top of it. As a result my skin looks evened out and brighter.
This much on the sponge is nearly enough for 1/3 the face! You don't need a lot at all~
I really like the sponge provided, as it's not just a cheap and nasty average sponge. It doesn't suck up a lot of the foundation (maybe due to the extremely fine pores) so there's less wastage, and it doesn't apply streaky or unevenly.

The one main con I have about this foundation is that it can look cakey on the dry patches on my face, which is around my nose, and around my eyebrows mostly. So I wouldn't recommend this foundation to those with very dry skin. Otherwise, have a clean, moisturised base and you won't have any problems.
It claims to have a moisturising texture but I don't feel like it hydrates noticeably. It is a comfortable foundation, and it doesn't dry me out, but I don't feel like it's working to further hydrate my skin. But I guess that's what bb creams are for!

I also definitely agree that it's a foundation with lasting power - not as long lasting as something like my Revlon Colorstay, but still really decent. On me, it's got a velvety, almost semi-matte texture, that isn't sticky or easily rubbed off. It may be more semi-dewy on oily skin tones I think.
-COVERAGE & SCENT-
I love the coverage factor!
It's a definite medium to full coverage foundation, but it doesn't look mask-like or heavy, since it adheres to the skin so well. Another reason I like this foundation is that it actually doesn't need a lot to have a really decent coverage - you can cover unevenness, redness, pigmentation, and some acne scarring with just a few light pats to the face.

It doesn't completely conceal my worst blemishes, or active pimples, but it does a good job covering all the other problem areas so I can forgive that. You could layer the foundation for a little more coverage and it won't get cakey, but I don't usually feel the need as the coverage is so good already.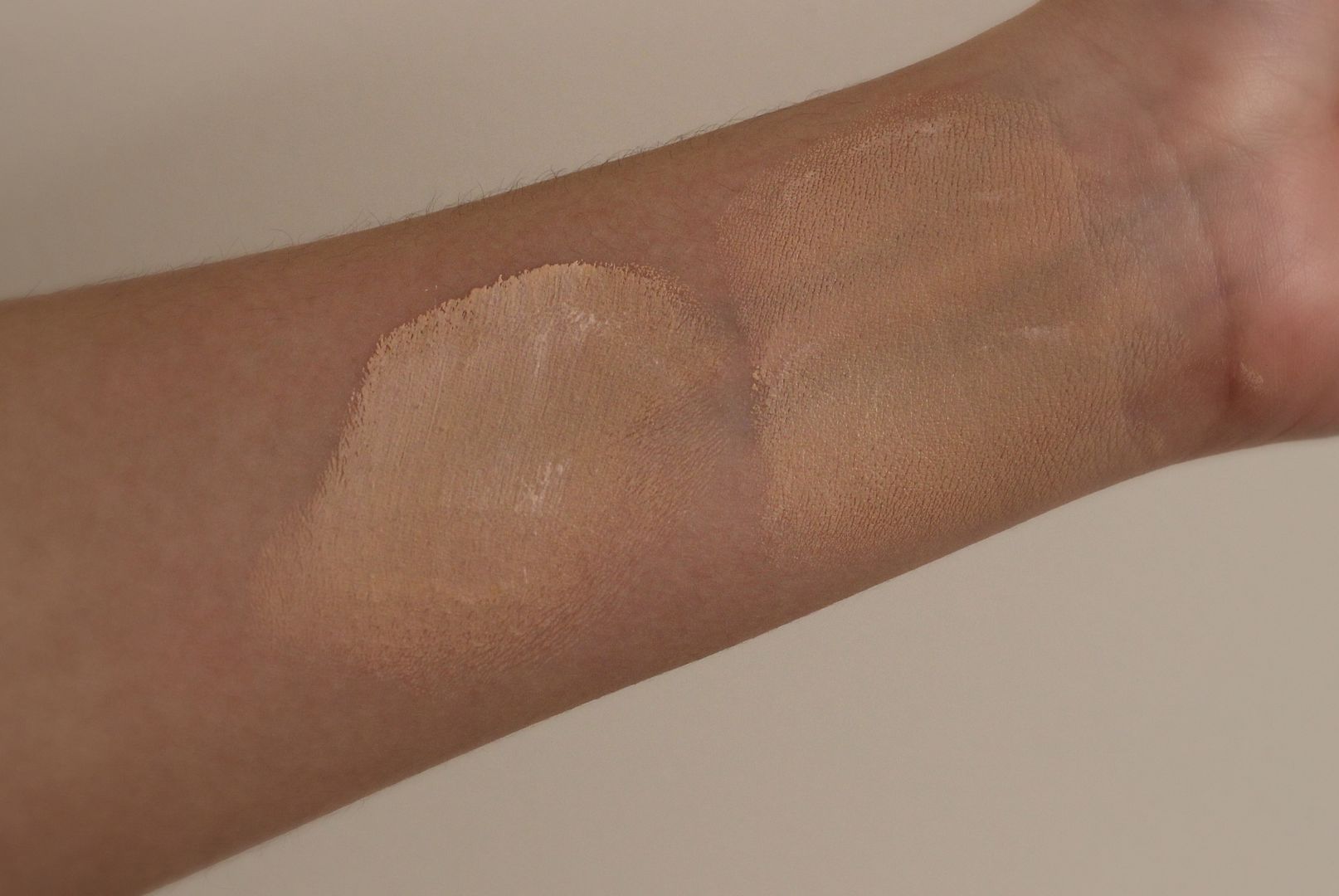 Left: Just foundation section swiped onto my arm (no highlighter)
Right: Patting the foundation - that's about 2 layers there, but 1 layer is normally enough!
Scent-wise, I don't notice any strong scent when I apply this, but the foundation does have a herbalish/floralish scent that's not exactly appealing. I never notice the scent, but those sensitive to fragrances might have a different experience.
The foundation on its own is close to my skin tone, but is a more obviously yellow-toned. Mixed together, the foundation and highlighter is lighter than my skin tone, and looks more obviously like make-up if I don't blend into my neck. You could apply the foundation and highlighter separately if you don't want all over glowiness, but you'd have to dig into the compact with a toothpick or spatula.
Natural indoors lighting shot~
Skin is even, brighter, and glowy - but it does make my face fairer in colour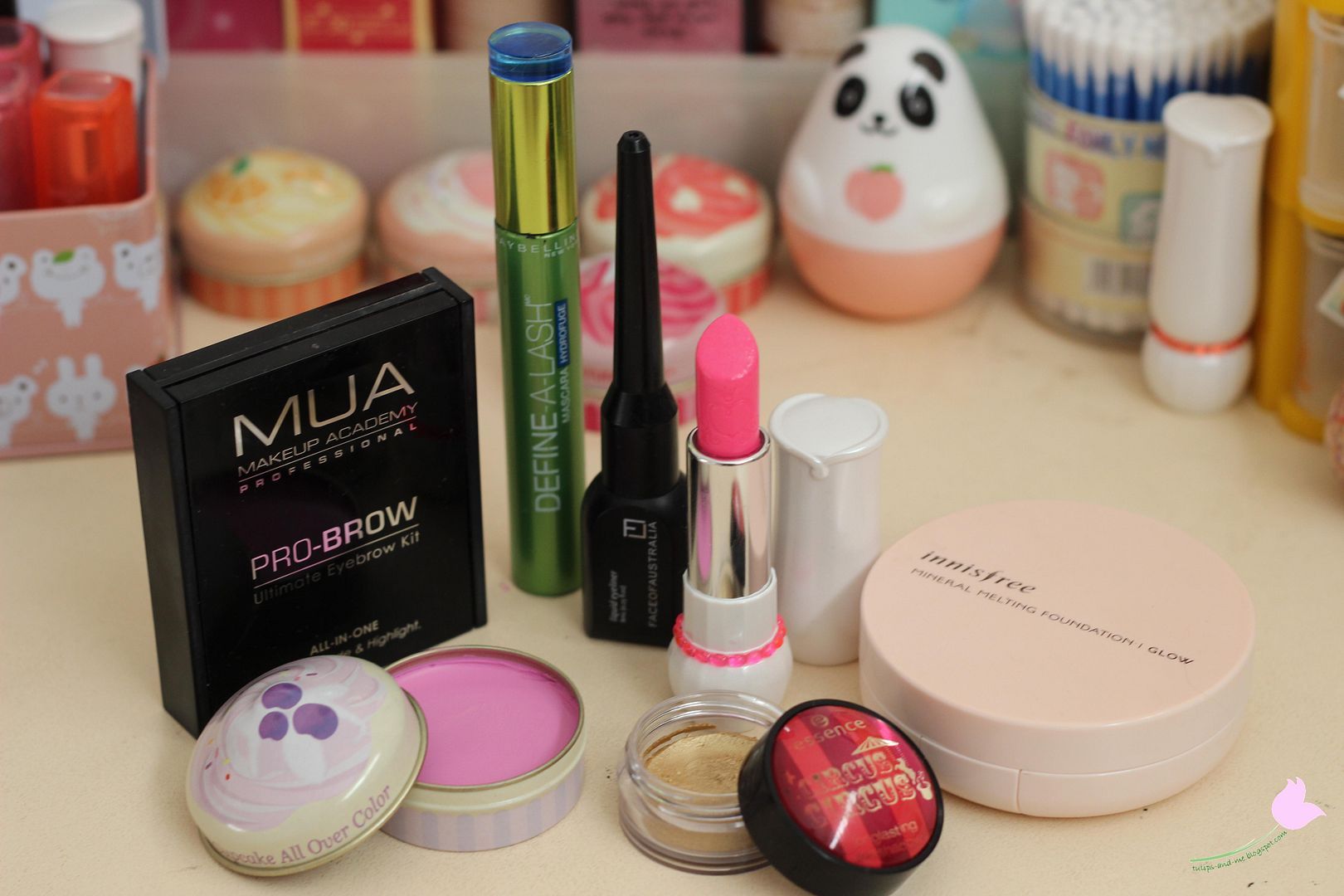 All the products I used for this look~
The lipstick shade is JPK003 (Hot Pink)
Only the foundation applied - no highlighter mixed in
It looks more natural, yet it still has a brightness
Products used for the above look - the brow kit doubled as my eyeshadow for the day~
-FINAL THOUGHTS-
The Innisfree Mineral Melting Foundation is my first Asian branded foundation, and I'm impressed! I love the formula, and how well it applies to my face, I love the coverage and the lasting power, and I love the brightening and glowy effect.

I'm not too much a fan of how much paler the highlighter makes the foundation apply overall, but I think I can get away with it by blending into my neck, and applying less, or just applying them separately.
I would repurchase again, although I think I'd consider the Innisfree Fitting Foundation instead - it's the same foundation, but without the highlighter swirl.
I purchased mine from ebay selled
f2plus1
, for about $23 (there are other shades available).
What do you think about foundations packaged like this, solid, but melty upon contact?