Hi pretties! As promised, I have a new review for you today. I'm reviewing 3 of the Etude House Dear My Blooming Lips Talk Lipsticks (mouthful or what?). They're mega-cute lippies, affordable, and the colour range is hu-uge~
The Dear My Blooming lippies are described as smooth textured lipsticks that provides moist shine and vivid colour. The original range started off with 24 colours varying from beige, orange, pink, and red shades. Etude House recently released another 5 shades to the collection called Pink Talk, and again another further 10 shades in their new Summer collection Color Pop.
That's a lot of lippies...
Aside from the drool-worthy colour range of the lipsticks, I'd say the main attraction is of course the packaging!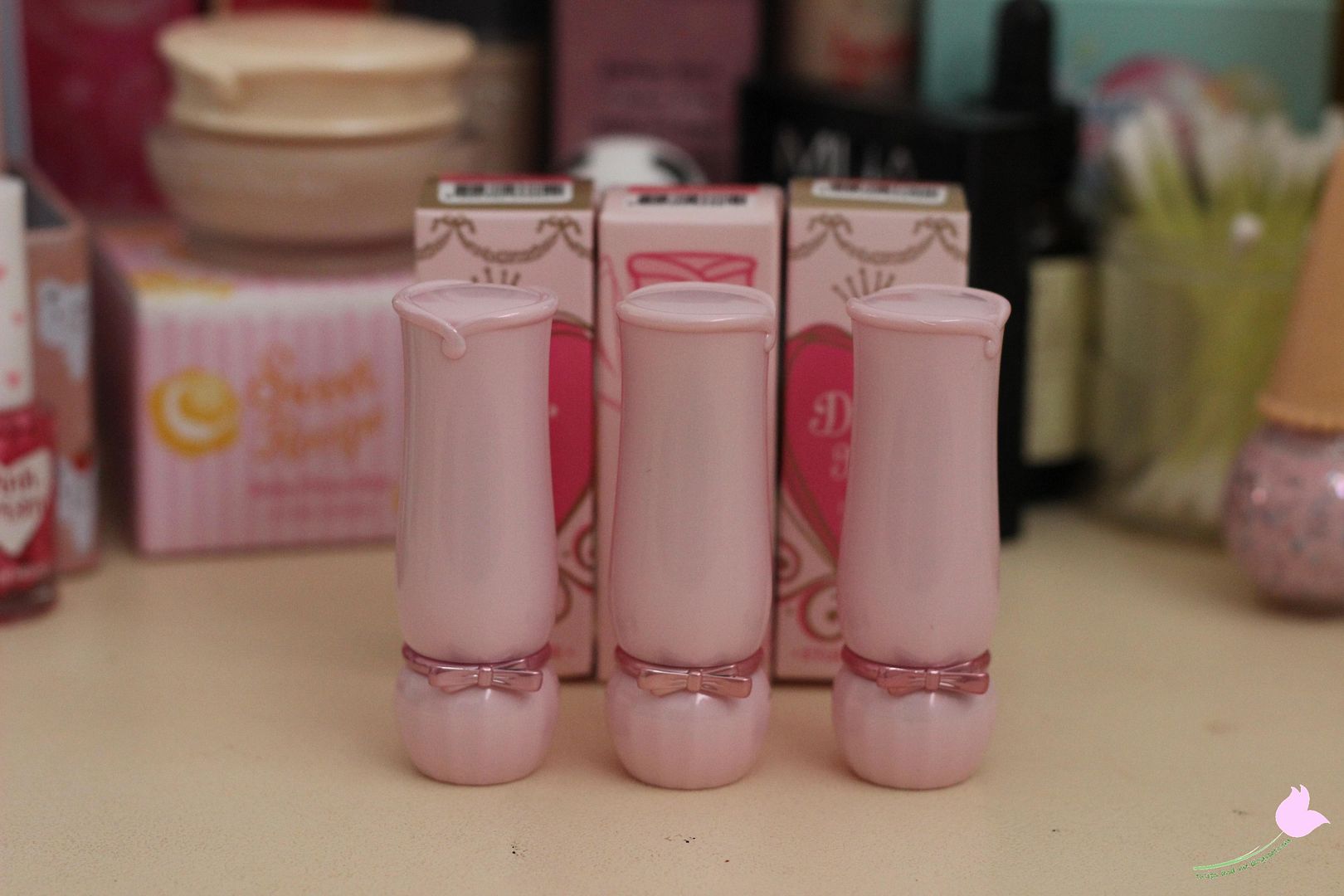 The Blooming lipsticks are certainly very Princess-y, packaged in pale pink tubes, adorned with a (removable) adorable metallic pink bow at the base. The tubes have a bit of an iridescence under certain lighting, and I love the slight curved shape of the tube, and extra detail at the top.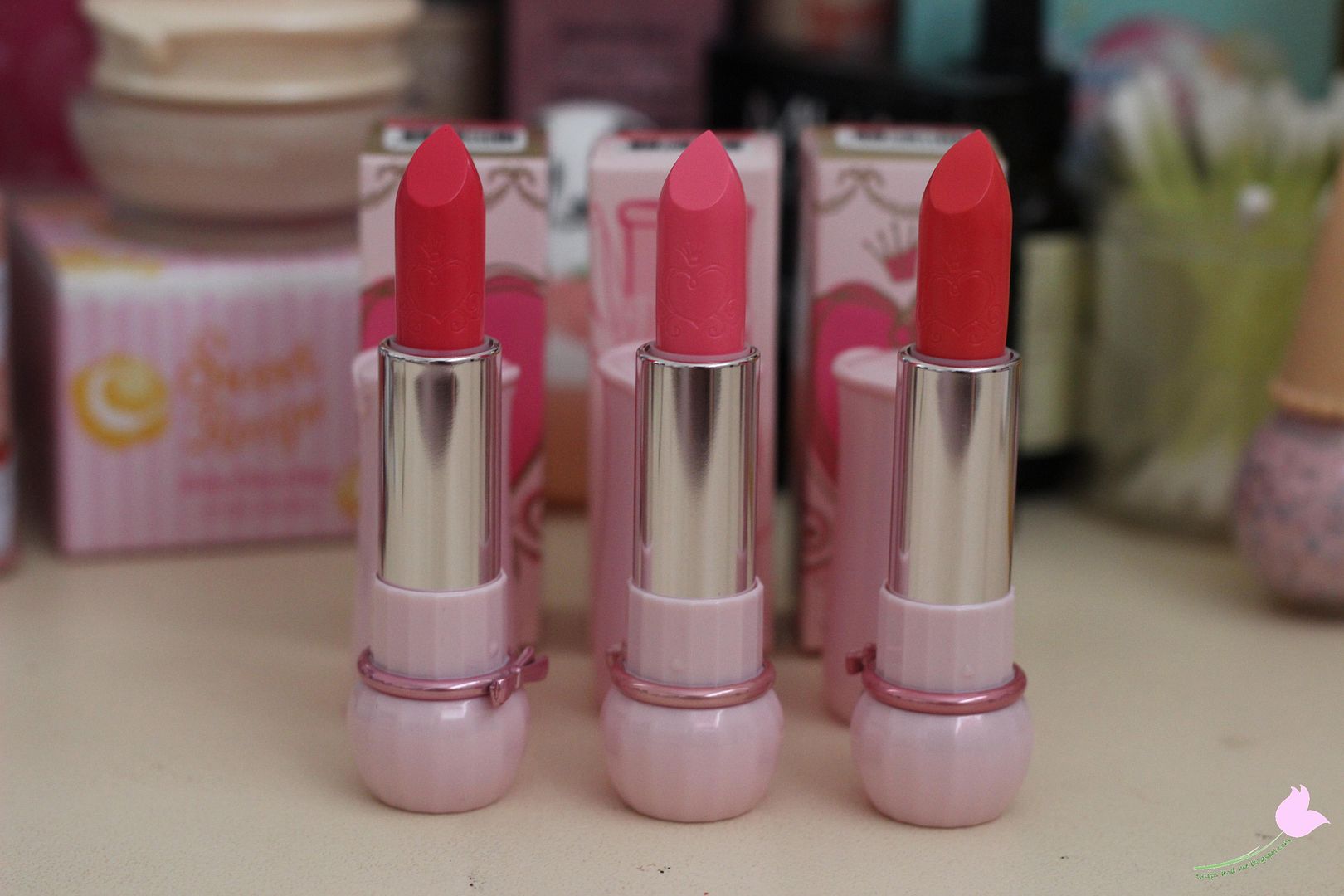 Breathtaking Pink PK004, Jealous Pink PK003, Electrifying Red RD304
The cuteness doesn't stop there, as engraved on the lipstick bullets themselves is a pretty heart and crown design, that resembles a Cinderella carriage~
The colours I have are from the original range - Jealous Pink (PK003), Breathtaking Pink (PK004), and Electrifying Red (RD304). Breathtaking Pink and Electrifying Red are actually the 'hot' picks of the colour range, so I figured it'd be a safe choice to get them.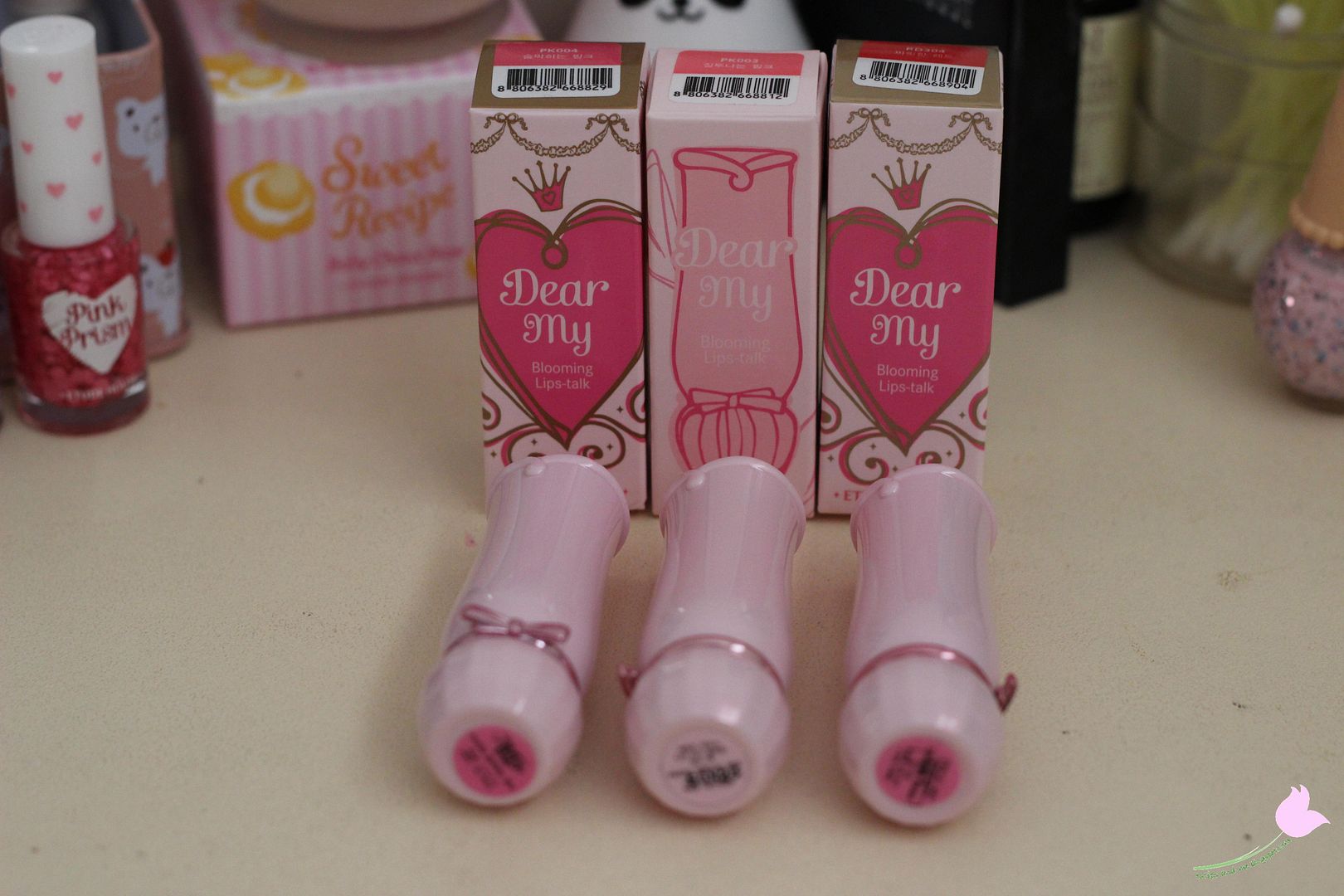 The packaging is different as the 'hot colours' get special packaging~
The one thing I don't like about the packaging is that there isn't a way to easily distinguish between colours, aside from reading the number on the bottom of the tube.
Jealous Pink PK003, Breathtaking Pink PK004, Electrifying Red RD304
I found the Dear My Blooming lipsticks to be creamy, with a satisfying colour payoff. They give a lot of pigmentation from the first swipe, but for a full opaque lip I think two coats is necessary.
The formula is not flattering on dry or flakey lips, so I would highly recommend prepping the lips first, whether by exfoliating or using a good lip balm. On me, I found these did accentuate my lip lines, so in order to combat that I always put on lip balm underneath first to 'fill' in my lip lines, and the lipstick always looks better when I do that.
I didn't find them to be drying or uncomfortable on my lips, though I am aware of feeling something on my lips. Scent-wise, these lipsticks don't have a strong scent, but they do have a slightly sweet peachy scent? It really seems like the same scent as the Cupcake All Over Colours.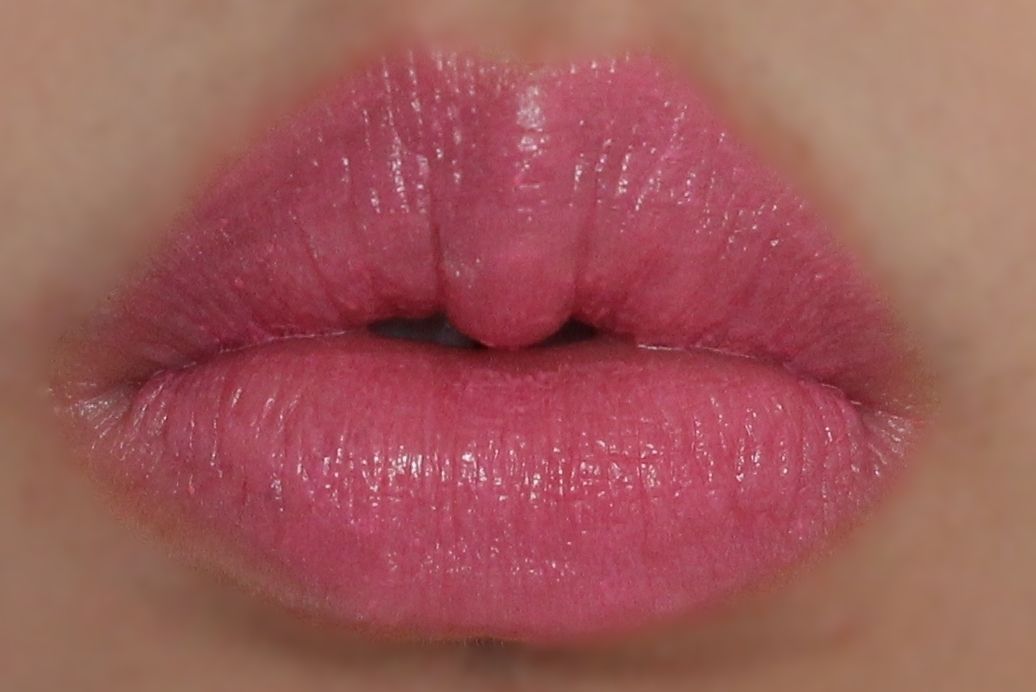 Jealous Pink PK003 (2 coats applied with lip brush, lip balm underneath)
Breathtaking Pink PK004 (2 coats applied with lip brush, lip balm underneath)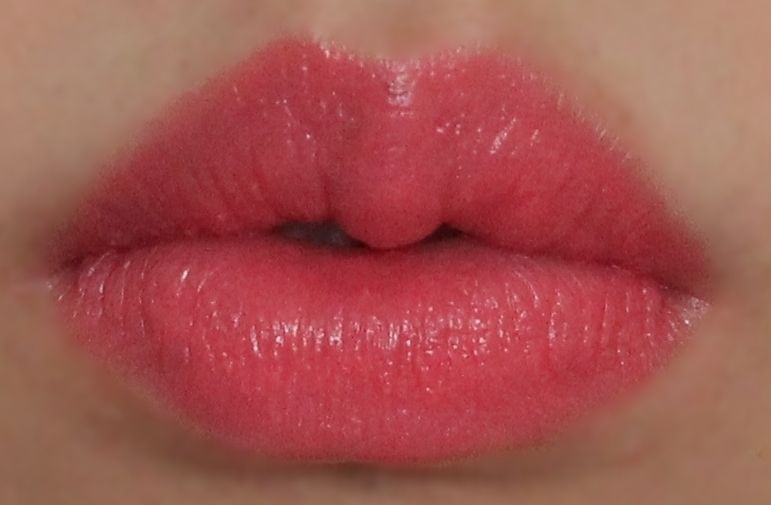 Electrifying Red 304 (2 coats applied with lip brush, lip balm underneath)
Electrifying Red 304 (applied straight from the bullet)
They look glossy and shiny due to the lip balm I think! And of course the colour payoff is more vibrant when applied straight from the bullet rather than my preferred method of lip brush.
My fave colour is Electrifying Red, which is more of a peachy corally pinky red than a true red! But I do like all the colours a lot~
Today's FOTD, wearing Breathtaking Pink PK004, straight from the bullet
I think these lipsticks are really nice, and it's well worth having one or two in your lippie collection. But if you suffer from dry and flakey lips, the formula may be too unflattering for you, but otherwise I would recommend
these to lipstick lovers!
You can easily find these lipsticks online, generally between $10-15, sometimes cheaper on sale.