I can hardly believe it's April already~ I feel like we were just ringing in the New Year not too long ago!
Well, anyway here's my customary monthly recap of all my beauty and fashion purchases for March. I'm kind of shocked myself to see how much I accumulated! Oh, the life of a makeup junkie/kawaii enthusiast >_<
First up...
Some of these items will look familiar to you, because they have already been reviewed in the last few weeks (I was just that excited).
All but 1 item here is from Etude House
From left to right, Front Row
Dear My Blooming Lips lipstick in PK003,
3 of the Cupcake All Over Colours (
reviewed here
),
Baby Choux Base in Peach (will be reviewed soon!)
Middle Row
Y.E.T Fix Me Ampoule,
2 of the Ice Cream nail polishes (reviewed
here
and
here
),
Dear My Jelly Lips lipsticks (
reviewed here
)
Back Row
Dear Darling Neon Tint (Orange),
Juicy Cocktails Gradation Nails Set in Love Violet,
Missing U Panda Peach Hand Cream
At this point I think Etude can just have all my money - I've given up trying to resist, lol.
And here are my Western branded makeup goodies. I'd just finished up my Nivea Pure and Natural skincare products, and because my local Priceline was not yet stocking this new range I decided to switch to Models Prefer as they were 50% off at the time. I wanted to try this range because everything was made in Italy, and are supposed to be dupes to more high end labels (if this article is to be believed).
The Essence Circus Circus collection recently hit Australian shores, and I just couldn't resist. I think I picked up about half of the collection - the highlighting powder, the taupe and gold cream eyeshadows, and the gold liquid eyeliner.
Target had a 30% off Revlon makeup sale recently, so I picked up the much raved about ColourStay foundation. It didn't disappoint, but I still reach for my bb creams most days.
And the matte orange lipstick from cheapie brand Ulta3 was bought for about $3, because orange is my new obsession.
Rosehip oil has been something I've wanted to try for awhile now, and when I saw it on sale for under $20, and with a free cleanser I decided to give it a go. I've been applying it at night, and mixing it into my moisturiser or bb cream in the mornings. My skin is less dry, and looks lovely and dewy recently, though I haven't been using it long enough to tell whether it's helped reduce the redness on my face.
I've been seeing rave reviews on this Loreal hair oil, so I had to pick it up when it was on sale, as my hair is becoming increasingly dry. It has a floral scent and smells really lovely!
Priceline recently had a BOGO offer on Revlon lip products so I decided to get onto the Lip Butter Bandwagon (extremely late). I now know why everyone raves about these, and am planning on getting at least 2-3 more of these when the next offer comes around~
The other Revlon products (lipstick, mascara, nail polish, and lip liner) are actually from a David Jones GWP offer. I took my sister to get colour matched for the Colourstay foundation as her Year 12 ball was coming up. I also got her the Kissable lip stain in Sweetheart. She didn't want the freebies so I kept them instead :)
And the nail sticker sets I just picked up at the Sunday markets.
Now onto the fashion and miscellaneous buys!
I indulged my collar necklace fixation with two new pieces - one from Ebay, and one from Equip. They both have different feels - one is dainty and girlie, while the other is modern and trendy.
And my most impulsive purchase of the month is this Alice-inspired felt cosmetics pouch from Korean stationary brand Jetoy. It is just beautifully illustrated, and I have a huge love of anything Alice related, so I had to have it!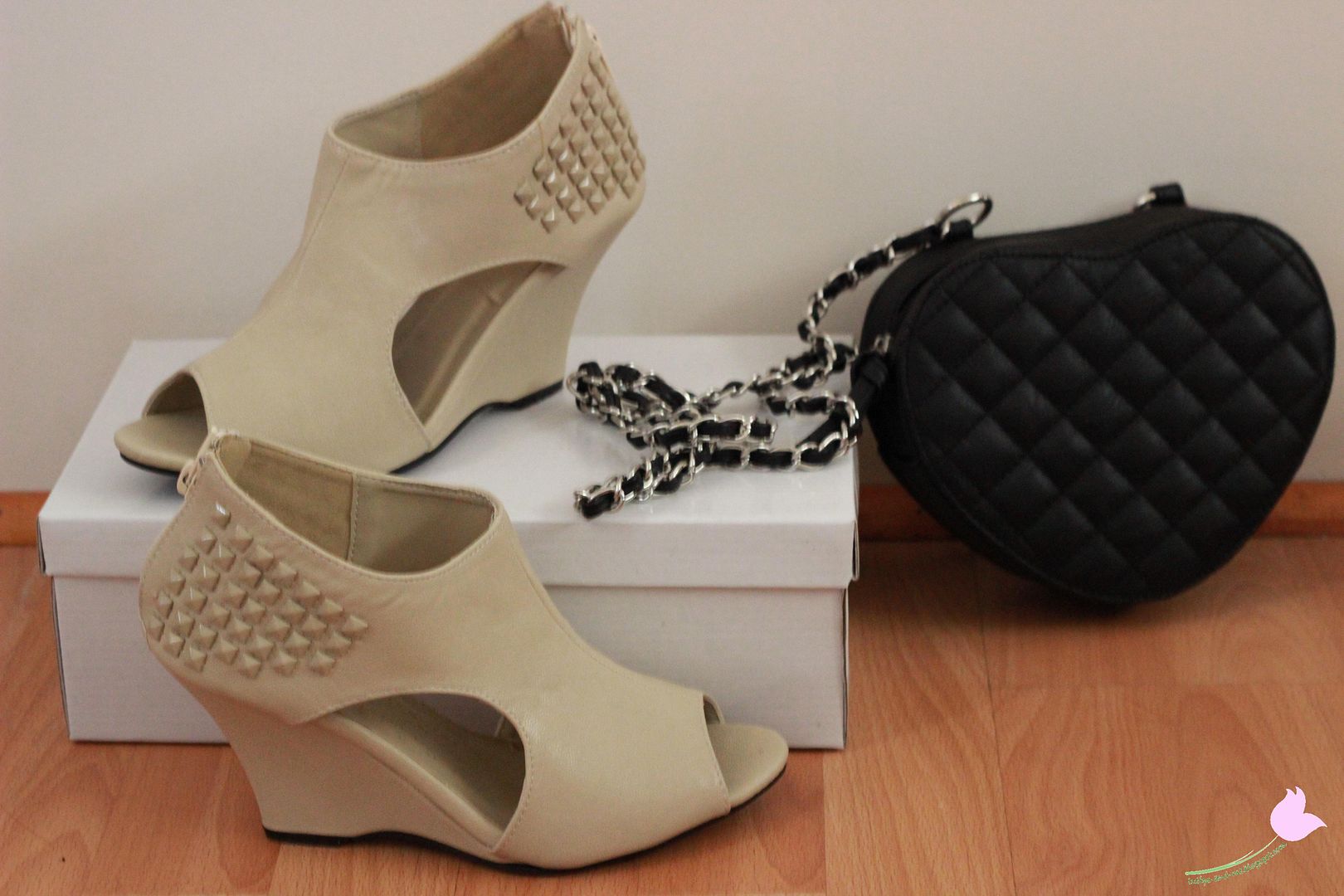 Okay, you're probably thinking 'Oh Tulip, another pair of shoes?!'
Well, I've been on an unofficial shoe shopping ban since late February, and I didn't buy these shoes. My mum did! Haha, that doesn't count, right? I love these, they're perfect everyday type of heels, and they're pretty comfy too.
And my newest handbag is this small heart shaped shoulder bag <3 I bought it from Equip for only $14~
My new DSLR camera! My last few posts have been done using this camera, as some of you may have noticed. I can't take any self portraits with this yet, but all the swatches and product pictures have been taken using this~ I'm still learning how to use all the functions and such, but hopefully the quality of my reviews will step up a notch.
Okay, and now I think it's time for a shopping ban >_<
I think I'm a little too trigger happy with online shopping, so I've set myself the challenge of no on-line shopping for the next 31 days!
You're probably wondering why not a complete blanket ban on shopping all together, but truthfully I'd probably die without any shopping at all, so I'm just concentrating on the online aspect for now.
Wish me luck!