Hello gorgeous gals. Even though I am on a shopping ban from online shopping for the rest of this month, I've still been doing a bit of cheeky browsing online! Anyway, Etude House are working extra hard - I've barely had time to recover from going gaga over their recently released Sweet Recipe Collection, and now they've gone and launched a number of new items to tempt me us!
Look familiar? These adorable ice cream polish bottles were first introduced in the Sweet Recipe collection - they must've been so popular Etude decided to come out with a whole new range!
*kind of image heavy* <- that's an incitement, not a warning :P
Those bright pastel ice cream colours not to your taste? Well Etude also recently released another nail polish line. Called Pink Prism, the line consists of 3 sheer pink polishes, 3 very cute and fun glitter polishes, and a few sets of nail stickers to top it off. It's very girlie - totally to my taste.
I've already managed to procure Sweet Bonbon, Every Pink, and Heart to Heart <3
Lucky too, since these are selling like hotcakes!
Shortly after introducing the Cupcake All Over Colours from the Sweet Recipe Line, Etude's gone and released even more cream blushers! They're called Water Colour Blushers, and I love the artsy concept of the packaging - they look exactly like tubes of paint! Artists will surely love this?
Here are the promo swatches - can you notice they're pretty much the exact same shades as some of the Cupcake All Over Colours pictured below? Strawberry Pink and Lilac look particularly similar to Strawberry Chiffon Cake and Blueberry Cheesecake respectively.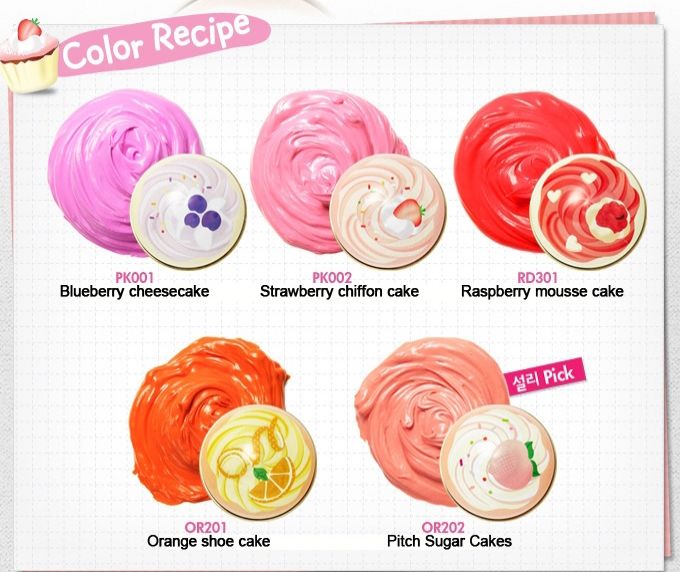 Image Source: f2plus1
My review on PK002, RD301, OR201, & OR202 is here
Moving along, it seems there's another new makeup line named Dear Girls. Not sure how many products in this line, but here are the ones I've found so far.
These tint and lip balms are really tempting me! I love a good multi-purpose product, and these have a lip tint on one end and a lip balm on the other end, so it looks useful. And the packaging is cute too~
More lip products! These are the Dear Girls lip balms - I'm really liking the Summery, girlie packaging of this line! Quite innocent and fresh, I think.
This is the Dear Girls 'Cute Eye Maker' - isn't that such a cute name? Basically, it's just an under eye brightener/enhancer.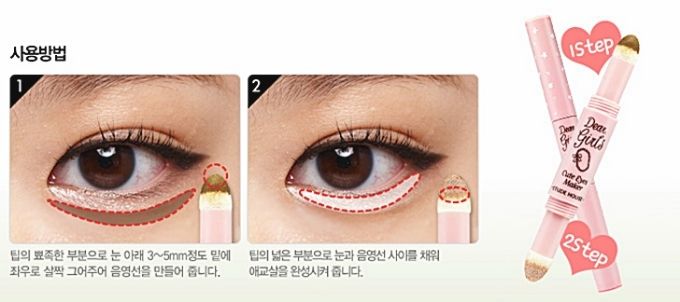 Image Source:
kpoptown
It's a double ended pen with a light brown eyeshadow on one side (to create that cute 'eye smile bag' effect that is so trendy in Seoul right now), and a silvery eyeshadow on the other end to brighten the lash line.
That's all the Dear Girls items I can find, but hopefully there's more in the range! I'll be sure to update this post if I do come across any more.
Next up is a very exciting new product. BB creams have been the biggest trend item of 2012, right? Well in 2013, the next big thing will be CC (colour correct/correct & care) creams! A lot of companies have already released their own versions of CC creams, and here's what Etude's version looks like.
CC creams are supposedly even more natural looking than bb creams, have more skincare benefits, and will give you that no makeup, makeup look (but make you look way better). Unlike bb creams, most cc creams are white in colour, have tiny capsules in the formula that burst upon massaging the cream, and they'll adapt to your own skintone as you apply it.
And last, but not least, there's also a new skincare line! It's called I'm Blooming, and the selling card for this line seems to focus on pure and natural ingredients. It looks like a really soothing and gentle line. I'll be interested in reading the reviews on these products~
That's it for now - I hope you enjoyed this post!
Anything here caught your eye? I'm kind of eyeing the lip balm-lip tints, and the CC creams myself ^_^

*by the way, I'm not affiliated with either f2plus1 or kpoptown, they just have the nicest pictures, and I didn't want to not credit them, so don't take my links as pushing you towards buying off them, or as me trying to advertise for them :) I have purchased from f2plus1 a number of times though, and I can say I'm pleased with their service*