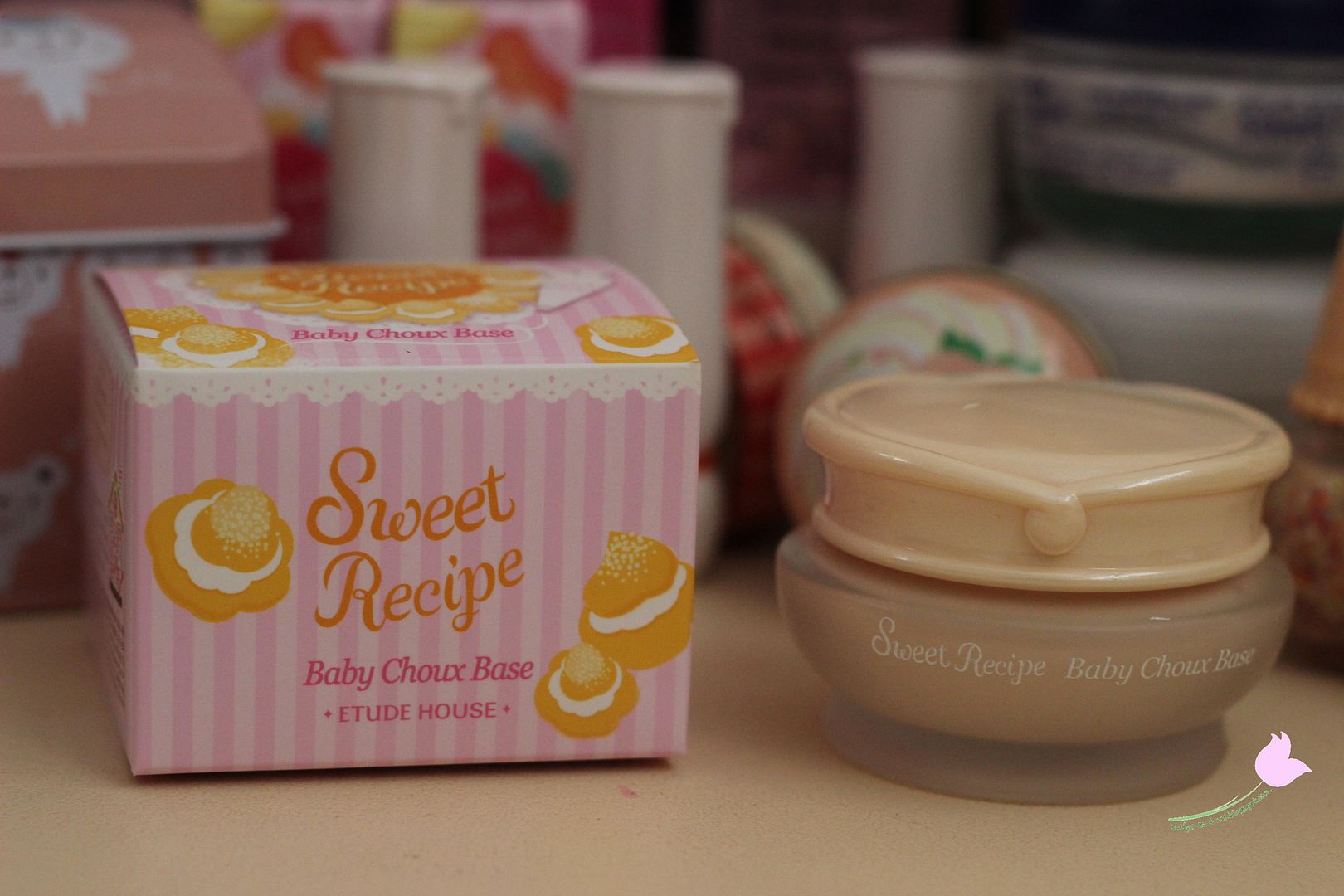 Hello sweets, how are we all?
Today I'm reviewing another Sweet Recipe item - the Baby Choux Base in Peach. Etude House is touting it as a smooth and fluffy make-up base and primer, that will create baby-like skin.
I rarely use primers before bb cream nowadays, but of course the sweet bakery concept sucked me in! Well played, Etude.
Let's talk packaging first. Compared to the rest of the collection, I think the packaging for this base is a bit muddled - the box is all pink and cute, while the frosted glass jar looks a little more expensive, but plain! It doesn't really complement or tie in with the rest of the collection~?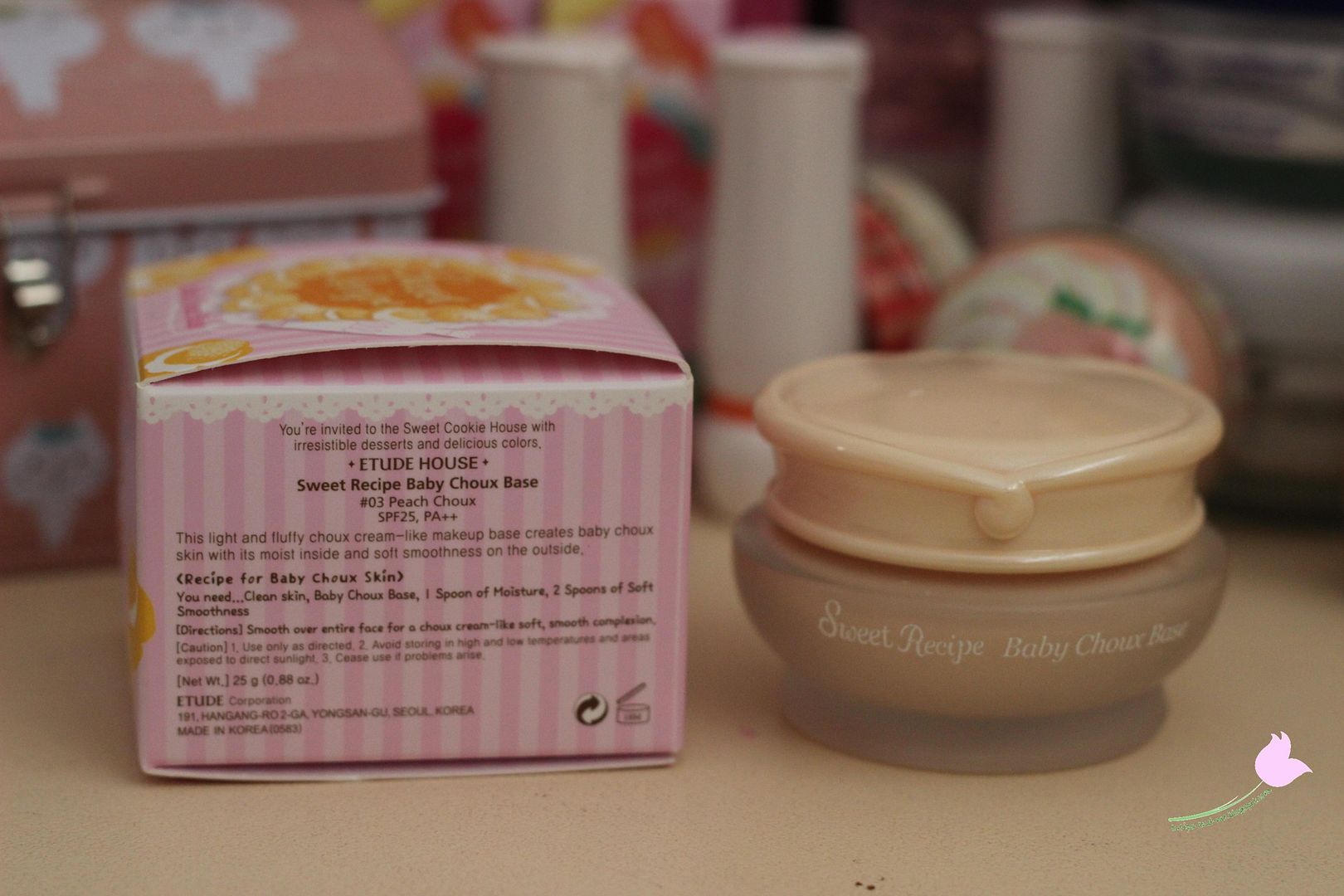 Anyway, the Baby Choux Base comes in three variants - each addressing a specific skin concern.
Mint Choux - a green base that counteracts redness

Berry Choux - a pink base that brightens pale skin

Peach Choux - a peach base that brightens sallow or yellow skin
I purchased mine from ebay seller f2plus1 at the price of $13.14~
The net weight of this base is 25g, which I think is plenty since a little actually goes a long way. This base isn't meant to create a white mask after all - which is what you'll get if you over apply.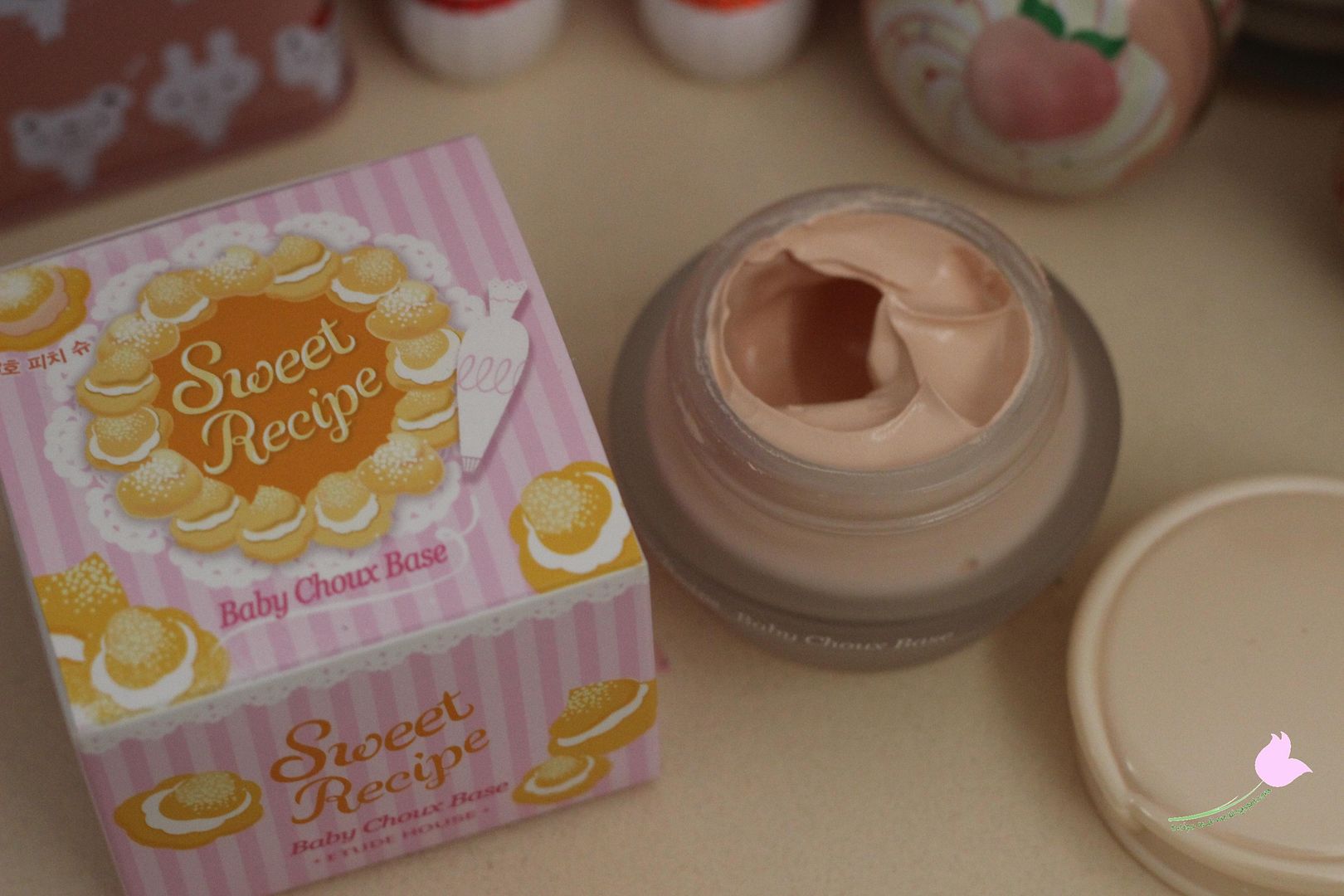 The texture of this Baby Base is indeed very smooth, creamy and fluffy looking. Combined with the sweet Peach scent, it almost seems good enough to eat! I don't mind the scent, but it is a rather strongly scented product, so those who prefer unscented or more subtly scented products, may find this a little too much.
I notice the scent the most when applying it, but after that it doesn't linger.
Though it's Peach scented, I could swear the first few times I used this that I could smell a sugary donut scent! It really made me want to eat it >_<
For those with reasonably clear skin, these Baby Choux Bases could be used on its own, as long as you have a similar skin tone, as sort of like a colour correcting base. But I have quite a bit of redness and acne scarring, so I always put bb cream over this.
What the Peach Base does for me is provide some minimal coverage of my redness, provides a smooth base for my bb cream, and also brightens(not whiten) my yellow skin tone.

You can see it doesn't cover imperfections much, but it does smooth out, and brighten, the skin~
Try the Mint Choux Base if you want to correct/minimise redness and spots
Be wary of the amount you use - too much and you'll look very pale! And also, take some time to carefully blend this into your skin so it looks as natural as possible~ The final finish is not dewy nor matte - it's a little powdery, but it does look rather natural after it blends into my face. It feels really lightweight too - I don't even notice it on my skin.
I also think it applies best on a clean and moisturised (or well hydrated) face - if you have dry skin or flaky patches the base will look powdery and over-matte on you, which of course won't give you that baby-choux skin! Fingers work great to apply this, but sponge could also work - just remember to blend well to get a super natural finish.
The finished look - Peach Choux as the base, and Lioele Triple the Solution BB Cream over the top
Overall, I really like the Peach Choux base - mainly because it delivers everything it claims it will (and not all products do that). It's not something I reach for everyday, because frankly I'm too lazy to add another step to my routine, but I love how smoother and brighter my base makeup looks when I do use this. This Peach Choux is more for those days I think my skin could use a pick me up, or when I feel like I want to look a bit nicer than normal.
Definitely give this Choux base a go if you do normally use primers in your routine, and want something that will provide a
smooth base for bb cream or foundation
, as well as a brighter, smoother complexion.
If you don't use primers, you might want to save your cash for some of Etude's latest new products instead? *wink wink*
Thanks for reading!