I wasn't familiar with this brand at all, until I was kindly offered the opportunity to try some of the products in the Arbonne range.
Arbonne claims their products are lightweight and contain beneficial formulas for the skin, eyes and lips, using only the highest quality ingredients. Their products are non-comedogenic, paraben free, hypo-allergenic, and talc, gluten and nut free. They also have some sort of Optilight Technology that creates a flattering soft focus effect - and the makeup is so finely pigmented that it feels super light weight on the skin, allowing it to breathe. After reading these claims I was very excited to try some of their products.
Let's jump to the reviews - I was given a red lipstick, a pink lip polish, and a orangey blush to trial.
From left to right: blush in Apricot, lipstick in Strawberry Fraise, lip polish in Posh
Here are the swatches - both the blush and the lip polish have been heavily applied to give an idea of the colour and texture. The lipstick is just one swipe.
Ingredients lists - Click to enlarge or right click, and select 'open image in a new tab' to zoom in~
- Blush in
Apricot
- $40, 4.5g -
Arbonne claims their blushes are mineral infused and highly pigmented to provide perfect, natural colour. The powders are lightweight and infused with
Vitamins A, C, E, and Cucumber extract.
My thoughts? Apricot appears like an orangey shade in the pan, but on my cheeks it was more of an orangey-brown shade that looked a bit like bronzer.
The powder is finely milled - there is some
fallout in the pan when using a brush, but not enough to get messy unless you're going to have it rolling around your handbag.
Apricot does have some shimmer to it, which seems to provide a natural and almost glowy colour on the cheeks.
The only con for me would be that it's more pricier than I'd personally pay for a blush.
- Lip Polish in Posh - $36, 5.9ml -
The Lip Polishes are claimed to be 'fun and sexy lip products' which provide
superior shine and no stickiness. These lip glosses are
infused with
Wild Mango Butter, Aloe, Sunflower oil, and Vitamins A and E.
I have to say
I really, really like this because the formula ractually is non-sticky! I'm not much of a lip gloss girl because I'm not fond of the stickiness, but Posh is lovely to wear. It's a sheer pink gloss that is pigmented enough to lighten my lips a little, but the colour is not very obvious. It
provides a nice glossy shine, and makes the lips look plump and juicy.
It doesn't feel heavy or drippy, and it's non-scented - a nice
change from the normal sugary sweet scents of other glosses.
Again, the only con is the price. Other than that it's a great lip gloss.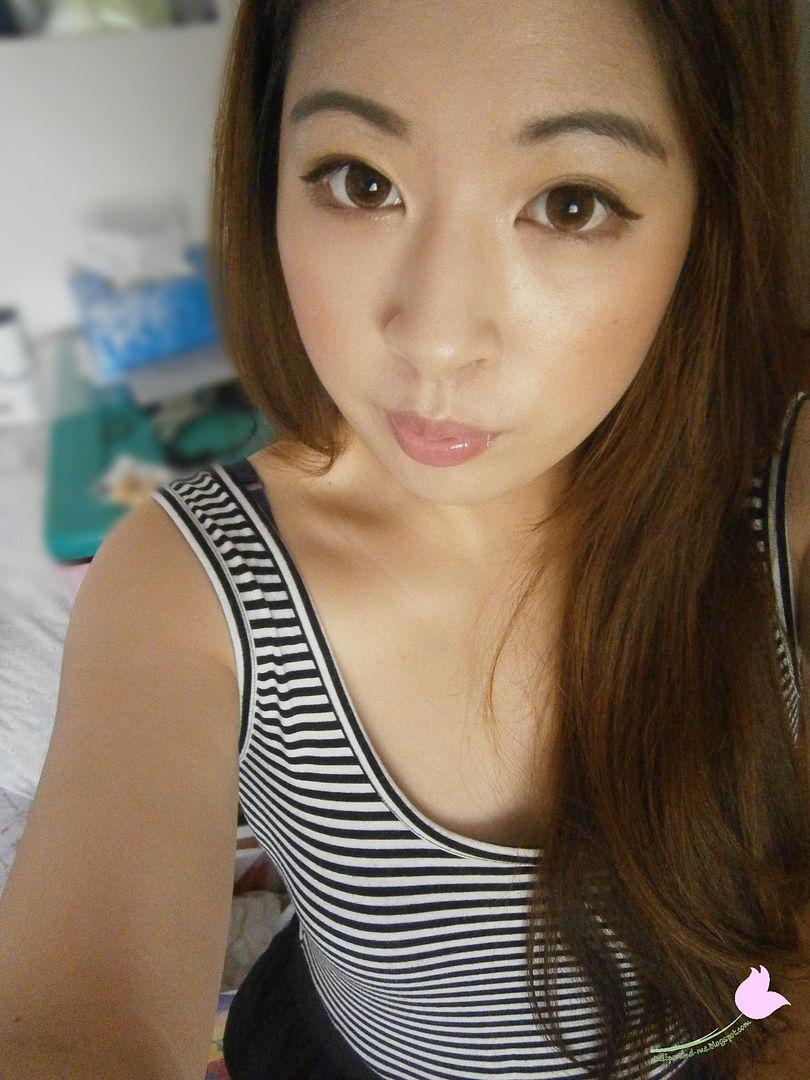 Wearing Posh, and Apricot here
- Lipstick in Strawberry Fraise - $36, 2.17g -
Arbonne lipsticks are claimed to have an
intensely hydrating & moisturising formula, i
nfused with Vitamins A, C, E and Pomegranate extract, to provide
long lasting lip colour (with added health benefits).
I think
Strawberry Fraise
is an amazing red colour, which matches its name well. It is definitely
richly pigmented, and provides opaque colour on the lips. The tube and bullet is really slimmer than the normal lipsticks, which could be good for precision applying. I prefer to apply this with a lip brush though.
The formula also lives up to it's claims of being hydrating and moisturising, and it's comfortable to wear.
It's a bit pricey for a lippie, but I think Strawberry Fraise is quite lovely, so it is worth the price if you like the look of this.
Guys, I finally worked my way up to wearing a red lipstick! Hehe, but how come I still feel a little bit like a little girl who got into her mom's makeup?
Overall I was quite impressed by the products in the Arbonne Range. I think the lip polish is my fave out of the three, as I use it a lot more. The red lippie is pretty fab though~!
The main cons are the price and accessibility. Arbonne operates similar to Avon, in that you can only get their products through the website, or through local independent consultants, which may be a bit inconvenient.
Price wise, these products are a bit out of my usual budget for makeup,
but I have a feeling that Arbonne is directed towards an older, more financially secure demographic anyway. I'd recommend this brand if you don't really have any specific price limit in mind, and if you want products that are free from a lot of nasties like parabens or mineral oil.
*the product/s featured in this review have been provided for review purposes - but opinions expressed are honest, and still 100% my own. For further information, please see my
disclaimer & disclosure policy
*