Hi gorgeous girls! It's time for my monthly haul, recap, post thing-o ^^
Now some of you may know that this month I've spaced out my hauls instead of having it all compiled into one post like I normally do. If you haven't already, you can see my Dorothy Perkins haul here, and my brandsExclusive shoe haul here~
Let's start off January's 'official' haul post with these spike studded boots from eBay. I heart them so much! I have been seeing variations of these types of boots on many blogsites, and I have been super envious, that I just had to get my hands on a pair too - even if it's too hot in Perth to wear them right now.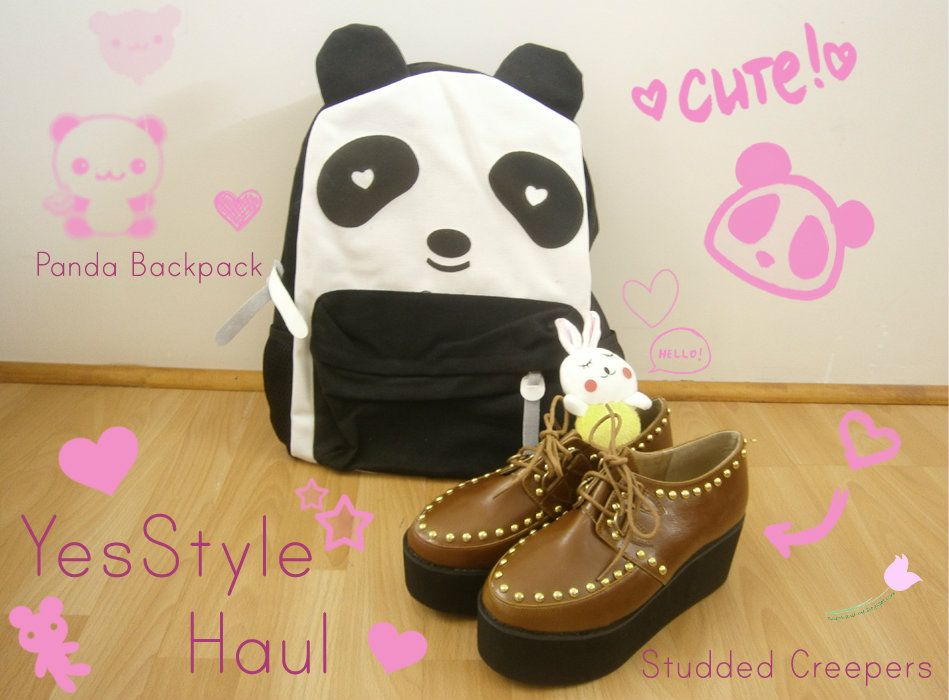 Next up is a YesStyle purchase. They recently had a huge sale, and when I saw these tan coloured creepers I was instantly smitten. I think they were reduced to $27 so they were practically an insta-buy. The rabbit plush was a GWP.
The panda backpack was $20, and I purchased it as a present for my little sister. She has a bit of an obsession with pandas. And hey, now she has something to match with the stool she made in her woodwork class~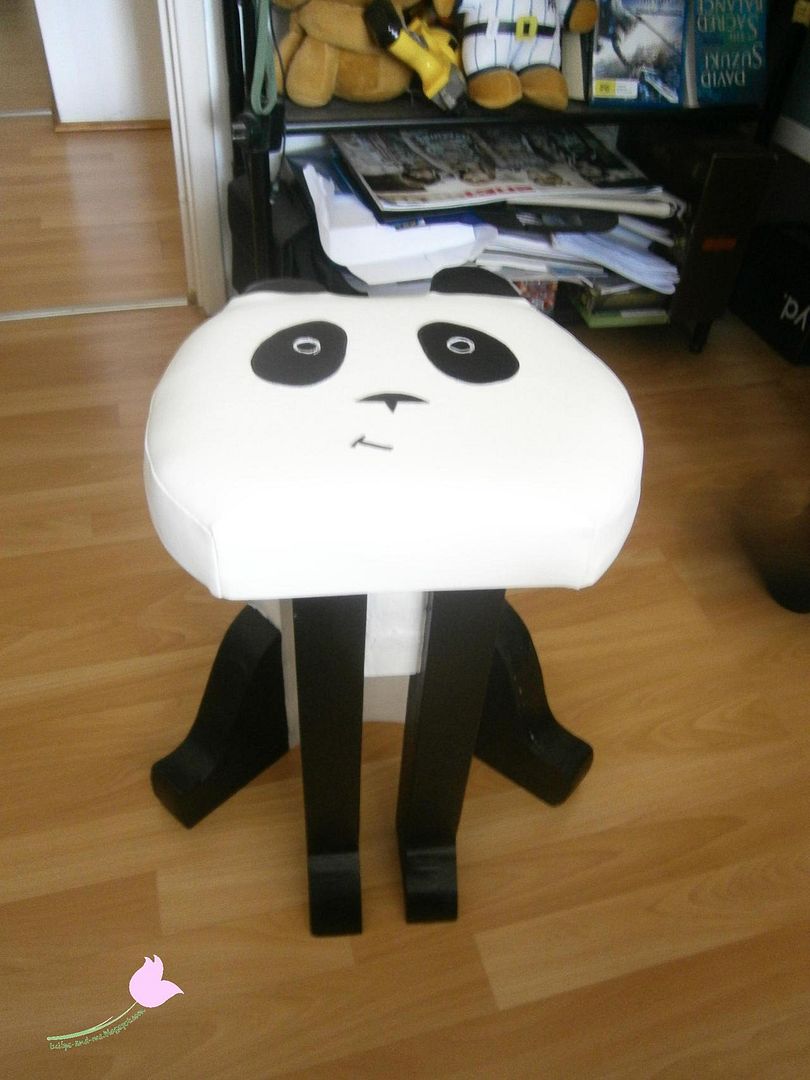 Following on with the animal theme, another online purchase of mine was this cat-eared bowler hat.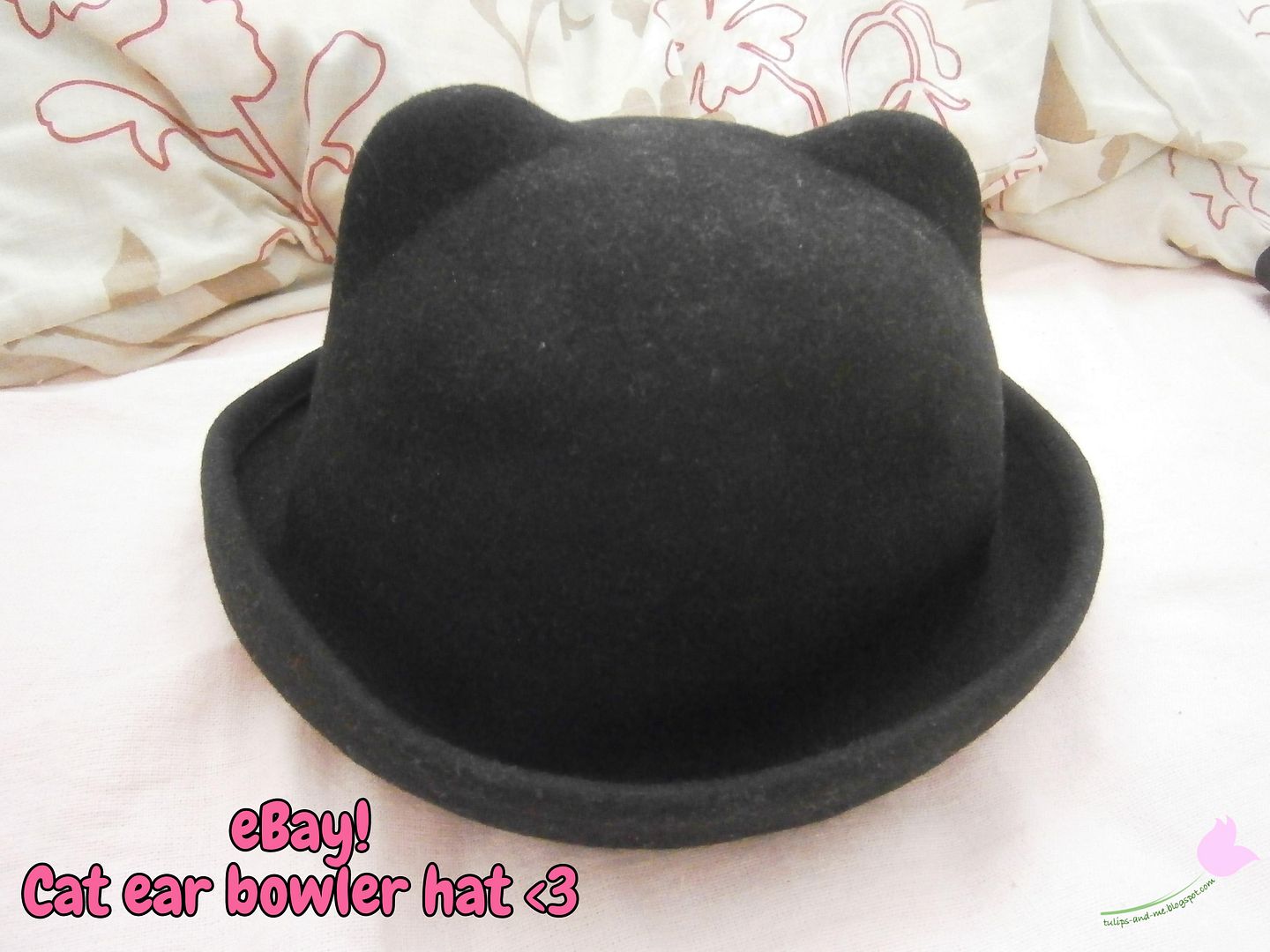 I want one in every colour actually, or at least the one in the tan colour too!
Hopefully I can do a proper OOTD post with this hat soon, in the meantime here's an awful quickie pic I took in a badly lit fitting room the other day~
I nabbed these two tops from Cotton On at their outlet store at Harbourtown, for a crazy $2 each! The colours are so perfect for Summer, and they have clear sequins on the sleeves which make them more interesting to look at.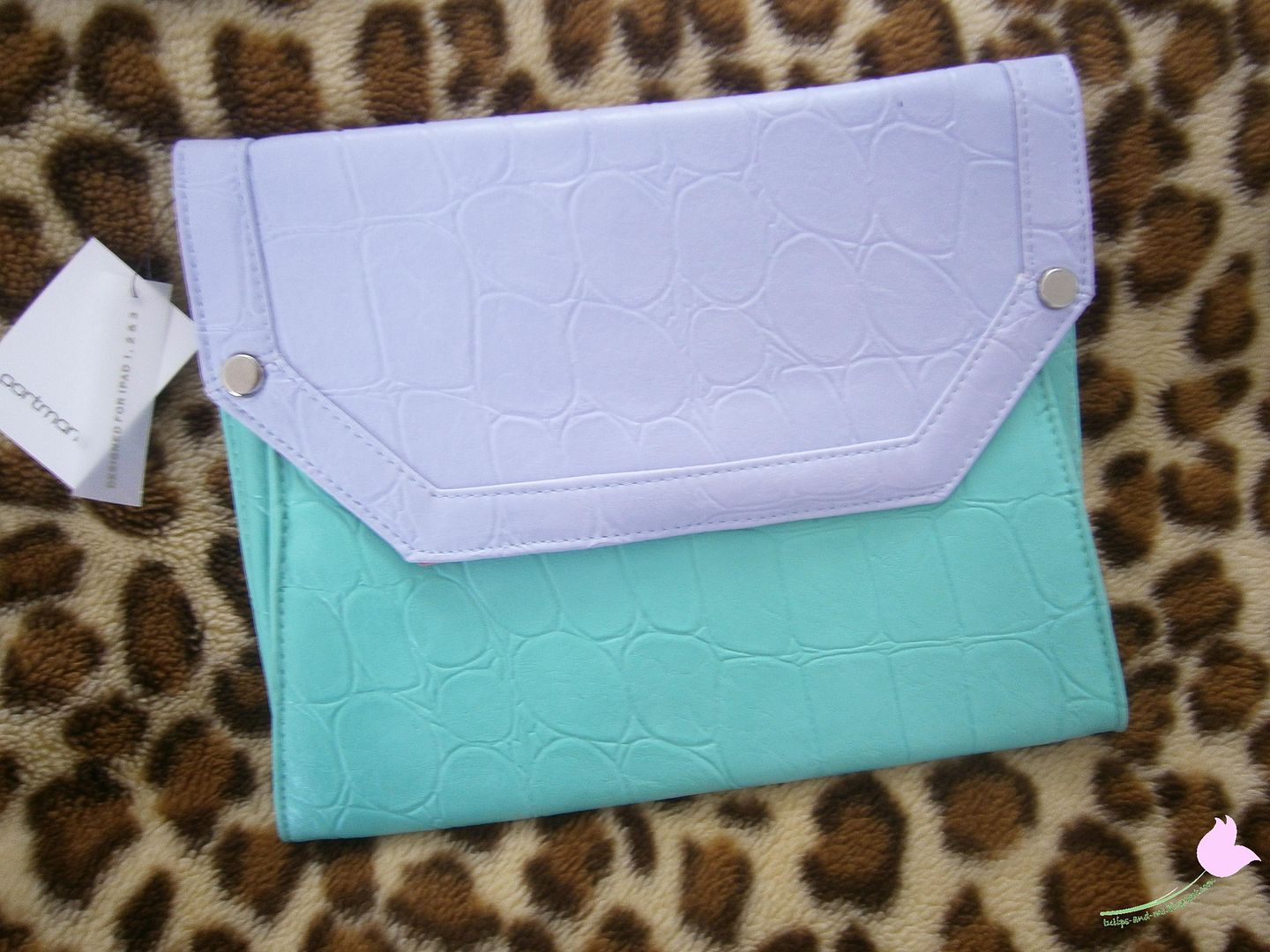 And look - I found a matching clutch! Actually it's a tablet/ipad holder, but I didn't realise until I took it home >_<
I love the colour combination though, and it's still usable as a clutch, though it can't hold much.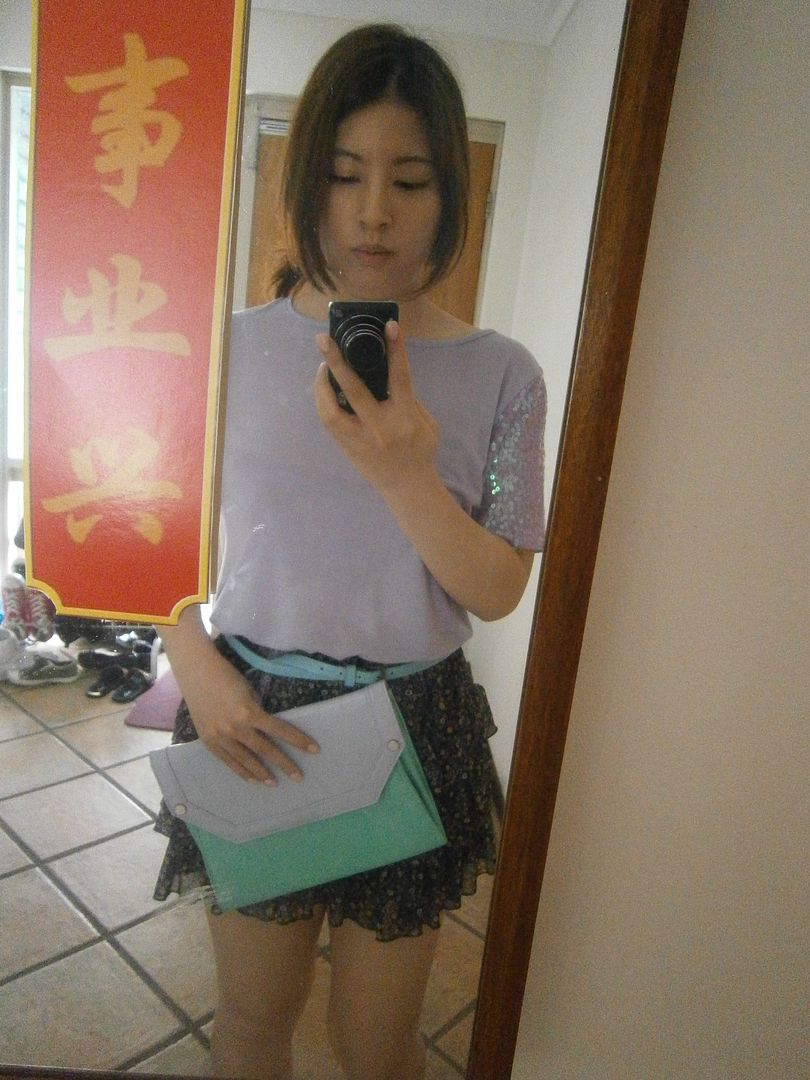 See, it totally matches! I bought it from Portmans.
And my other clutch purchase is this super cute and girlie clutch from Dotti. I love the cut-outs and the hot pink colour underneath. And it comes with a shoulder strap too~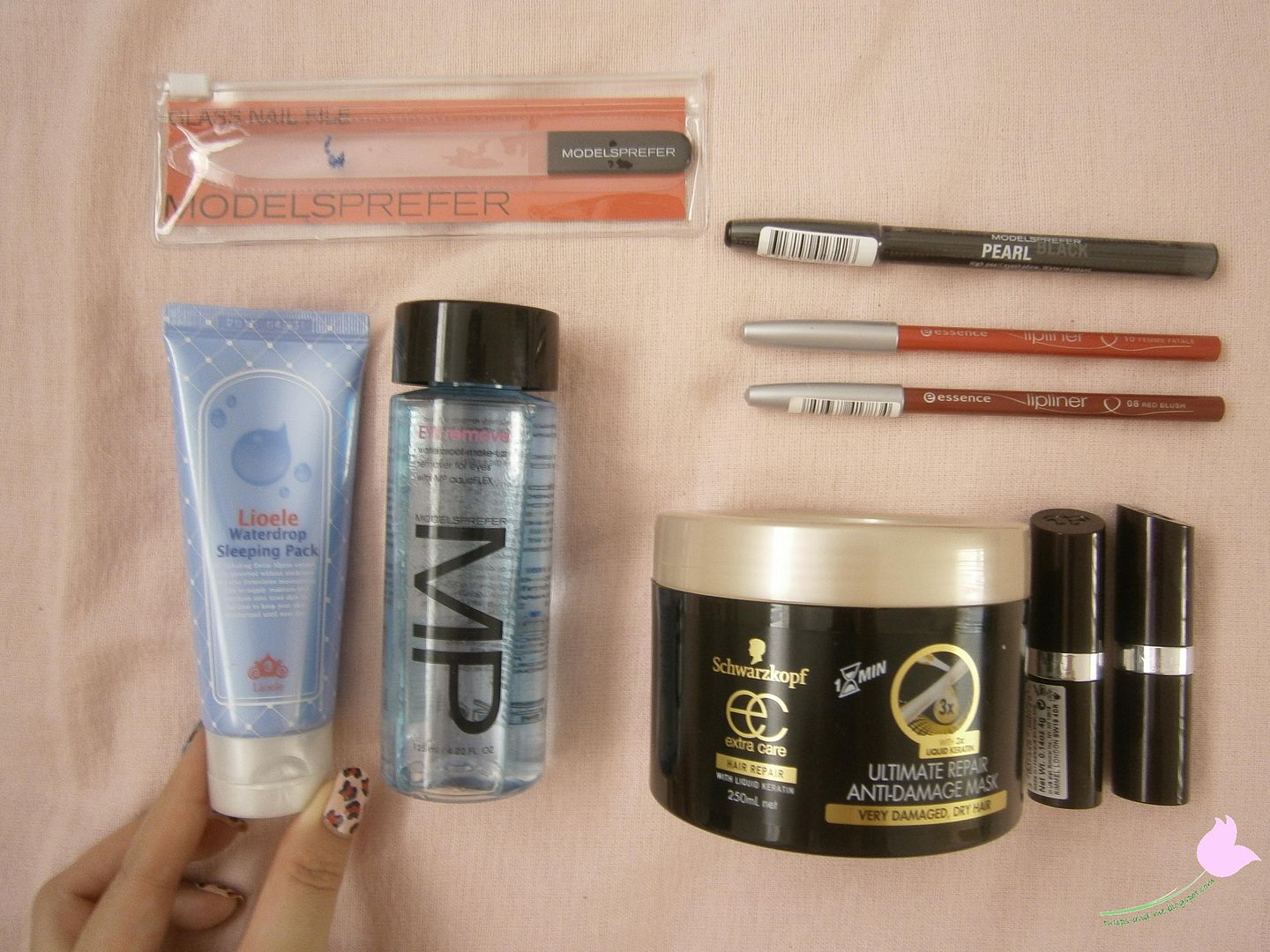 Models Prefer glass nail file - $3
Models Prefer black pearl eye crayon - $3
Lioele Waterdrop Sleeping Pack
Models Prefer Eye make remover - $7.99
Essence Lip Liners in Femme Fatale & Red Blush
Schwartzkopf Ultimate Repair Hair Mask
Rimmel Long Lasting Lipstick - Coral in Gold, Nude Pink (30% off at Target)
Now onto my beauty buys! January's beauty purchases were mainly 'necessaries' or 'cheap thrills.'
If it seems like I restrained myself with the beauty buys, it's because I've been waiting for a Make Up Academy order to come from the UK. I'll show you that haul later :)
Swatches of the Rimmel lippies will be coming soon, as well as a review for the Lioele sleeping pack.
And so far I am loving the hair mask, but alas I have to say avoid this Models Prefer remover at all costs - it burns like heck!
Enchanted Shimmer Kisses lip glosses
Models Prefer Tangerine Dream nail polish pack - $5!
Face of Australia Lip Quench Lipstick in Pink Champagne
Equip clip on earrings - $3.75
My local Priceline has been having a lot of items on clearance lately. I was super chuffed to pick up the tangerine polish set for a ridiculous $5. The colours are gorgeous, and come in cream, gel, matte, crackle and glitter variations. But you know, I went into Priceline today, and it's dropped down to $2!
The FOA lippie was an impulse buy - I've been looking for a cute pink lippie, but all the ones I have are either more on the berry pink side, or the nudey side. I've only worn it once, but it's really cute, and feels more moisturising than other lippies I currently have. I've already reviewed the Lychee Crush and Iced Almond lippies in this range, here.
And that's the end of my haulin' throughout January. What have you been buying this January?
Oh, and I am now on Hello Cotton - if you don't have a blog, but would like to follow me or keep up with my updates, then do consider following me via there~