Hi everyone! Today's post (the first for 2013!) is a review on the Bourjois Healthy Mix Serum foundation. I really wanted to try it because, firstly Bourjois is a sister company to Chanel, and secondly because the shades on offer are yellow toned which makes them suitable for me!
I'm using the lightest shade available, number 51 in Light Vanilla. It retails at $32 here in Australia, so it's on the pricey side for a 'drugstore' brand.
Is it worth it? Read on :)
~PACKAGING~
I like the packaging a lot - the gel foundation comes housed in a slim glass bottle with a pump dispenser, and a bright red lid. It's much more 'classier' in feel and appearance compared to its preprocessor, the Healthy Mix Foundation, which comes in a plastic bottle.
The pump dispenser never dispenses too much - one full pump is enough for one layer on my face. Though if you have very clear skin, you'd probably only need 1/2 to 3/4 of a pump.
~THE CLAIMS~
The Healthy Mix Serum is a gel foundation, a texture that allows instant blending, flawless complexion, and undetectable coverage for up to 16 hours. It's hypo-allergenic, and contains vitamin rich fruits such as lychee, goji berries, and pomegranate.
On the website, it also claims this foundation improves natural complexion radiance by up to 69%, after 4 weeks of use.
If you look at the label above, it also states the coverage factor rating as 1 out of 3 squares, and that the finish is semi-matte.
~TEXTURE~
This is classed as a gel serum rather than a normal foundation, so I assume there must be something different about the texture - but to me it seems like a normal foundation? I do like the texture though - it's definitely one of the things I like most about this foundation.
I find the texture is light and thin, and is super-duper easy to blend onto the skin! It basically just glides, so when I apply this with fingers the application is really quick. Great for days where you don't have too much time to allow for applying make up.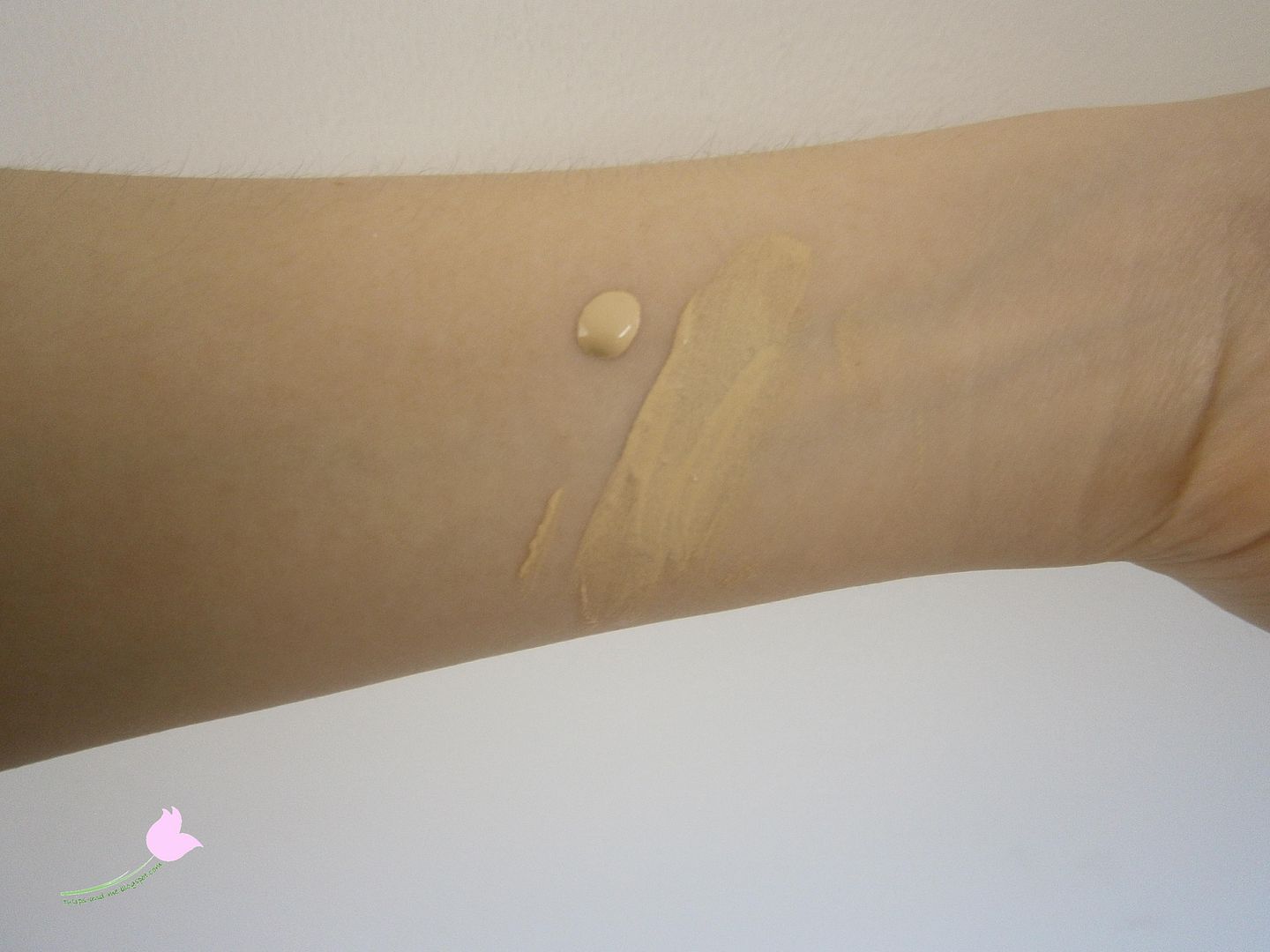 The thin texture also means it feels really lightweight and comfortable on the skin. I barely notice it's on since it's so nice and light.
Oh, one thing I must also mention is that will apply patchily on dry skin, so do make sure skin is thoroughly prepped before application.
~COVERAGE~
If you are looking for a high coverage foundation, this Healthy Mix Serum is not the one for you. Though it claims to give flawless coverage, I think that only applies to those who already have clear skin!
I'd rate this Serum as having light coverage. It does very little to cover redness on the skin, or acne scarring and blemishes. I think it does a good job evening out the skintone, but for major skin issues such as redness or scarring, this will do very little to cover.
When I had bad hay fever which made my skin red and blotchy, this foundation probably minimised the redness by about 10%? But on my good skin days I can use this, and then just add concealer for noticeable acne scars, and the redness around my nose, and then I'm good to go.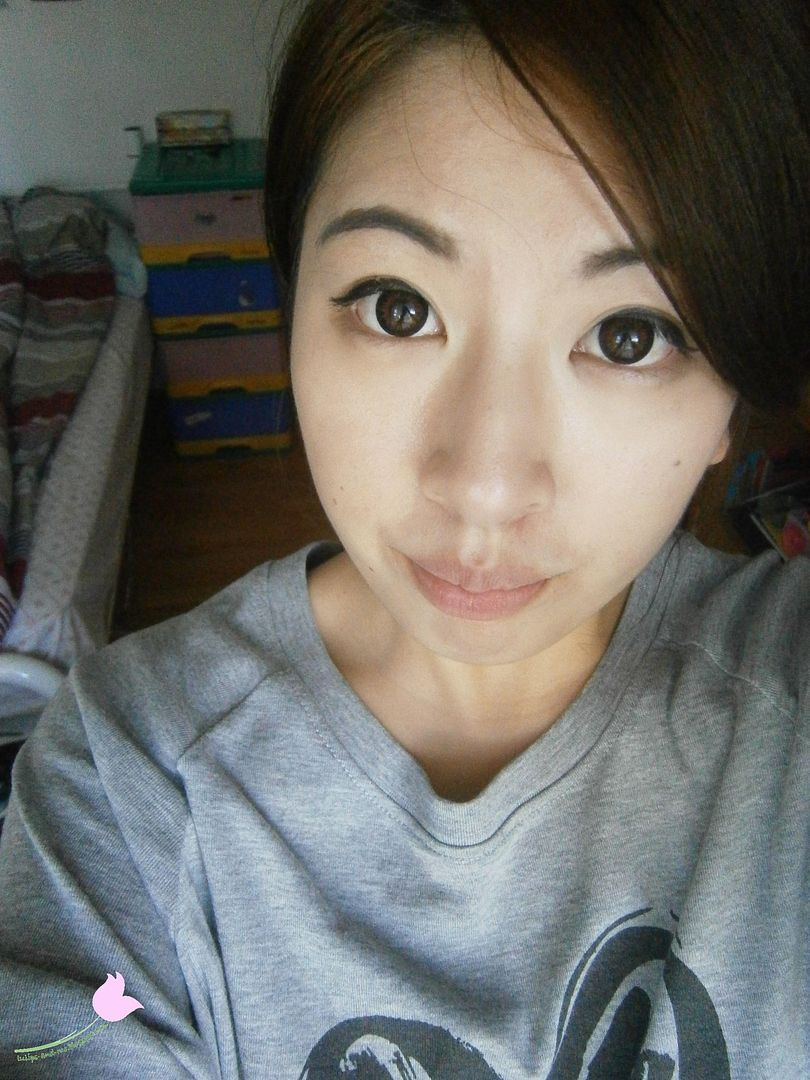 Skin looks generally healthy overall, but you can see it didn't cover the redness under my nose at all
What I do love about the coverage is that it just makes skin look super healthy and radiant. It could either be all those vitamin rich fruits in the serum, or it may be light reflecting ingredients, but I always feel like my skin looks fresh and glowy when I wear it. And the finish is very natural - it may just be because of the light coverage, but I like it because I don't want to look too 'made up'.
As for the claim of improving skin radiance after 4 weeks of use, I can't say whether it works or not as I tend to use this only about 3-4 days a week, while switching it up with bb creams.
~SCENT & LASTING POWER~
Being a fan of fruity smelling things, I do like the scent very much! I think it's quite a noticeable scent though, so it may not appeal to those who are sensitive to scents or who do not like scented make up.
As for the claim of lasting up to 16 hours - I have not had any occasion where I needed to wear it for that long so I can't really say if it does last that long. I think it wears well, though by the 8 hour mark my cheeks are usually starting to look a bit shiny. But I don't like to powder, so that may be why.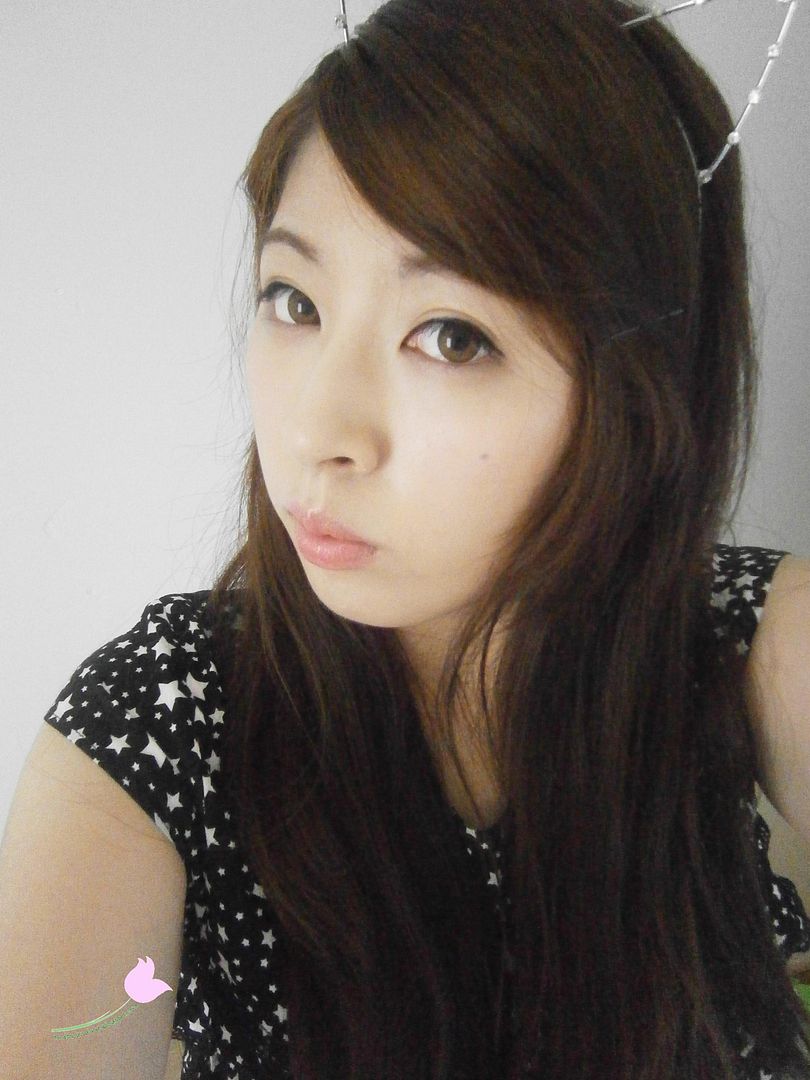 Healthy Mix Serum with Lioele Dollish Vita bb cream as a base
Highlighter applied to the top of my cheekbone and nose
~PROS & CONS RECAP~
hypoallergenic & dermatogically tested

comes in shades suitable for yellow skin tones

lovely texture that feels light on the skin

blends easily and nicely

smells lovely

vitamin rich ingredients

coverage makes skin appear healthily radiant - and it looks natural!
on the expensive side (though I believe it is a quality product manufactured in France)

light coverage won't do much to cover noticeable imperfections (though this will look beautiful on those with clear or relatively good skin)

semi-matte finish can turn oily in hot weather, or after a long day out and about

won't apply nicely on dry patches
Overall, I think this is a really lovely foundation, and even though the coverage is light and doesn't do much to cover my imperfections, I think the coverage is one of the main pros, as it does make skin (the unblemished parts) look so lovely and radiant!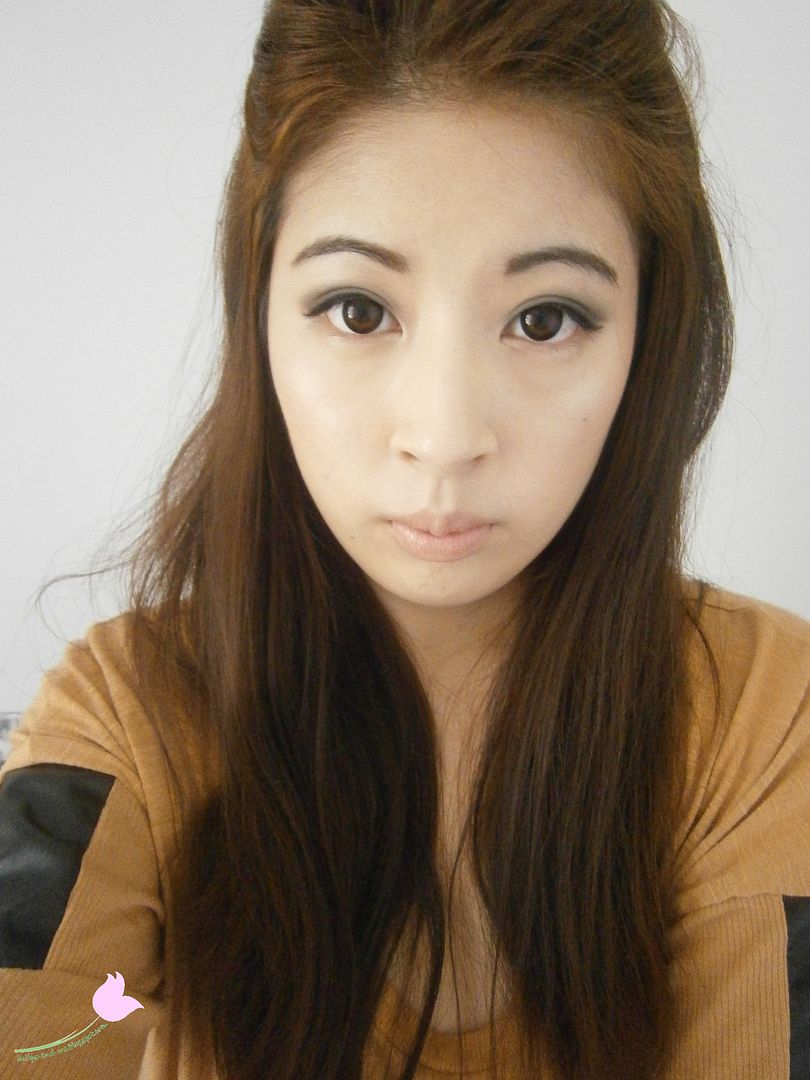 Healthy Mix Serum, with some highlighter on top of my cheekbones, and down the centre of my nose
I think I used the Bourjois Healthy Mix concealer as well, to cover up redness and blemishes
I would recommend this to those with normal skin types with relatively clear skin, who would like to have a lightweight foundation to just even out the skin tone or make it look nice and fresh. I'd still recommend this if you have a few imperfections and slight redness as long as you have a good concealer too. But I wouldn't recommend this to those who have a lot of redness/blothchiness or a lot of acne scarring, as it would take forever to get the concealing done.
Bourjois products are sold in Target and Priceline~
But, if the price seems a bit steep to you, check out ASOS as they do sell some Bourjois products, including this gel foundation (at a much friendlier price of around $18.68) - the mark up on make-up here in Australia can be so frustrating sometimes!