Time for another monthly goodies post, where I get to show you everything I hauled in the month of November.
Liese Prettia Bubble Hair Dye - Marshmallow Brown, and Milk Tea Brown
I've been wanting to try Japanese branded hair dyes for awhile, I've been trying to go lighter with my hair for a few months now and the western hair brands I've been using just aren't cutting it. I really, really hope this brand will do it for me!
After looking at the Liese hair charts, I was immediately smitten with Marshmallow Brown. It's the 2nd lightest brown dye in the range. The Milk Tea Brown is supposed to be one of the most popular colours, and is the lightest brown dye in the range - this one is for my sis.
Face of Australia Mineral Therapy Illuminators in Angel Flame & Angel Mist
I have been hoping for months that these limited edition illuminators would come back on sale this Summer, and I was so thrilled when they did. Being a highlighter freak I just had to get my grubby hands on these.
Angel Flame is a beautiful, beautiful shimmer blush/illuminator with a pinky peachy goldish colour. It's so lovely!
Angel Mist is a pearly highlighter, quite lovely, but I must admit I'm a smidge disappointed. I much, much prefer my Lioele highlighter to this one, since this tends to sit on top of my skin instead of melding into it. I don't regret buying it though, it just needs a little more effort with applying for a lovely, glowy fresh skinned look.
Etude House Precious Minerals Bright Fit BB Cream (02)
Skinfood Banana Yogurt Mask
Holika Holika Essentials Petit BB Cream
BRTC Jasmine Water BB Cream samples
An ebay haul consisting of mostly bb creams. The Etude bb cream is my 4th one since my 3rd tube is nearly finished. The Skinfood mask was also a repurchase since my brother really likes this one. The Holika Holika bb cream was super cheap so I couldn't resist adding it to try, but I don't really like it :(
Essence cream eyeshadow - For Fairies
Essence gel eyeliner - black
Cheap and cheerful Essence goodies, For Fairies is a really pretty, shimmery pink cream shadow, and the eyeliner is fantastic, it smudges much less than my Tony Moly eyeliner.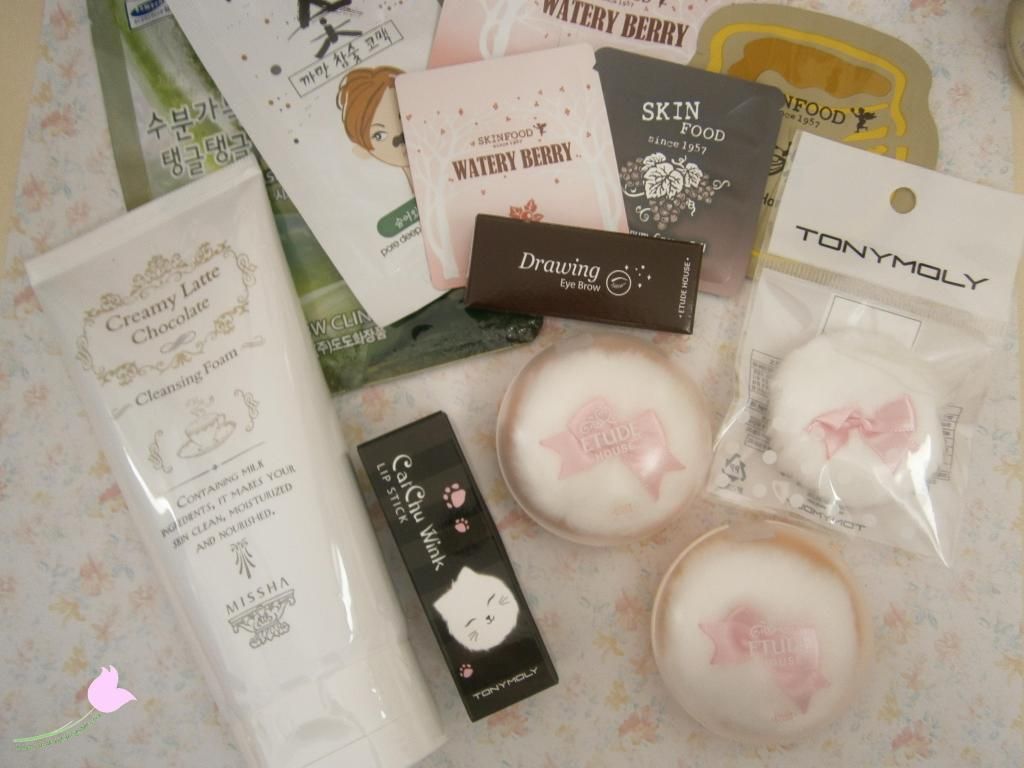 MISSHA Creamy Latte Chocolate Cleansing Foam
Tony Moly CatChu Wink lipstick - Peach Vanilla
Etude House Drawing Brow refill - black/brown
Etude House Cookie Blushers - Carrot Cheesecake, Grapefruit Jelly
And lotsa samples and a free powder puff...!
A super cute haul from online fave, Cosmetic Love. The cleanser really does smell like Chocolate Latte, and it's specially for dry skin. The TM lipstick packaging actually is in the shape of a cat! And the blushes are gorgeous - it was hard to limit myself to just two colours. I went with a pretty pink blush, and an orange blush, since orange makeup has really been on my mind lately.
Tony Moly Cats Wink Compact - Clear Beige
It has a paw print motif on the powder!
Isn't this kitty compact the cutest thing ever?! I purchased this for my sis since I feel bad if I always buy things for myself only. I love the cat's expression, and the whiskers are so cute <3
It looks a little bit like a MacDonald's happy meal toy, but the quality of the actual powder pact is awesome. It feels almost buttery to touch, and when worn over bb cream my sis's face just looks fresh and healthy.
Now onto the fashion hauls! I had some great finds last month! And as you can see, it was all about dresses - yup, I've said it before, but I am most certainly a dress-girl at heart.
Peter Pan collar, bird print dress
Valleygirl
Little black dress, with a low cut back and a big bow!
Valleygirl
Polka dot dress
Target
Cut-out back
This dress is sooo flattering! And the cut-out back makes it really youthful. But dads won't get it - you know what my dad said last time I wore this?
"Did they run out of fabric or something?"
Red skater skirt dress
Ally
Navy skater skirt dress
Ally
Words cannot express how much I love these Ally dresses - and yes they are the same dress in different colours. I found the red one first, it was the last one and since it was heavily reduced I quickly snatched it up. I went to a different Ally a few days later and spied the navy one, and just had to get it too. It's so hard for me to resist anything with a bow!
And that concludes this monthly haul post. Hopefully I can get around to reviewing some of these cosmetics within the next few weeks (though I'm still working on reviews from previous months hauls!). Let me know if there's something you really want to see a review on - though if you're still waiting on a review from a previous haul post that I've yet to get around to, do feel free to 'remind' me :)
Thanks for reading! What did you spend up on this November?