Hi lovelies, it's time for another monthly haul post! As the title states, October was sadly lacking in any hauling of cute Korean cosmetics - shock horror!
...actually, I did buy some, but they are still en-route, so you shall have to wait to see some pretty Korean cosmetics in the November beauty buys edition :)
Anyhow, I still do have some lovely new things on my dressing table~
Bourjois Healthy Mix Serum, Healthy Mix Concealer, and Healthy Mix Foundation - all in Shade 51
Some of you will remember that I picked up the Bourjois Healthy Mix foundation in last month's haul post, so you may be wondering why I have a picture of it again this month. Well, it turns out that I'm really horrid at swatching, as the shade I bought was actually too dark for my skin!
Luckily Priceline recently had a 30% off sale, so I was able to buy the foundation in shade 51 - and I also decided to treat myself and also picked up the Healthy Mix Serum (a gel foundation, supposedly), and the matching concealer (totally love it!).
Shade 51 is perfect for my skin tone! This is the first time I've ever come across a foundation that is such a close fit for me - in the past I've only ever used a foundation that was too pink-based, too yellow, too orange...I'm really happy I decided to try out the Bourjois range.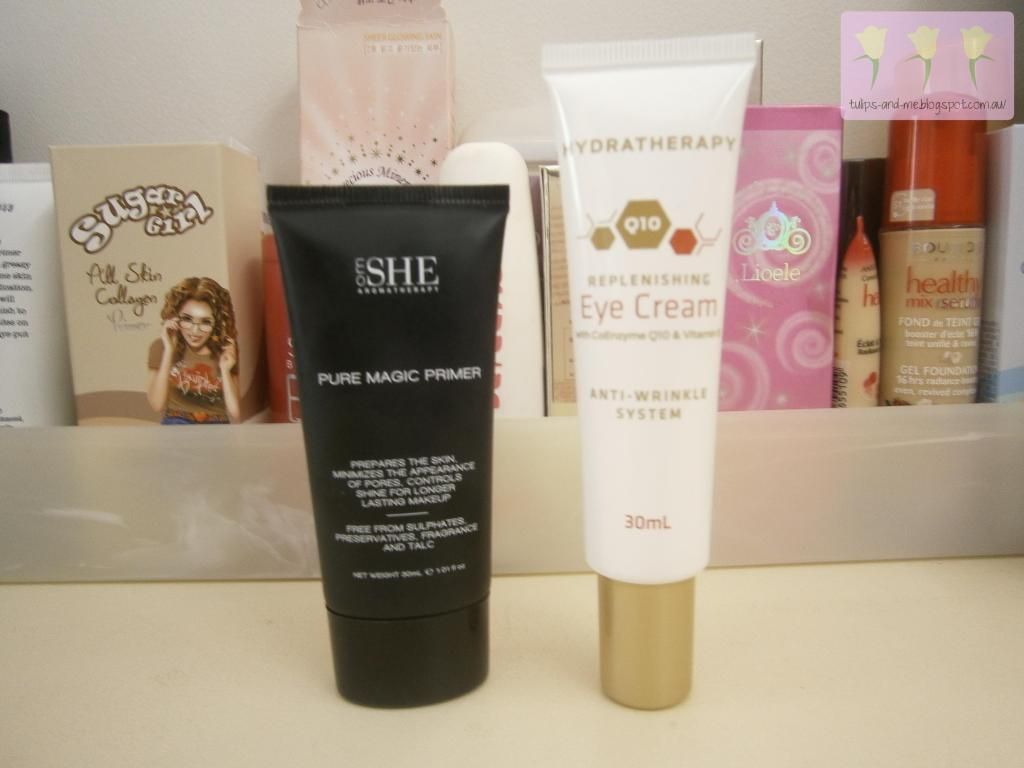 SHE Pure Magic Prime, Nivea Eye Cream
Another new discovery is this primer from Aussie brand OM SHE
Aromatherapy
(aka SHE) - actually, it's more of a re-discovery. I remember seeing SHE products at my local Priceline when I was about 12-13, and not quite into make-up yet. But I
remember
really admiring the SHE products, because they were so prettily packaged - pale pink bottles and tubes, with gold font. They just looked so high class, and feminine!
Aside from bb creams and highlighters, I have a major obsession with primers - so I just had to get this when I saw it on sale - the packaging's not as pretty, but it's got some impressive claims.
The almond oil in this worried me a bit, as my skin tends to break out from such ingredients - but so far I'm so, so happy to have discovered this because this makes my skin smooth. Will use it a bit more, and then I'll have a proper review up for it in the coming weeks.
The Nivea eye cream, I just had to get because I'm worried about the skin around my eyes getting a bit dry lately - and I certainly don't want to get wrinkles early because of that!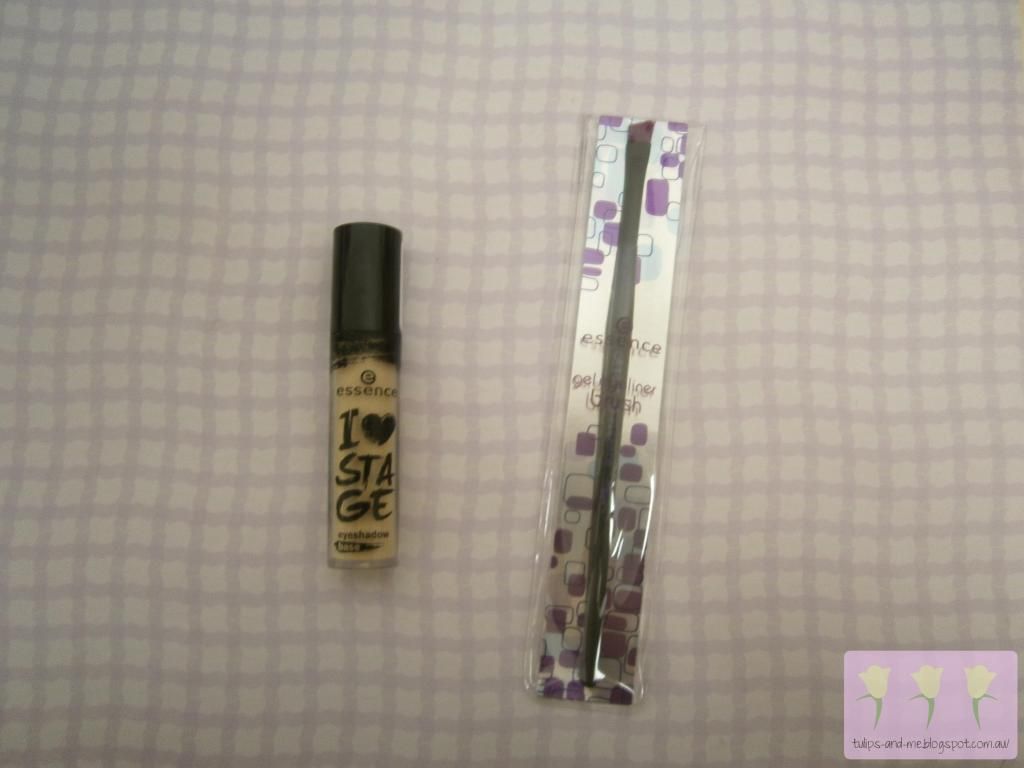 Essence I love Stage Eye Primer, Gel Liner Brush
Also picked up a cheap eye primer from Essence, to see if it'd help my eye liner from smudging. And also got the eye liner brush on a whim, and am glad I did - it's great for doing more thinner lines as opposed to the thicker lines I get from using my Tony Moly gel eyeliner brush.
Napro Hair Care Lotion, Maybelline Baby Lips - Anti Oxident Baby
Some cheap and cheerful buys - a hair conditioner to keep my hair from drying out, and a new lip balm (since I quite like the other Baby Lips balm I'm using).
Real Techniques brushes - Core Collection
Ahh, here's the one purchase that I was anticipating the most. I've been after a buffing brush for awhile, since I'm really after a natural looking face as possible. People keep saying buffing foundation or bb cream gives the most natural and flawless effect, so there we go - I just had to get this set! I bought it off iherb, since this set retails for about $45 at Priceline, while it's about $18 plus shipping on iherb. I've only used the buffing brush so far, but I'm prepared to say it was money well spent :)
That concludes my beauty buys for October - now onto the fashion hauls.
Picked up 2 dresses, both from Cotton On (need to stop going there - my wardrobe is slowly turning into a mini Cotton On store!)
A maxi dress, and a mini-dress with a cool print~
And finally, here's the latest addition to my handbag collection! Technically, it should be in my November haul post, but I couldn't wait to show you guys, plus let you know that Forever New is currently having a 50% off sale items promotion right now, so get to it!
It's a boxy type of handbag, in a pale pink colour with a gold coloured clasp. It's a bit big and heavy but I love it to bits, and can't wait to use it! Forever New is like heaven for me, handbag wise <3
Haha, I think I babbled a bit too much in this post, so thanks for reading!
What have you been spending on this last month? Let me know!