Hi all! Here's my review on the second MISSHA bb cream I own - the Signature Real Complete.
Before I had purchased this bb cream, I had already tried a few samples of this before, and had been quite impressed. Unfortunately, after I tried this I was surprised and disappointed to see that the sample bb cream differed to the full sized product - mostly colour-wise. But, more on that later.
The shade I purchased is number 21 (light pink beige), and is the second lightest in the range. I believe there are three shades overall.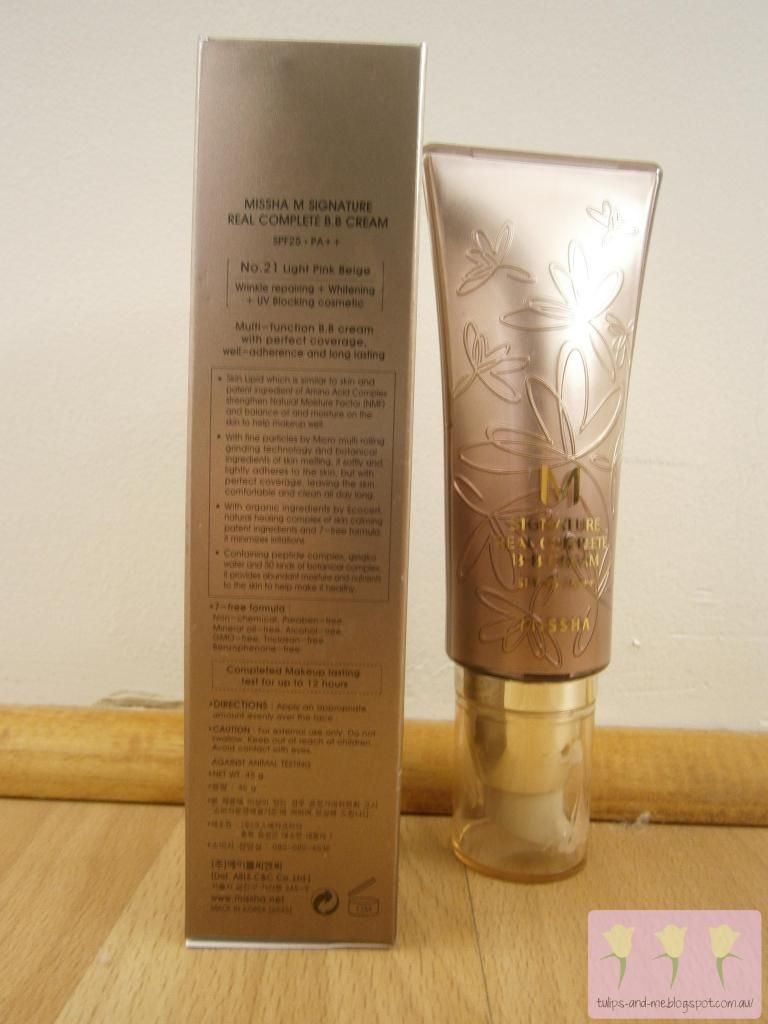 The MISSHA Signature Real
BB Cream claims to "balance oil and moisture on the skin...softly and lightly adheres to skin, but with perfect coverage, leaving the skin comfortable and clean all day long...natural healing complex of skin calming patent ingredients and 7-free formula, it minimises irritations...containing 50 kinds of botanical complex, it provides abundant moisture and nutrients to the skin to help make it healthy." <--- had to paraphrase a bit - there's a lot of claims on the packaging!
The 7 free formula refers to the bb cream being free from the following
chemicals

parabens

mineral oil (which the Perfect Cover has, which some have claimed to be pore clogging)

alcohol

GMO

triclosan

benzophenone
It also claims to last for up to 12 hours.
The packaging is lovely! The tube has a hard plastic cover, with a pretty floral pattern. It looks very high class, and looks great on my dressing table. It comes with a pump function, so it's very hygienic. The only thing about the packaging that could be a con is that due to the hard cover, you won't be able to squeeze out the very last bits of bb cream at the end. And also, sometimes the plastic cap gets messy if you don't wipe the pump hole clean after each use.
Shade 21 is supposed to have a mix of pink undertones and light beige/yellow undertones. While the bb cream doesn't come out ashy like its equivalent in the Perfect Cover BB Cream, I have to say I was a bit disappointed with the shade of the Signature Real Complete, because the shade is significantly lighter and pinker toned then the samples I had previously tried.
From the full sized tube, I would describe shade 21 as a milky pink colour. While it does brighten and whiten my skin, the pink undertones in this bb cream is a bit too noticeable against my yellow toned skin. When I had the samples, the colour match was a lot better against my skin tone. I've thought about the possible reasons for this, and I think it's due to the packaging of the samples, versus the plastic tube.
A small amount of bb cream in a thin foil packet probably will differ in consistency or colour as it is more easily affected by room temperatures, UV rays exposure, and time it is stored, in comparison to a larger plastic tube. I had hoped that with time, the colour would change with more exposure to oxygen, and I feel it has become a little less pink toned, but still not enough for my liking.
The Signature Real is not as thick as the Perfect Cover, it blends really easily with fingers, and feels light on the face. It's quicker to apply with my fingers, versus the foundation brush that I need to use with the Perfect Cover, for optimal results.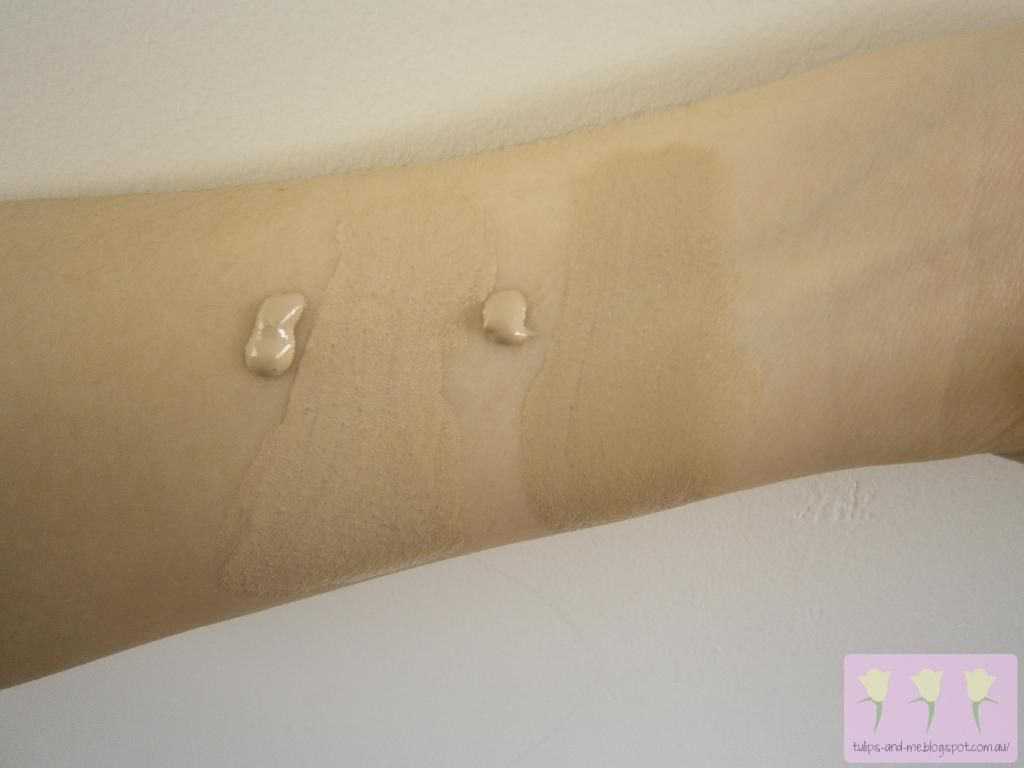 Left: Signature Real Complete #21 (looks beige, but in thinner layers it's quite pinky toned)
Right: Perfect Cover #21
Scent wise, there's a very non-noticeable, quite pleasant scent. I have to sniff quite hard to pick up a scent, and I can't really describe it, but it's nice - it's a little bit like the scent of baby powder? It shouldn't be a concern for anyone who doesn't like strongly scented products - this one isn't very noticeable at all.
In terms of coverage, I'd place it as light-medium coverage at best. With one layer, this bb cream will help even out skin tone, reduce redness, and probably help hide pigmentation too. What it won't do is hide very red or angry blemishes, or obvious acne scarring - though it will help minimise them, which is better than nothing.
Adding another layer, or just patting extra bb cream only on the areas that need a little more coverage will help reduce problem areas further. For my skin, which has quite a bit of acne scarring, as well as redness and pigmentation, the coverage this bb cream offers me is not that satisfactory.
The finish is semi-matte, though if I use a very hydrating primer, or a silicone based primer, I find the finish is more semi-dewy.
Apart from medium coverage, this bb cream also is good for brightening the skin tone - I feel like my skin looks more fresher, as well as more even overall. If only it weren't so pink toned!
As for the 12 hour wear claim, I think it holds well, but by 12 hours some of the bb cream will have worn off. I also start noticing some shine on my cheeks and forehead at the end of the day, so I think oily skin types would need to powder.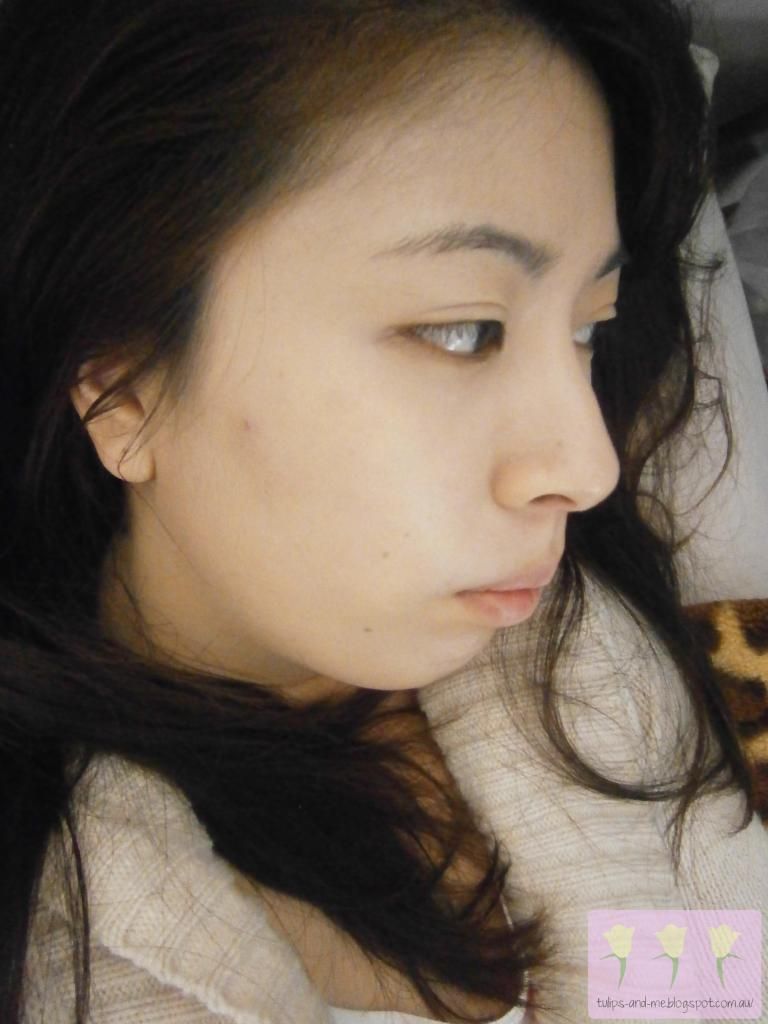 Notice it did very little to cover the pimple on my cheek! And there's still redness around my nose area too
The small version can be found online for about $12, and the full sized tube retails from about $22. Surprisingly it is several dollars more pricier than the very popular Perfect Cover range! I had thought that this would mean the Signature Real would be a better performer, but truthfully I still like the Perfect Cover a lot more. The coverage is better, the colour is better, and the price is good too~
I think the only advantages the Signature Real has over the Perfect Cover is the ingredients list (and it's 7 free formula) - it has a high number of natural ingredients, and it seems more suitable for daily wear than the heavier coverage Perfect Cover. This Signature Real is one of my 'just okay' bb creams, and I won't be repurchasing.
This may be a good bb cream for those without blemished skin - maybe those just looking to even out skin tone, minimise some redness, and those who want to brighten skin tone. My sister uses this in #23, and it looks great on her.
Thanks for reading - and have a great weekend~!
Also I recently reviewed the MISSHA Perfect Cover BB Cream, which you can find *here*