Hiya, I've got a FOTD and sort of an OOTD post to share with you today! I was feeling in the mood for a light and feminine look so here's what I came up with~
Here's a snapshot of the products used in my FOTD...most of these items you'll have seen before - I definitely like to stick with a really simple makeup routine, which doesn't vary too much. I guess the only variations come from the type of lashes to wear, or the colours I put on my eyelids.
*Face*
Bloom Prep and Prime Primer (not pictured)
Etude House Precious Mineral BB Cream
Lioele Shimmer Base Highlighter
Australis Make Up Finishing Spritz
*Eyes*
GEO Extra Bella Brown circle lenses
Max Factor 2000 Calorie Mascara - waterproof
1000 Hour Individual false lashes 10mm
Bourjois Smoky Eye Trio - Rose Vintage
Etude House Drawing Eye Brow pen - Black/Brown
*Lips*
Maybelline Baby Pink - Baby Glow
It was my first time using individual false lashes, and I have to say it nearly drove me crazy trying to put them on. I guess I'm just not very good with handling tweezers!
In the end I only put 4 bunches on each eye, focusing on the centre. It leaves a nice, natural look, but better (since my own lashes are a bit short) - I definitely will use individual lashes again~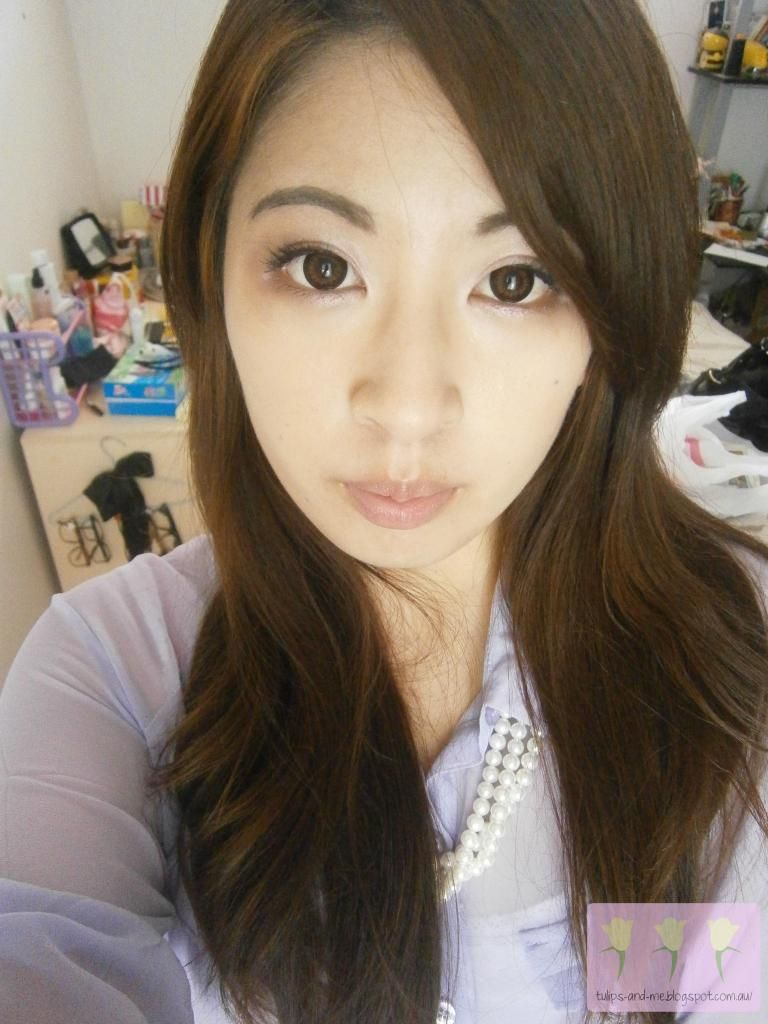 I was quite happy with this look, even though I messed up the lashes and the eyeshadow a bit (still learning!). I'm super duper in love with the Bourjois palette (the first 2 shades, anyway), and I've found soft pinkish shades are pretty much taking over as my most preferred eye shadow colour (normally champagne colours), at the moment. This palette isn't for everyone, since the shades are not that pigmented - but for someone like me who isn't comfortable having very bright or colourful makeup - I find these shades fantastic.
And here's the rest of my outfit!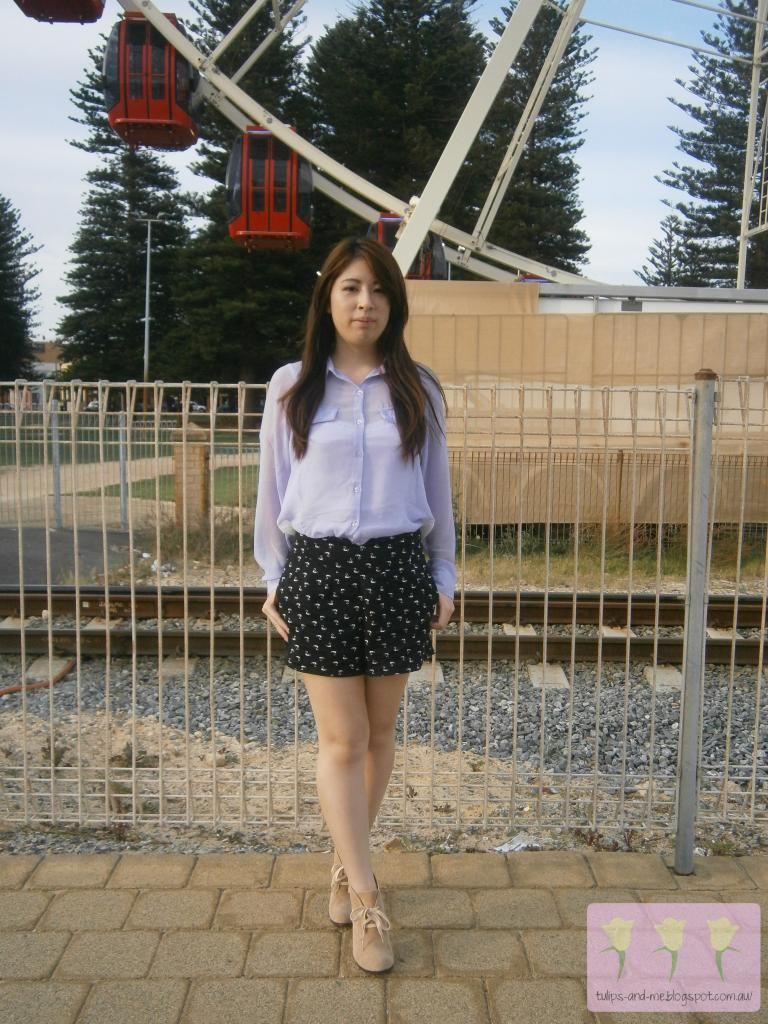 Lavender blouse - Cotton On
Swan print shorts - Cotton On
Fawn ankle boots - Temt
You can't really see it but these dark navy shorts have white swans
printed
all over them! Kind of weird, but fun for a print I guess? I picked them up cheap at a Cotton On sale, because I really do not own many skirts or shorts, being a dress girl normally. It would've been cool if the swans were black swans since they're a bit of a mascot for Western Australia (it's on our coat of arms), haha - State pride right?
It was a bit too chilly to wear this to Fremantle though - it was nearly 6pm, and pretty windy too.
Anyone else been wearing pieces with random, slightly unusual prints/patterns recently?
Thanks for reading - happy weekend!!!