Hi lovelies! How are you today?
I'm reviewing an eye palette that I've been using recently - you'll have seen it in some of my recent FOTD posts already. It's the Smoky Eyes palette in Rose Vintage, from one of my new favourite cosmetics brand, Bourjois.
I got this eye palette as a GWP promotion, and I have to say I'm quite enamoured with the pretty colours. Being not particularly brave when it comes to eyeshadows, I'm quite pleased to expand from my previous go-to eye colour (a simple sweep of champagne over the eyelid), and introduce some fresh and pretty colours, suitable for Spring.
Bourjois claims these are 'good for my skin' mineral powders, with an 8 hour hold.
So, t
his cute little palette retails for AUD$28 - not exactly cheap!
But I definitely advise to keep an eye out for the Target and Priceline catalogues as they often have 20, 30 or even 50% off sales, as well as regular GWP promotions.
If you absolutely cannot wait, try the ASOS website as they do stock some (not all) Bourjois products for significantly lower prices, as well as offering free shipping too.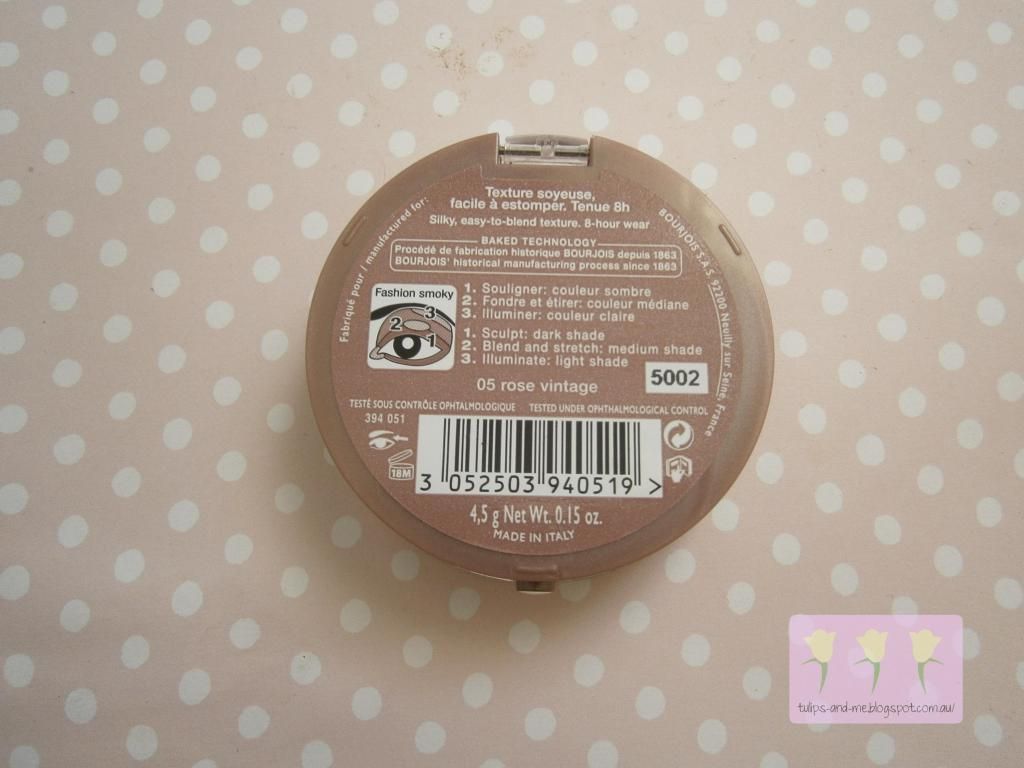 Click to enlarge
The compact is quite small, fitting snugly into the palm of my hand, so it won't take up too much space in a cosmetics bag/handbag. It's made out of plastic and fairly sturdy, though the lid would probably crack if I dropped it. There's a useful diagram on the back showing which shadows to apply, and where - I don't use it though, it just doesn't seem to help with my eye shape :)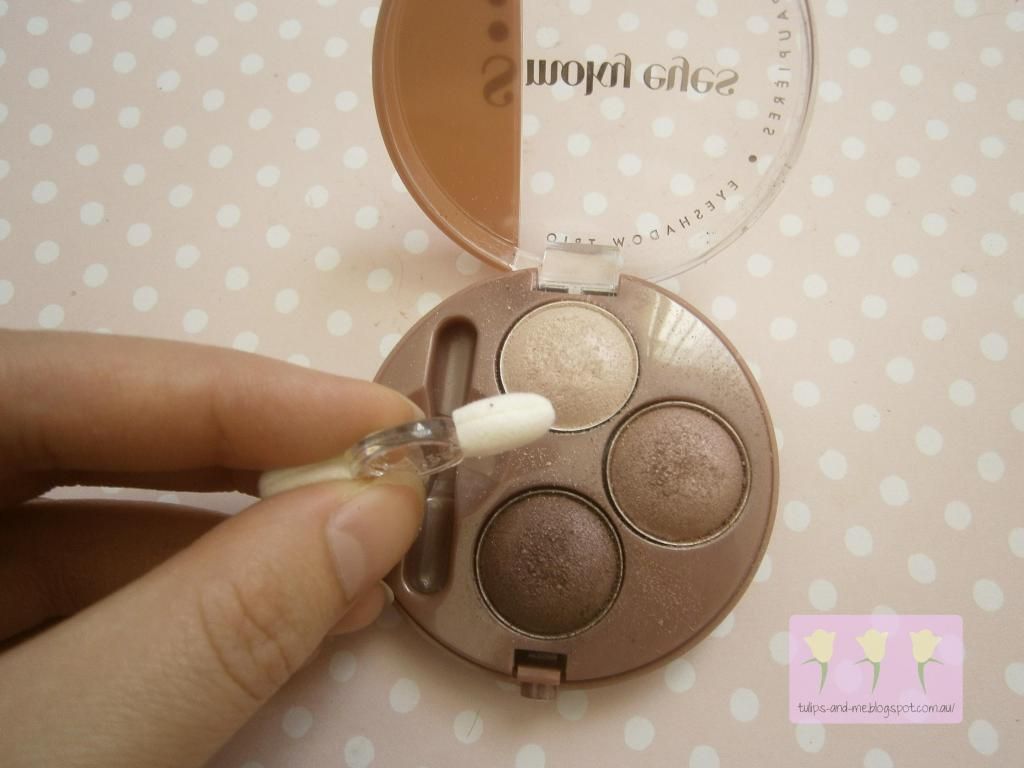 Rose Vintage comes with three pinkish colours, which all complement each other, to create a nice and subtle smoky eye effect. It comes with a baby sized applicator - each end is a different shape and size, which I find interesting. One side is your conventional rounded shape, the other is more pointed - good for reaching the inner eye area, I suppose.
The first shade (pearly pink) is a pretty pearlescent shade - perfect for highlighting the inner eye, or sweeping over the entire lid (which I do). The middle shade (rosewood) is another pretty pink shade, more of a medium shade and also shimmery. I use this on the outer half of my eye, and to line my lower lash line. As for the final shade (purplish pink), it's more of a satin effect rather than shimmery, and I find it more of a purplish brown shade which doesn't really appeal to me since I like lighter colours. It's the most pigmented shade of the three.
L-R: Purplish Pink - Rosewood - Pearly Pink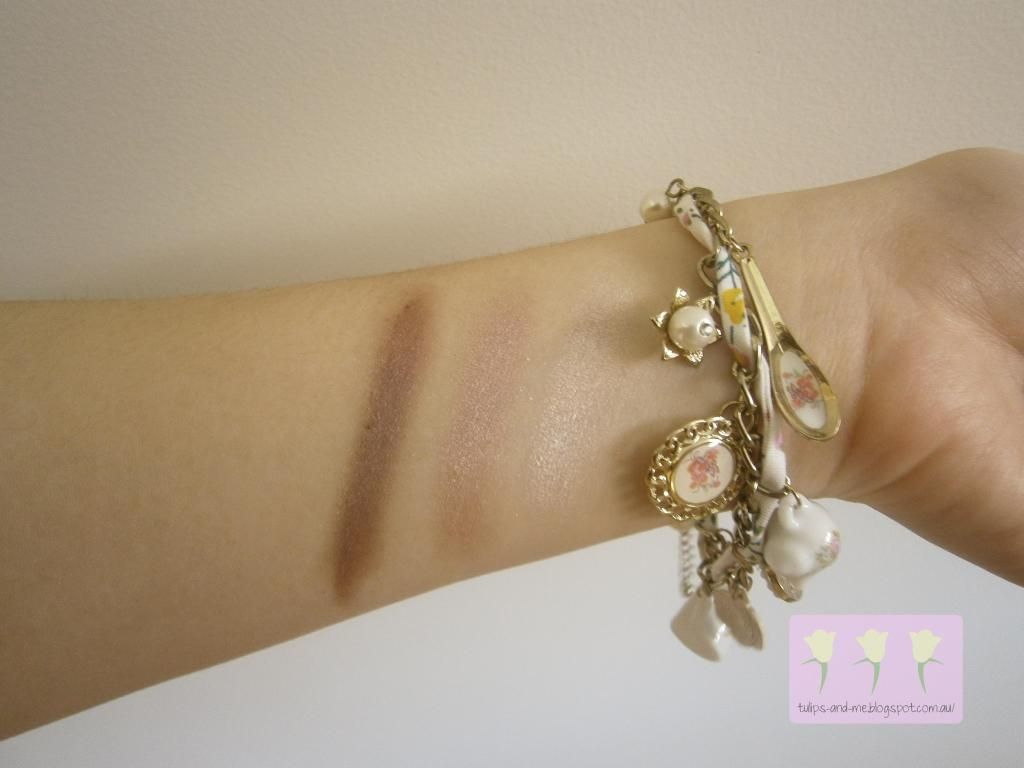 Click to enlarge
I've seen reviews which stated that the pigmentation of these palettes aren't great, but I'd have to say it depends on what sort of look you're after.
This palette is probably more suited for a daytime, soft smoky eye effect rather than the evening smoky eye effect the palette name suggests.
Being not particularly brave with bright or crazily pigmented eye colours, I'm content with the pigmentation I get from this palette (using my cheapo Essence eyeshadow brush). The eyeshadow goes on smoothly, and it only takes a few quick sweeps to build up to a shade I'm comfortable with.
I notice the pigmentation is better when using the sponge applicator, so if you're after a stronger smoky eye effect, do use that and perhaps a good primer too, as well as applying the shadow wet. If you want very vivid eye shadows, there are other better priced, and better pigmented palettes out there.
It claims to have 8 hour wear, but I usually don't notice things like this. I'd tend to agree it would last at least 6 hours, from what I remember.
Wearing rosewood all over the lid, and smidge of purplish pink on the outer half
I used pearly pink on my inner eye duct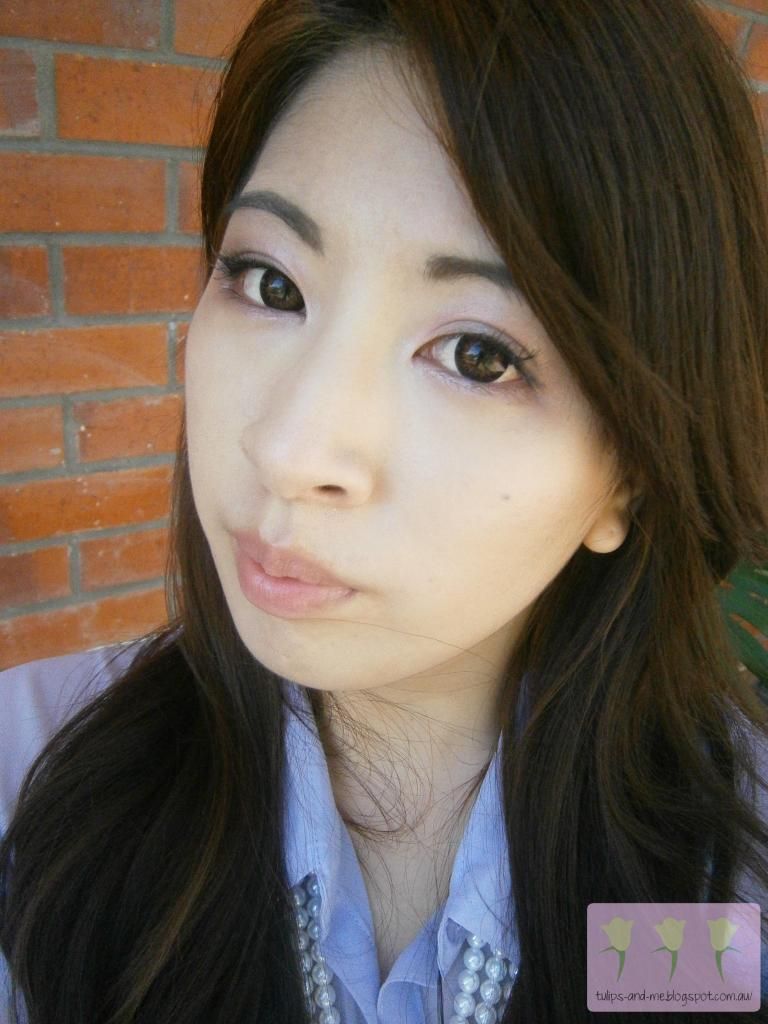 PROS
small and compact size

very pretty and feminine colours that complement each other

the first two shades have a pretty shimmer, without being crazily sparkly

perfect for Spring, or a day time look

silky, easy to apply shades (as claimed)
CONS
may not have the pigmentation some would expect for a smoky eye effect

pricey

the applicator is tiny - would take forever to apply the eyeshadow

if you don't like shimmery eye shadows, you'd probably want to skip this
Overall, I'm really glad I got this palette from the GWP promotion - the colours are pretty, feminine, and suit my personality. The only thing is that I wouldn't buy it at the full retail price since there are so many eyeshadow palettes out there with the same, or better pigmentation/quality, at a more purse friendly price. I say wait for the sales, before you grab these palettes (I want to try their nude colours palette, as well as the gold/bronze one).
I'm currently also using the Bourjois Health Mix Serum foundation and that, I will tentatively say, is worth the price demanded - but more on that some other time! I need to trial it a few more weeks before I can get a review up.
I'd like to know - what eyeshadow palette are you currently using, and what colours do you love most on your eyelids?
Thanks for reading, and happy weekend everyone!