Today I want to share my review on a new peeling gel I've been using. Peeling gels have become a popular alternative to the traditional exfoliating scrubs on the market, particularly for people with sensitive or problem prone skin, who don't want to deal with the harshness of the beads in some scrubs.
After a bit or research, I decided to settle for the quite affordable Crystal Peeling Gel from SKIN79 - which
claims to be suitable even for sensitive skin types (I wanted something gentle).
Okay, so a peeling gel might sound kind of scary, but its not! It may sound like it might be painful to use - but your skin will not peel off - only dead skin cells, lol. The Crystal Peeling Gel will not sting or burn your skin, that's not how it (or most other peeling gels) are meant to work.
Price: $10 - $20 on ebay. I paid about $12AUD off Cosmetic Love, though I notice they no longer stock it~ The tube contains 100ml of product.
Claims: makes skin smooth and healthy by removing dead skin cells, and accumulated sebum.
Keratoline C and plant extracts aid in exfoliation, hyaluronic acid soothes skin, and apple extract protects and calms skin from harmful environment (e.g pollution).
The packaging is simple, and convenient - a plastic squeeze tube, with a reflective twist cap. I believe there was a seal over the tube opening when I first received it in the post. So that's good for knowing that it was a new and untouched product.
Basically it goes on the skin like a gel-like cleanser. After spreading a thin film on your face (avoid the eye and mouth area), you can begin to massage in small, circular motions. The texture of the peeling gel will change, and become 'lumpy' as more and more dead skin cells are sloughed off, and collected.
Step 1: Apply gel in a thin layer
Should be used on cleansed & dry face
Although the texture looks smooth and thin here, it won't be unusual if the gel thickens and starts to become lumpy before you can spread an even layer on your face.
Just try to lightly stroke the gel following the grain of your skin.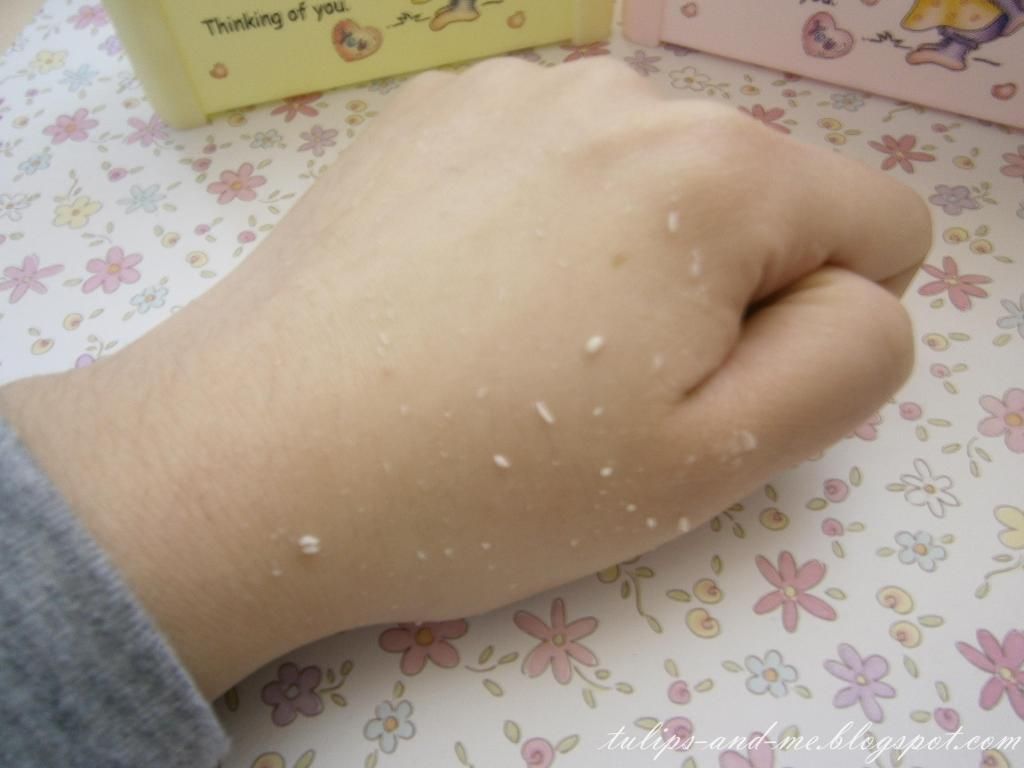 Step 2: Massage gently in circular motions
Wrinkle face in distaste as you watch the dead skin cells gather
Once you have an even layer (it doesn't have to be a thick layer), gently massage the skin in circular motions - do portions of your face instead of rubbing your whole face at once. You do not have to massage vigorously - that'll probably irritate your skin instead. Be gentle to your skin :)
The gel will thicken, and little lumpy balls will form - it does look pretty gross, but I do not believe all of it is dead skin.
I'm not sure, but it may be a chemical reaction from one/some of the ingredients reacting to the heat on your face as you massage, which makes it thicken and congeal.
Rinse face as the final step. Follow up with toner and moisturiser (if that's your usual routine)
My thoughts?
There is a definite and visible change to my skin after I use this. Skin is smoother, and seems whiter and brighter.
After I used this once, I turned to my sister and she said 'OMG, your skin looks so white!'
And each time I use it I can't help touching my face - it looks so clean, and feels really touchable~
I don't use it often enough to notice any permanent change to my skin in general, but yes, I do think it does offer a more refreshed and radiant complexion after use (and in the next few days following).
It doesn't irritate/burn/sting my skin when I use it, so I think it does live up to its claims of being suitable for sensitive skin types. It's not drying or harsh either.
I keep forgetting to use this, but I'm going to try to use it weekly, as I do think it should help my skin become softer and smoother with extended use.
suitable for all skin types

exfoliates without the need for harsh beads

very affordable

skin is whiter, brighter, softer after use
time-consuming

has to be done on a pre-cleansed and dried face - so it can't be quickly used in the shower
Overall I think this is a good value buy. It does exactly as it claims, and it's quite affordable so I do recommend to try it if you're on the lookout for a simple peeling gel.
How about you? Do you prefer scrubs or peeling gels?
Thanks for reading!