Welcome to another review! It's probably not surprising that it's on yet another Etude House product...affordable prices, adorable packaging - what's the point of resisting?
Here I've got the Aloe Tea cleansing cream, part of Etude's Happy Teatime skincare line. I do also have the cleansing foam equivalent, in Peach Tea which has been reviewed here. While I find the cleansing foam to be a great product, it really wasn't suiting my dry Winter skin, so I've switched to the cleansing cream for now. Cleansing creams tend to moisturise as well as cleanse, which is what my skin needs at the moment.
There are three tea variants to choose from - Lemon, Milk, and Aloe. It was a struggle between Aloe and Milk, but I settled for Aloe, because it's known for being quite gentle on the skin.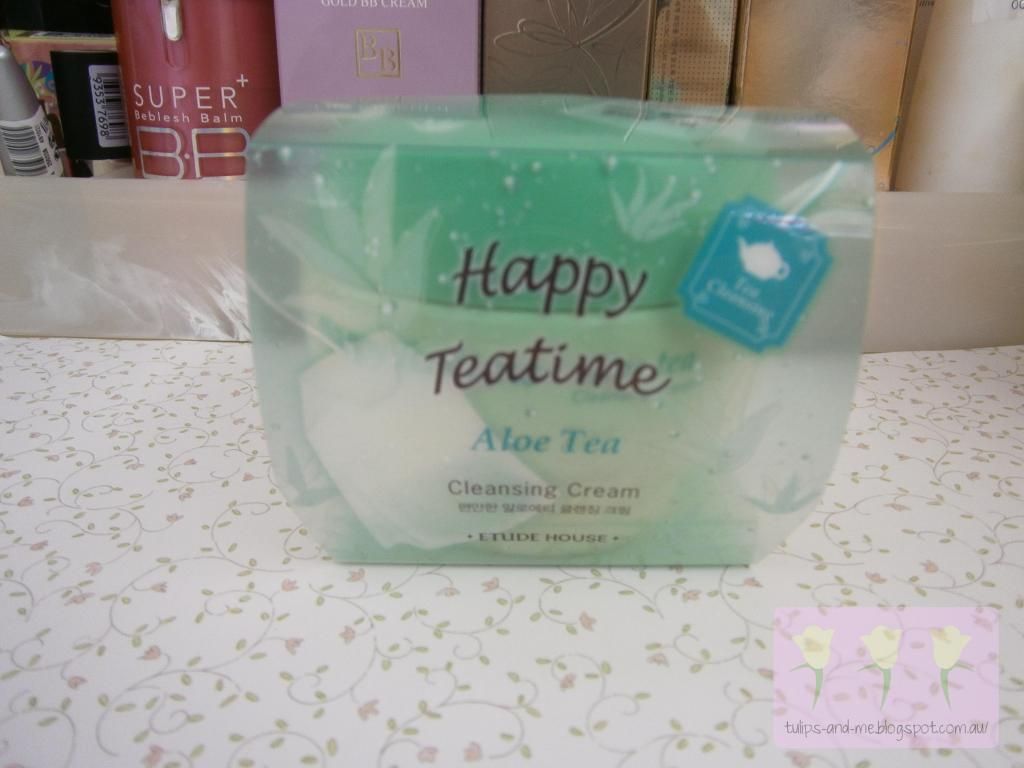 The original packaging - the tub is encased in a plastic 'sleeve'
The cleansing cream comes in a large plastic tub - there's 180ml worth of product here! The price should generally range around the $10 - $15 mark online, which I think is excellent value for the amount of product you receive.
Though the tub is plastic, at a distance it really resembles a ceramic tea cup (minus the handle). It really does tie in with the Happy Teatime concept~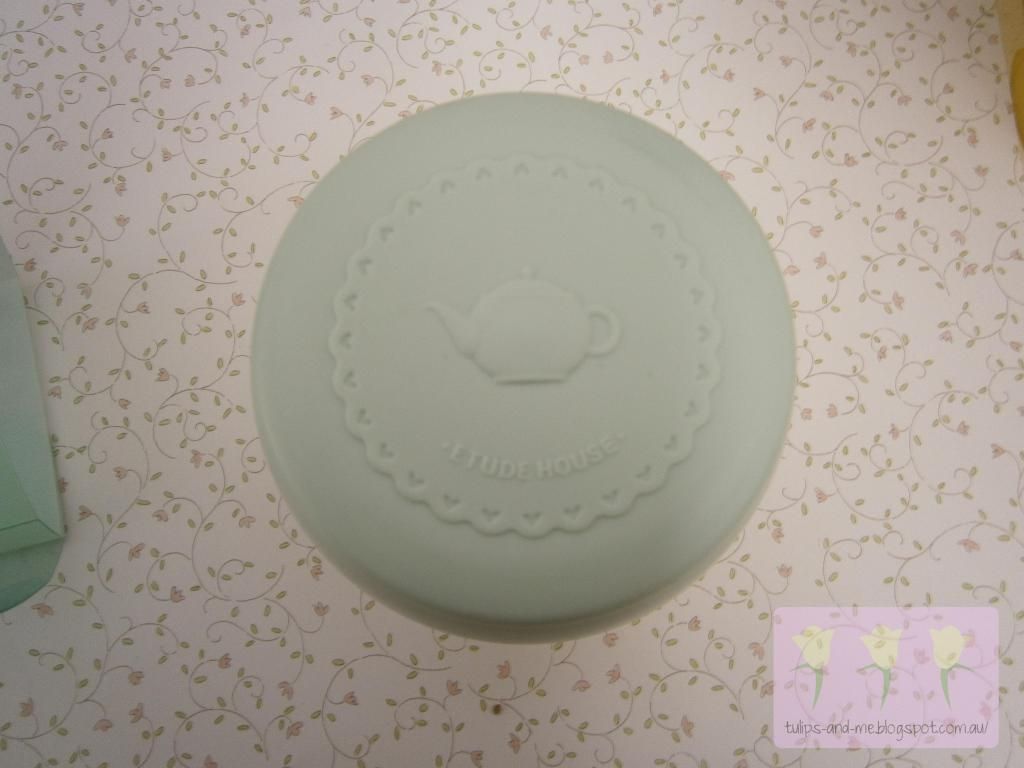 Check out the imprint on the top of the lid - it's so cute!
Opening the lid the first time - some minor spillage
Depending on how far your cleansing cream has to travel, it may arrive a little messy. But fortunately the thin plastic protective sheet covering the top will limit the spillage. Regarding the scent, although it does contain Aloe Tea fragrance, I have to admit I can't really notice anything to that effect! It just basically smells like a normal cream to me.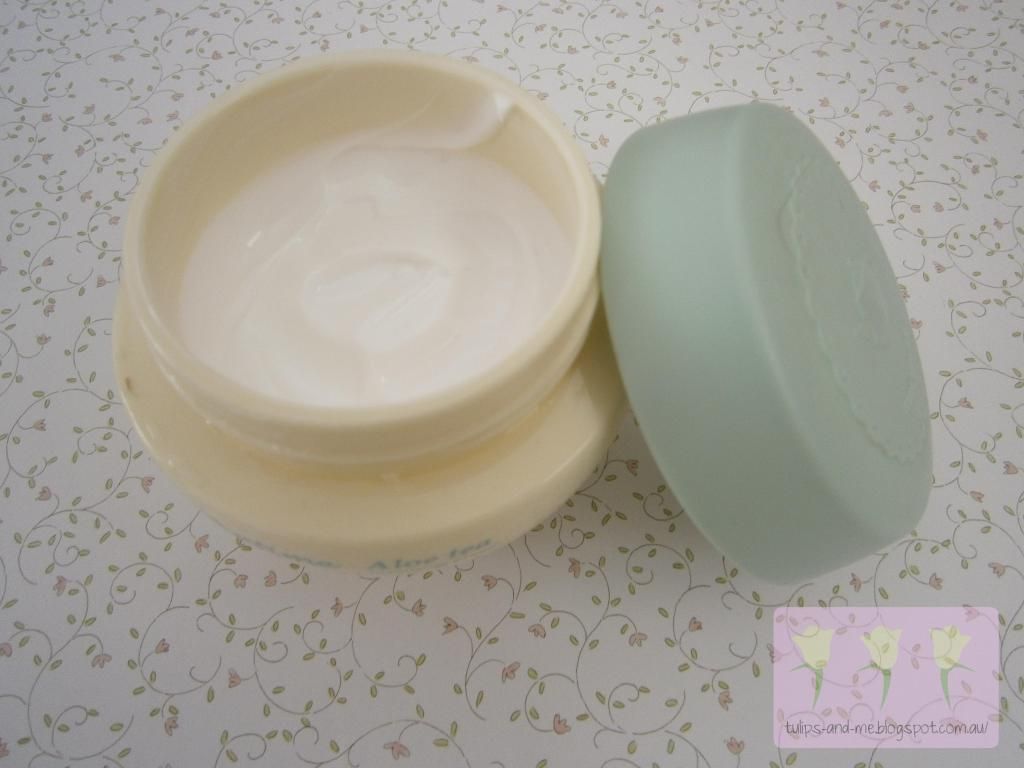 And here is what the cleansing cream looks like. It appears quite thick and creamy - almost like a nice, rich moisturiser. But when you apply it on the skin, it doesn't feel too heavy, and is a little thinner in texture.
As you can see, there is no spatula included, and you will have to dip your fingers into the cream to use it.
What intrigued me about this cleansing cream, is that it has multiple uses (cleanser, make-up remover, moisturiser), and face rinsing is not necessarily required.
For such a seemingly gentle product, the make-up removing properties of this cleansing cream is remarkably good! All you need to do is apply a thin film over your make-up, leave it a moment and then wipe with a cloth or cotton pad. Most, if not all non-waterproof make-up will be easily removed - no tugging or rubbing needed! For smudge-proof make-up, a remover specially formulated for waterproof make-up would be a better choice, though this cleansing cream did do a good job removing most of the waterproof eyeliner, and lip stain.
Following up with a separate cleanser is optional - it may depend on skin type, e.g oily types may need to cleanse after.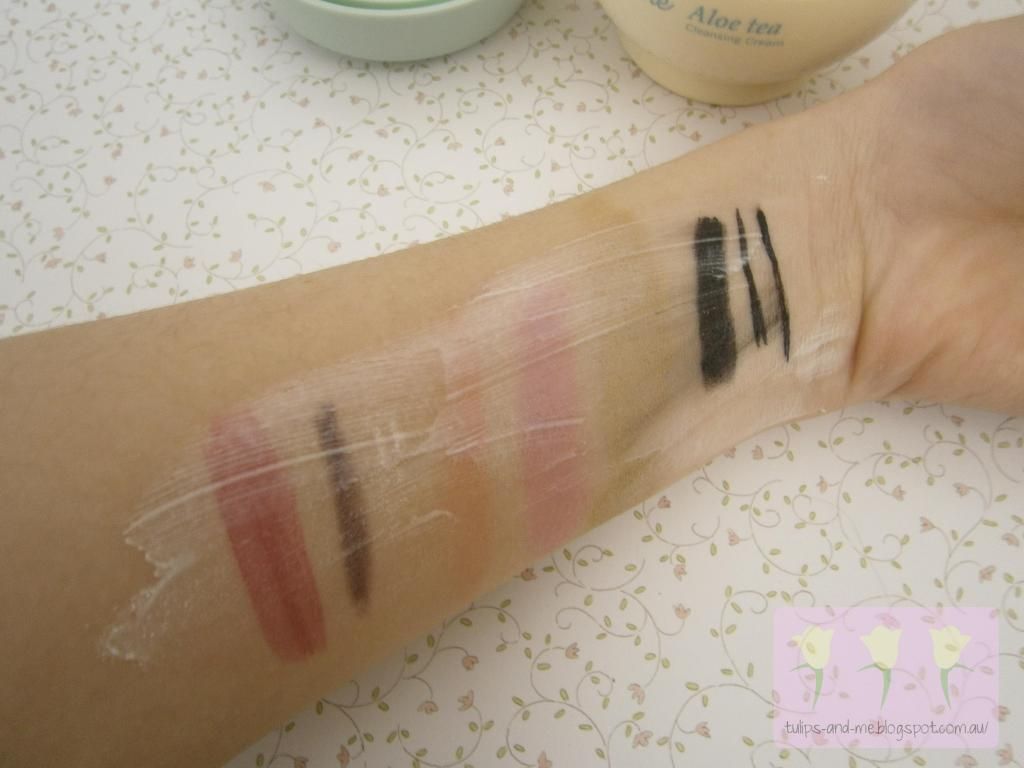 An assortment of lip, eye and bb cream swatches
A thin film applied (you could go thicker for more makeup)
Wiped with a tissue
Only traces of a lip tint and the eyeliner remains
To remove, you can repeat the process, or use a remover for waterpoof make-up
As a cleanser (and moisturiser)
To use as a cleanser, it's pretty much the same process. I found that it works best on a dry face, not wet.
Out of habit, I do use my make-up remover first. You can do this as well, or skip it depending what make-up you've got on.
Scoop up some cream, apply it on dots on your face, and then smooth it out into a thin film all over. You can gently massage to ensure a thorough cleanse. After that you can use a cotton pad or soft tissues to wipe your face dry, or like me you can rinse it all off. I usually rinse off because I'm not used to the moisturising element of this cleansing cream - I tend to associate cleansing with a smooth, clean feeling rather than the slightly creamy and 'slick' feeling I get from the Aloe Tea cream.
If you don't rinse, the cream tends to leave skin feeling soft. Oily skin types may find it feels a bit oily, and that's probably due to the Mineral Oil in the cream. Due to the gentleness of the cream cleanser, it is possible to follow up with a foam cleanser if you're after that fresh, squeaky clean feel.
Directions & Ingredients List - click to enlarge
Also, a heads up to problem prone skin - Isopropyl palmitate (though great for skin softening), can cause problems with acne, if used excessively. Definitely consider rinsing this off after every use, like me, rather than leave it on. I've been using this about 2 months now, and I can say it hasn't broken me out or anything like that.
big size, fairly cheap price

cute packaging

feels gentle and moisturising on skin

removes most non-waterproof make-up quite easily
most of us need to purchase it online

may make oily skin types feel oilier (if not rinsed off)

no spatula
It definitely works well as a make-up remover and cleanser, but I will probably not repurchase as I do like to try new products - and also because I generally prefer cleansers that can lather up.
I hope this review was helpful! Until next time, take care ^^