I am a fan of scrubs, but sometimes they can be a bit harsh on my skin - either the exfoliating beads are a bit too big and feel 'scratchy' against the skin ( a big problem for those with problematic skin), or the formula leaves my face feeling dried out afterwards.
Happily, I can report that the Etude baking powder scrub is neither harsh, nor drying!
It's formulated with baking powder to
"penetrate, exfoliate and cleanse skin deep within pores, to remove make up and residues", and also includes peppermint to soothe skin. It cleanses effectively, whilst leaving the skin feeling fresh and clean - without that 'oops, I scrubbed too hard and now my face feels stripped!' feeling~
The scrub comes not in a bottle, but in 24 handy, pyramid-shaped sachets. Each sachet carries 7 grams of product.
Hehe, I think the packaging is different and kind of cool, and
these individual sachets are perfect for travelling.
But honestly, I would just prefer it to come in a normal squeezable bottle...
Instructions & Ingredients - click to enlarge
Though these sachets are intended to be used once, 7 grams of scrub is actually quite a lot!
I find that one sachet can be stretched to about 3 separate uses - or 2 uses if you use it on your face and back.
That's actually a good thing for me because the value for money suddenly increases, allowing you to turn 24 face washes into 48, lol. The sachet will keep the product from drying up, and you should find yourself using only one sachet per week.
One of the things I really like about this scrub is that the exfoliating beads (or is it the baking powder?!) are very fine - they won't irritate problem skin, but will still be effective in cleansing the face, removing dead skin build-up, as well as any last traces of dirt or make-up.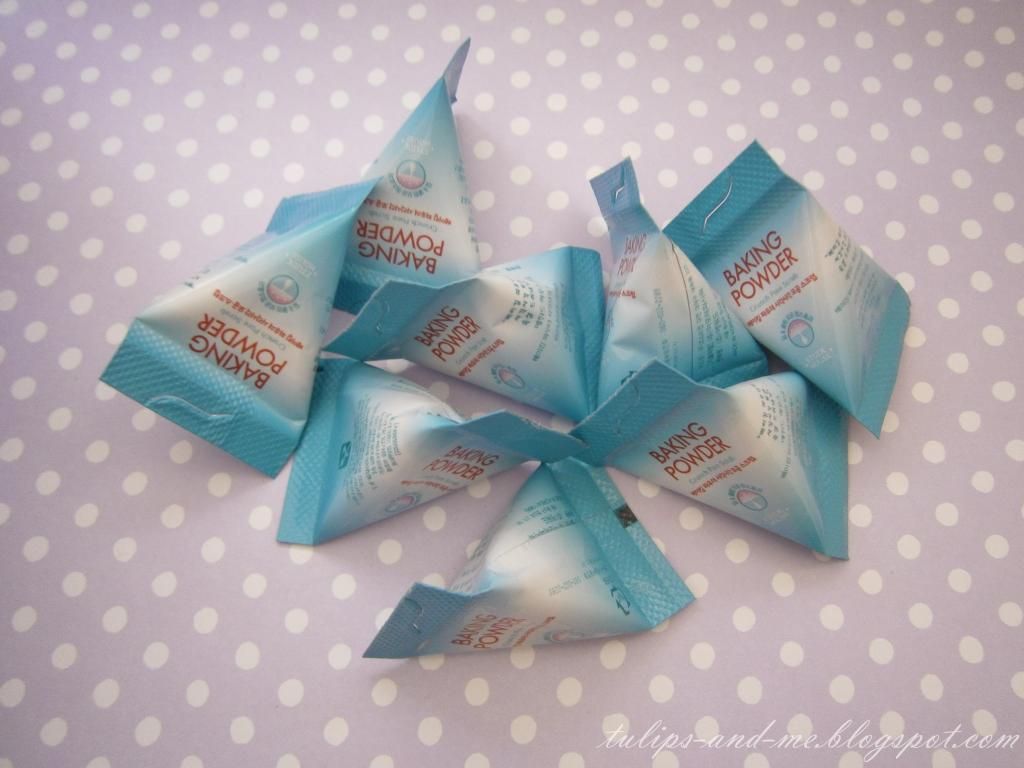 The scrub highly resembles wet icing sugar when it gets squeezed out, and it feels like it too - slightly thick and grainy. When it comes into contact with water, it becomes thinner and more clear.
I find it quite gentle on the skin - but it's important to remember that just because the beads are tiny, it doesn't mean you have to scrub harder in order for it to exfoliate properly! All that will do is irritate the skin, and cause redness or dryness.
Mixed with water - it has a very fine, grainy texture
It has a quite noticeable scent upon opening, a very refreshing citrus (lemony) smell. The scent doesn't stick around, and I don't have a problem with it because it makes me think of those chewy fruit lollies!
It's recommended for use 1-2 times per week.
gentler than other scrubs which have bigger exfoliating beads that can feel harsh on the skin

leaves skin clean, fresh and smooth (not feeling stripped or dry)

individual sachets great for travelling
none - unless you're not a fan of lemony-citrus scents :)
Overall, a nice and gentle scrub that cleanses well, and leaves my skin feeling fresh and smooth. I think those with oily skin will love it, and those with problem skin might like to give it a go since it's not as harsh as other scrubs.
How about you - are you a fan of face scrubs? I like them a lot, but after I finish these I'm going to try a gel peel since I'm curious as to how they compare~