Any Hello Kitty fans here? Well, today I have a review in the form of a Hello Kitty Cleansing Wash.
This cute little thing is sold by Japanese cosmetics brand Rosette, and comes in the following varieties
apple gommage (gel peel)

apple cleansing wash

collagen face wash

sweet peach wash

acne face wash
Now, I picked the apple cleansing wash because I do like fruity scents, and also because the Hello Kitty face on the packaging was too cute to resist - it just beckoned me to buy it!
tube is 120 grams

price is $7.90AUD on Sasa

no artificial colours or mineral oil

smells like green apples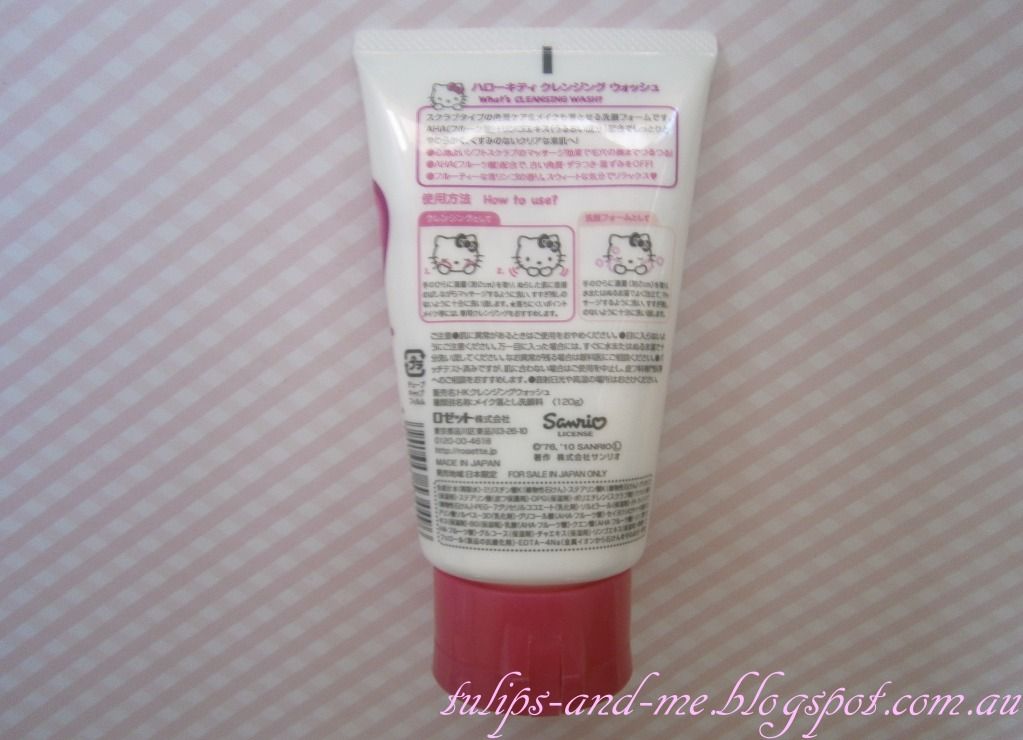 Unfortunately there is no English on the packaging so the full ingredients list is unknown
To start off with, for $8.00, the size of the cleanser was bigger than I expected. It's a decent size and will take a while to get through as only about 1-2cm of cleanser is required with each use.
The packaging is a simple, plastic squeeze tube with a cap - but is still ultra cute.
With a little bit of water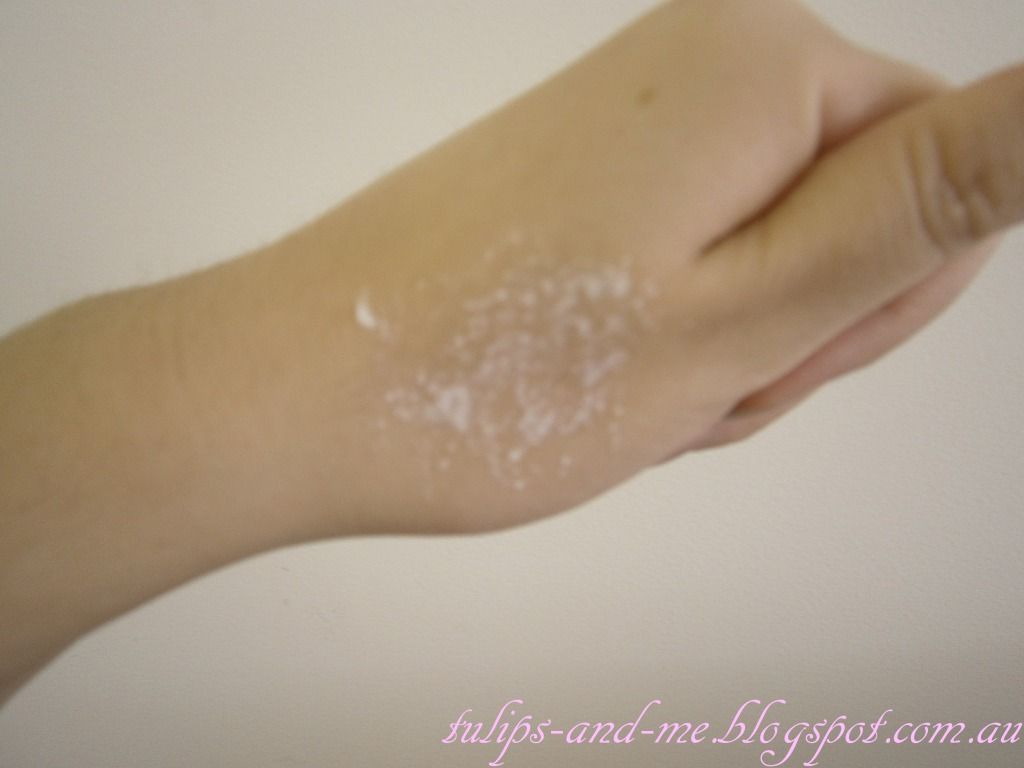 It also has a grainy texture
The cleanser has a pleasant, tarty, green apple scent, which I really like. But in my opinion, this resembles a face scrub more than a 'cleansing wash' in texture and function.
It's texture is quite thick and grainy, but will become thinner and a bit more foamy with the addition of more water.
There are grainy, micro bead bits in the cleanser, which will definitely aid in the removal of make-up, dirt and oil.
Generally I really do like cleansers that can be lathered and foamy, but which are a bit scrub-like too - but in this case I have to say I'm not too happy with this product.
The description on Sasa describes contains phrases such as "rich, soft harmless lather" and "leaving skin moisturised and elastic", but I have to say it feels like the opposite.
This cleanser is extremely drying! I don't know the ingredients, but this gives a very similar sensation to soap or overtly soap-based cleansers that strip the face of all oils (the bad, but also the natural oils), and gives skin that very 'squeaky clean' feeling on the skin.
A little bit of a 'squeaky clean' feeling is ok, but this felt really harsh on my face. The one good thing was that there was no tightness of the skin, just an uncomfortable dryness. I do tend to touch my face a bit, so it wasn't nice not to be able to feel any smoothness afterwards.
I would say I have normal combination skin, but my cheeks and mouth area are prone to flakiness if I use too harsh a product. Within one week my cheek had started flaking, despite having switched to using this only once a day about 3 days in.
I've stopped using it for now but I might consider using this, limited to 2-3 times a week instead as a face scrub - not a cleanser.
To be honest, I would not recommend this to anyone, I imagine that since it does such a good job of stripping the face of all oils, not only would it dry the skin out, but it may encourage the face to produce more oils that may clog the skin, leading to break-outs. For me, it's a no for re-purchasing.
Wow, my first negative product review!
*throws imaginary confetti to mark the occasion*
Ok, now I'll recap the pros and cons~
affordable - good price and size

cute packaging - it's Hello Kitty after all

nice scent

can control the texture - more water = foamy lather, less water = scrub-like
misleading description - acts more like a scrub than a cleanser

harsh on the skin -

extremely drying, therefore not suitable for daily use

extreme squeaky clean sensation
A total disappointment, but at least it wasn't pricey at all!
Thank you for reading. I'll be adding this to my Beauty Reviews Page where you can check out other reviews I've done, or plan to do, so far.