Brand: My Beauty Diary, Black Pearl
Function/s: whitens, restores skin elasticity, hydrates
Best suits skin type: all, particularly great for dull skin (according to description)
Price: $13 AUD @ Sasa
These black pearl masks have an interesting blend of marine (pearl extracts), and fruity (pineapple, cucumber) ingredients - which supposedly work together to provide 'ultimate whitened skin', and deeply nourished and elastic skin.
MBD advises to wear the mask for 20-30 minutes, and to massage the serum into the skin after removing the mask. Rinsing is optional, but I like to let the serum absorb overnight as my skin feels nicely soft and smooth the next day.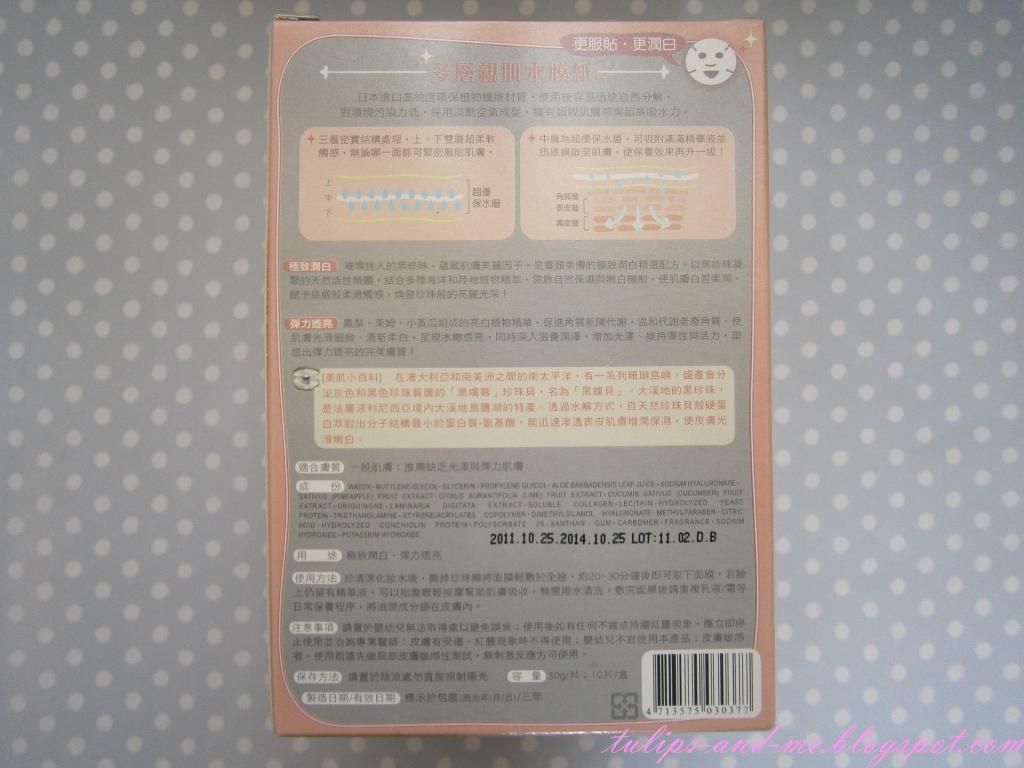 Ingredients List - click to enlarge
I'm particularly liking these black pearl masks because not only can I physically feel the difference in softness and smoothness of my skin after usage - but I can also see a definite whitening and brightening on my face. In other sheet mask reviews, I noted that my skin felt lovely and smooth after use, but didn't see any other additional benefits. So I do like masks that offer multiple benefits, rather than just hydration or what-not.
masks give a cooling sensation on tired skin (they can be refrigerated, but even just storing them in a dark drawer/cupboard can keep them cool)

skin is definitely smoother and softer after use

yes, there is some definite whitening and brightening effect - it's temporary, but skin still looks pretty great during that time :)

hasn't triggered any skin reactions
not as 'sweet' smelling as other masks MBD makes - sort of a perfume-y scent? It's not very strong though~

if you really want to whiten skin, you'll have to use these often, and for a long period of time for any significant change
Cute pink shell pattern
Overall I think MBD sheet masks perform really well - each type I've used so far have hydrated my skin, and left them feeling silky smooth. Some perform a smidge better than others, so I think it's just up to personal preference and skin type to consider which masks to use.
Right now, I think this is one of my more favourite sheet masks.
I feel like this mask gives it all - brightening, hydrating, softening. And skin overall looks nicely plump and smooth.
Thanks for reading ^^